Above Photograph- Hattie Carnegie and Major John Zanft met with the WAC's in 1951

A GREAT HONOR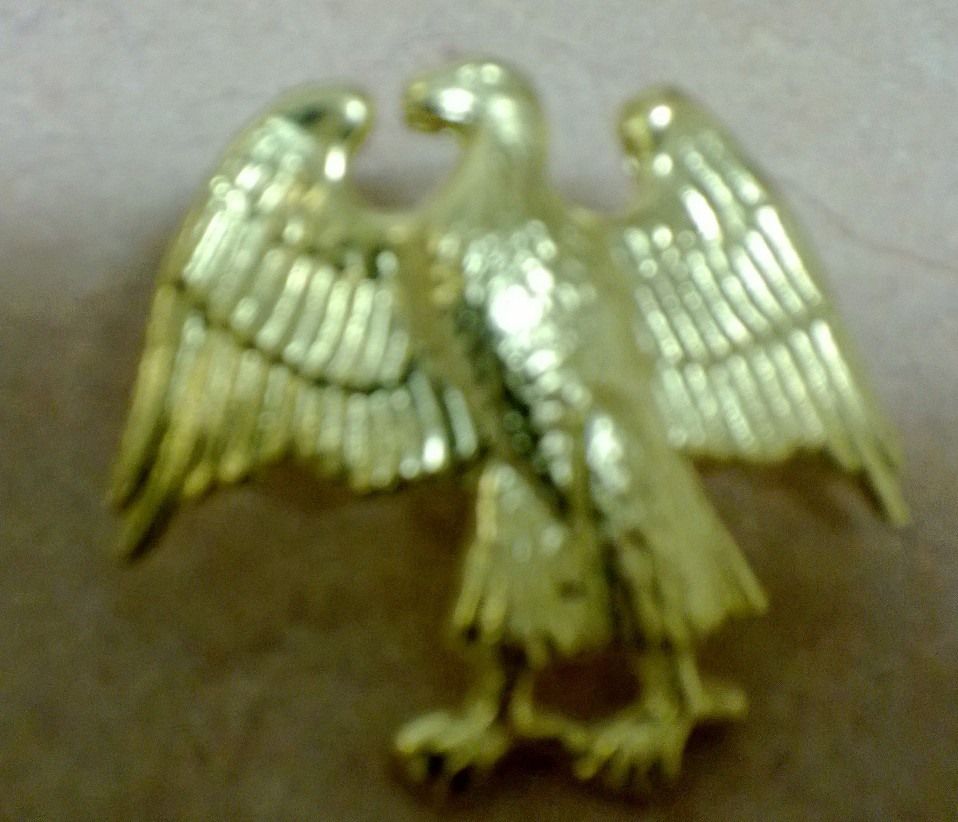 Hattie was the designer chosen to design or actually to redesign the
(Women's Army Corp Uniforms.)
That was only one of several reasons that Hattie Carnegie was awarded the Congressional Medal of Freedom in 1952.
The bus driver who transports me to work on occasion told me her mother was in the WACS.
When she mentioned to her mother that I was always wearing Hattie Carnegie designs and that they were beautiful, her mother said that she was very familar with the designer Hattie Carnegie, because she designed the Women's Army Uniforms.
The driver was also telling me as she collects dolls. They have an antique doll that is wearing a W.A.C. uniform identical to the design and style Hattie created. Let's just say, I will be looking on ebay in the near future.
There is an older lady who lives here who was in the WACS. I happened to mention to her that I was wearing Hattie Carnegie designs. She told me how she actually had the opportunity to meet Hattie in the early 50's at a benefit related to the military. Hattie was in attendence with her husband Major John Zanft. She said I would have loved her.
She was such a character, so cute and so very, very tiny, with still a tinge of her Austrian accent. She was so petite that everybody laughed when they first saw her, but she was quite the speaker, and quite the businesswoman.
Design Restrictions During the War
Hattie and The New Uniform
The 1940's brought a new look to the table, and a new look for uniforms. The governments L-85 ruling--A set of restrictions that limited the amount of yardage that could go into every skirt, blouse, jacket or dress had taken effect in 1942 and was influencing design on Seventh Avenue and also in the war office. The Legendary Hattie Carnegie, New York's impresaria of custom clothing, consulted on uniforms for The Women's Army Corp, which completely superseded what had come before.
According to historian, Rose Simon, Hattie Carnegie introduced a pink note into the dye lot giving the army's drab olive green wool, a flattering rosy glow.
She offered a soft silk blouse as an alternative to the army-issue cotton, and insisted that the skirts be of fashionable length--just below the knee. Carnegie also put the insignia on the caps off center to make them look fashionable snappy.
Airlines Follow Suit

Because of L-85 and noticing what Carnegie had done for the WAC's, the airlines also caught a low grade fashion fever in the 1940's. Stewardess hemlines went up to the knee during the the war years. In 1947, when Christian Dior's new look trumpted the end of war rationing by lengthening skirt's to the ankle, and stewardess hemlines fell to midcalf.
REFERENCE-2WICE-UNIFORM ARCHIVES
Hattie's Committee
When Hattie Carnegie was selected to redesign the WACs Uniforms, Hattie was given a committee of six or seven enlisted army personal that she could consult with if she had any questions or concerns regarding regulations, and also to advise her to make certain that the style and color was kept within US Army regulations.
Hattie and her committee were honored with a special dinner and ceremony. When the new uniforms were completed. Hattie redesigned the uniforms, free of charge. She believed it was her patriotic duty to her adopted country which she loved.
-----------------------------------------------------------------------------------------------------------------------
A COMMITTEE...........
In 1950, a committee of government advisors invited Hattie Carnegie to adapt her famous little Carnegie suit into the official uniform of the Women's Army Corp.
As a result, Ms. Carnegie won the United States Army's Highest Civilian Award in 1952.
Ms. Carnegie's adapted design was similar to her Little Carnegie Suit the WAC design still influences that uniforms of todays women in all branches of the United States military.
Ms. Carnegie's WAC uniform was offically adopted for wear on July 1, 1951.
The United States Army also acknowledged the National Academy of Sciences-National Research Council Advisory Committee on Women's Clothing, who selected Hattie Carnegie as the designer of the WAC uniform.
Hattie Carnegie's committee consisted of the following members
Dorothy Shaver- President of Lord and Taylor
Edna Woolman-Chase- Editor and Chief of Vogue Magazine
Carmel Snow- Editor of Harper's Bazaar
Mary Brooks-Picken-Authority on Home Economics
Tobe Davis-Tobe Fashion Consultant
and Hattie Carnegie's close friend Eleanor Lambert- well-known fashion publicist.
-------------------------------------------------------------------------------------------------------------------------

Hattie was Tested
Being an Austrian-Jewish immigrant gave Hattie an understanding of prejudice from a personal standpoint.
Because she was a victim of prejudice almost from birth, she didn't tolerate it, and thought badly of anyone who did.
Yet one afternoon during World War II, her beliefs about prejudice were severely tested.
A couple of Oriental ladies walked into her shop one afternoon. They were looking around at all the clothes and looking around Hattie's beautiful shop, admiring everything and Hattie spotted them.
According to her co-workers Hattie turned white as a ghost. Usually, if Hattie was in the shop, especially if it was a new customer, she would make it a point to happily go over and greet them, to make them feel welcome.
Not so this time, Hattie started to shake, trying to hold back tears she turned away, not wanting the women to see her, and walked into a back room to cry.

When Hattie refused to come out of the back room and she was noticably upset, her employees got very concerned as Hattie was in a panicked state. They decided to let Hattie's husband Major John Zanft know about the situation, knowing full well that if anyone could get through to her, and find out what the problem was he could. They were also very worried about her, because Hattie suffered from various health problems in her later years , and was very prone to suffer from reoccuring ulcers, that she could easily get very sick or in rarer circumstances even pass out if her stress level was high enough.
Hattie wouldn't tell anyone why she was so upset. she kept telling people, she wanted to be alone. When they kept persuading her to let them know what was bothering her, she was yelling to let her be.
Major John Zanft went in the back room to console his wife. She was still shaking and crying but he was able to find out what was bothering her so much.
It wasn't too long after Pearl Harbor and Hattie was affected deeply and personally by the Halocaust. Seeing those Oriental ladies, with all the events that were going on in the world, brought a normally accepting Hattie, to tears and panic.
Hattie's confession surprised Major Zanft because Hattie's very first shop was next door to a Chinese restaurant, and Hattie included many jewelry pieces in her collection that had an Oriential/Asian theme. This behavior was completely unlike his wife.
Hattie's husband explained to Hattie that he had spoken to the ladies and they were very friendly. It turns out they were Americans. He wouldn't let anyone hurt her. He told her to remember all the prejudice she herself faced when she and her family first arrived in America, and the prejudice they faced as a couple when they began dating. He brought up the fact that people who didn't even know them personally, were judging them based on their perception of who they thought that they werewere and that was exactly what Hattie herself was doing now.
Hattie began to understand what her husband had said. She was still nervous, but she dried her tears and decided to go out to greet her customers.
Another Trend for Hattie
It would be hard to overestimate Hattie Carnegie's influence on the fashion industry. During the War, she was approached now and then by administration officials who wanted her to put forth certain little economies in the handling of materials.
Introduced into the Hattie Carnegie wholesale line, these tricks were soon pirated, by all mass production manufacturers who were convinced they seized on another one of Hattie's secrets.
Life Magazine-November 12th 1945

The War Effort.
Hattie's Extended Family Arrives in America
Shortly before World War II began, sensing the increasing intolerance toward Jewish citizens, several of Hattie's relatives decided to flee Austria for a new life and beginning in America.
Some of these relatives Hattie had not seen since just before her immediate family left Austria to settle in America. She had a tearful reunion with many of them. The relatives were impressed with Hattie's business sense and the success she had achieved.
Family Bonds
Her aunts, uncles and cousins still thought of her as little Henrietta, Now she was this Internationally famous business woman. Hattie Carnegie always felt a dedication and bond to her family which only became stronger over the years. She wanted to do what she could to assist her relatives in making their transition easier. Expanding the family aspect of her business, she offered them employment with her company which the majority of them accepted.
Hattie Carnegie Inc. was most definately a family business. Hattie employed her aunts, uncles, nieces, nephews, brothers, sisters, cousins, several in-laws and close friends.
Hattie was proud to be able to help her relatives. Hattie's parents Isaac and Helen (Henna)Kanengeiser always stressed to Hattie the value of ones family.
Despite being able to help many of her relatives, Hattie always had a sense of sadness and guilt, because some of her relatives weren't as fortunate and were unable to escape Austria. Some of her relatives actually perished in the Concentration Camps.
The Nazis captured them and they died in the Concentration Camps. Hattie Carnegie was quoted as making this comment during World War II.
"My greatest sorrow is for my family and friends back in my native Austria". Hattie had a great deal of personal pain in her life regarding the war and the treatment of Jewish people.

Interview with a Womens Army Corp Model
Lakeview Women remembers Army life as a big adventure
By Frank Wallis
Baxter Bulletin Staff Writer
Bea Perez Crites of Lakeview knows inside and out the power of a friendly face and the lure of adventure. It was a Navy recruiting poster in a post office that planted the seeds for a military career. In the Army, it was her own image that appeared in military recruiting and public relations materials aimed at bringing in new recruits.
At 18, Crites often made the trip to the little post office in Ysleta, Texas, to collect the family's mail. The year was 1949, and the US was basking in the relative peace that followed World War II. All branches of the US military recruited aggressively.
The Navy recruiting poster on the post office wall targeted young women. Crites recalled how the poster teased her: "'Join the Navy and see the world' ... "that's what it said", Crites recalled, "I thought: Man, I'd like to see the world. I've never even been out of this little town."
Living in tiny Ysleta outside El Paso, Crites was one of 11 children born to Frank and Lillian Perez. As the family grew and the children grew older, it wasn't difficult to tell when it was time for a young woman to begin looking for a career.
"I had to leave. I had to make room," she said.
Despite the rapid growth of the Perez family, the young Crites would still need the blessings and direction of the patriarch. "My father was a Spaniard, and he had these big thumbs that he kept over us," said Crites. "We couldn't date or anything like that".
But one day her father, reading a newspaper, would look to his wife unexpectedly and proclaim: "Mother, this looks like it would be a good career for a young woman". In the newspaper he had spotted an ad similar to the Navy poster in the post office. Her mother, a woman of gentle French-Irish ancestry, was persuaded. Young Crites turned backflips on the inside in response to her father's proclamation. "I jumped at it, and I've never regretted one minute of it," said Crites.
She first tried to join the Navy, but the recruiter, hearing her age, told her to "...go home and grow up". "I was crushed," she said, "but right across the street was an Army recruiting office. I asked the recruiter how old do you have to be to join. He said 18, and I was in".
Basic training was a snap for the young Crites, who had been a tumbler in high school. "I loved it. I was a tomboy. We got to crawl on our bellies under the barbed wire while they simulated machine gun fire over our heads. We got to live in tents. It was a big adventure".
Her first station was Fort Lee, Va., where she did a variety of jobs, which included working in the print shop that published the base newspaper. She was a proofreader until the day the brass ordered all of the nearly 2,000 members of the Women's Auxiliary Army Corps on base to assemble.
"There were 2,000 of us, all in long lines. The officers walked up and down, up and down," said Crites. "Then they asked some to step back, and they were dismissed to return to their work ... for eight hours, they did this".
In the end, Crites and seven other women remained. Two weeks later, the women were taken by train to New York, where they modeled new women's military uniforms designed by Hattie Carnegie at the Governor's Island Officers Club. A week later, they modeled for the world at Carnegie Hall in New York City.
Crites said she never dreamed her stint in the Army would be such an adventure.
Next, Crites earned entry into the Army Finance School and was stationed in St. Louis, where she was in charge of distributing checks to Army personnel dependants and some personnel travel accounts.
Crites was on active duty when hostilities broke out prior to war with Korea. In terms of military heroism at war, Crites said she simply didn't do anything heroic, but today she feels a great sense of pride in what she did as an Army woman and what the Army did for her.
Another career highlight was being named WAAC of the Week. Her picture and brief biography was published Army-wide in the Army Times the week of Feb. 9, 1952.
"I started getting all these letters from the boys," said Crites. Some apparently were enamored with Crites, but she already was engaged to the handsome Marine, Wendell, today her husband of 52 years. If Wendell was intimidated by the outpouring of adoration for his bride-to-be, he didn't let on. "He tried to get me to answer them," she said.
Outside the occasional call from the Army for work as a model, Crites said she wrote checks for the Army and modeled clothing once as a civilian for a Petersburg, VA department store.
Crites said the military experience wasn't agreeable with all women. "We had some who begged to get out." Otherwise, the experience helped most Army women to mature and become responsible citizens. Crites left the military after three years and two months of service.
"I wasn't looking to get out of the military," said Crites, but her baby was in an incubator. The Criteses have three grown sons; all still lovingly call her Sarge at times, she said.
Crites has three sisters and three brothers who served in the military. Her brother, Charley, was honored for rescuing two injured soldiers from a bombed ambulance in battle in Korea.
https://secure1.infi.net/mountainhome/forms/icon/subscribe.html
-------------------------------------------------------------------------------------------------------------------------
Former Hattie Carnegie WAC model dies
Zetta W.H. Jones, 90, a retired Army lieutenant colonel who was a
founding artist of the Torpedo Factory Art Center in Alexandria,
Virginia, died of kidney failure May 13, 2002, at Oak Meadows Nursing
Center in the metroplitan Washington DC area. She lived at the Fairfax
at Fort Belvoir.
Col. Jones, a public information and photographic specialist, served
for 25 years in the Army. Her assignments included Tokyo, Japan, and
Berlin, Germany. She was the first member of the Women's Army Corps to
serve as a legislative liaison to the House of Representatives. Among
the bills she helped push through Congress was one removing
restrictions on the promotion of women to general officer rank. She
retired in 1968.
Six years later, Col. Jones was one of a dozen artists who helped
persuade the Alexandria City Council to sponsor a unique experiment in
art patronage, the conversion of the old waterfront Torpedo Factory
near the foot of King Street into a warren of art studios and shops.
Neglected for years, the hulking building was a mess of pigeon
droppings and other dirt and debris. Col. Jones and her fellow
artists, who later were affectionately dubbed "The Dirty Dozen,"
worked for several months with fire hoses, a bulldozer and soap and
water to make the place usable.
"I'd leave the maid at home while I came down here and cleaned the
pigeon crud out of the stairwells," Col. Jones later recalled. "They
were so full of droppings they were almost ramps."
When the art center opened on July 13, 1974, she said, "we didn't have
walls, so we set up easels with paintings to show where our studios
would be, and had a party." She was the art complex's first vice
chairman.
The Torpedo Factory remained drafty and leaky for some time before it
finally acquired some polish. But it thrived as an institution,
spawning similar efforts in cities across the country. It is now one
of the top tourist attractions in Old Town Alexandria.
Col. Jones was known for her watercolors of flowers, in particular,
irises. She specialized in flowers, she said, because she wanted her
paintings to convey joy. She kept her studio on the first floor of the
Torpedo Factory until ill health forced her to retire three years ago.
Her work remains in private and corporate collections around the
world.
Col. Jones was a native of Missouri who worked as a model, actress and
interior and fashion designer early in life. She enlisted in the
Women's Army Corps in 1943, and served during World War II. She left
the Army after the war to direct Patricia Stevens Charm and Modeling
schools in the Midwest and San Francisco and then was recalled to
service during the Korean War.
She was a liaison officer to journalists in Tokyo during the war and
chief of the still-picture branch of the Pentagon information office
after the war. She modeled the Army's new WAC uniform, designed by
Hattie Carnegie, on a recruiting poster and traveled extensively to
promote enlistment.
She was later public information officer for the headquarters of the
WAC center and the Chemical Corps School at Fort McClellan, Ala.
Col. Jones attended the Armed Forces Information School and the
University of Wisconsin. She was an honors graduate of the Corcoran
School of Art and received a master's degree in art from Goddard
College.
Her honors included a Legion of Merit and a Bronze Star. She was a
member of the Art League of Northern Virginia.
--------------------------------------------------------------------------------------------------------------------------
Timeline for the Women Army Corps-
From United States Army Women's Museum
Located in Fort Lee, Virginia
Website: http://www.awm.lee.army.mil/index.html

Nice Hattie Carnegie Mention..........
July 1942
Training for officer candidates and enlisted women of the Women's Army Auxiliary Corps (WAAC) initiated at the First WAAC Training Center, Fort Des Moines, Iowa.
Male officers and NCOs arrived for duty as administrators, instructors, and cadre until they could be replaced by trained women officers and NCO's. Within six months, WAACs had replaced men in those positions as well as bandsmen.

Specialists schools for training clerks, cooks and bakers, and chauffeurs opened at sites in the city of Des Moines.
Enlisted women began to be assigned to WAAC Training Center Offices and units to understudy male NCOs.

Congress authorized WAACs the same pay as Army officers and enlisted men but not grade titles.
4 Dec
The first WAAC field units arrived at Fort Huachuca (two black Postal Companies). On 17 December, a WAAC Post HQ Company arrived at Fort Sam Houston. Two units arrived in the Washington D.C. area to conduct a secret experiment of women working in Antiaircraft Artillery (AAA) Command (later identified as the 89th Coast Artillery, AntiAircraft, Military District of Washington, Eastern Defense Command). The two companies activated were: 150th WAAC Technical Company and the 151st WAAC Technical Company. This experiment did not exist on paper due to the feeling that the general public would be outraged at the idea of women firing guns. The documents on this experiment were not declassified until 1970.
27 Jan
The 149th Post HQ Company arrived in Algiers to serve at General Eisenhower's Headquarters - North African Theater of Operations.
Feb
Margaret E. Charity, First WAAC Training Center, was the first black WAAC promoted to first sergeant.
16 Jul
The 1st WAAC Separate Battalion arrived in England commanded by Colonel Mary A. Hallaren. The 555 enlisted women and 19 officers arrived
"Auxiliary" was dropped from the Corps' title as Congress gave the Corps full military status and integrated the Corps into the Army of the United States. Women were sworn into the Women's Army Corps (WAC) in mass ceremonies at WAC training centers and wherever stationed. A corps of WAC noncommissioned officers began to grow as week-by-week and month-by-month women graduates, who demonstrated leadership ability, were selected for duty as cadre, instructors and section chiefs. Some were simply assigned the duties and learned supervisory and leadership skills on the job.
Though many specialist schools were established to train WACs as clerks, typists, chauffeurs, radio operators, mechanics, control tower operators, photo laboratory specialists, etc., no leadership courses were established to train NCOs. Only a few posts provided some leadership training for WAC members.
Separate grade allotments for men and women were apportioned to field units and at training centers that came under the Army Service Forces and Army Ground Forces. But, Army Air Forces commands did not divide their grade allotments by sex; thus, both men and women competed for the same promotions.

For the first time in June 1944, Headquarters Army Service Forces directed the WAC Training Centers to establish WAC leadership courses for enlisted women. Courses began at the two remaining WAC Training Centers - Fort Des Moines and Fort Oglethorpe.
Candidates for the course were selected during their last week of basic training by unit officers and cadre. Those selected received two weeks of classroom instruction and six weeks of on-the-job training as acting cadre in basic training units. They wore sleeve and pocket patches that read Leadership.

The first major contingent of WACs (526 enlisted women and 114 officers) arrived in Sydney, Australia, for duty in the Southwest Pacific Area.
14 Jul
Thirty-Eight days after D-Day, a large contingent of WACs moved across the English Channel to Normandy, France, and were assigned to the Forward Echelon, Communications Zone. On 31 August, 5 days after the Allies liberated Paris, a WAC advance party arrived in Paris.
9 Nov
SSG Ella C. Wright, Kalama, WA, was the first enlisted WAC to receive the Legion of Merit. The medal was presented to her by LTG Joseph T. McNarney, Commanding General, Mediterranean Theater of Operations, in recognition of her exceptional performance of duty as Chief Telephone Operator for the Signal Corps Group in North Africa and Italy (February 1943 - October 1944).
1945
3 Feb
The 6888th Central Postal Directory Battalion (all black WAC) departed for England. Eight hundred enlisted women and 30 officers served in England and France until March 1946. Cleopatra V. Daniels was one of the battalions' first sergeants.
8 May
Proclaimed as Victory in Europe Day (V-E Day).
25 Aug
Enlistments in the WAC, AUS, were closed when it was announced that the Army's demobilization plan would be implemented on 1 September.
2 Sep
Proclaimed as Victory in Japan Day (V-J Day)
11 Feb
General Eisenhower, Army Chief of Staff, directed legislation be prepared to include the WAC in the Regular Army and Organized Reserve Corps
16 Oct
One-hundred thirty-five enlisted women arrived in Japan (8000th WAC Det )r duty at HQ, Eighth Army, Yokohama.
24 Nov
Two-hundred enlisted women arrived in Japan (8225th WAC Bn) for duty at General Headquarters (GHQ), Far East Command, Tokyo.
1947
30 Sep
The WAC Reentry Program which for 18 months had allowed demobilized WACs to return to duty was closed. From its start in February 1946, 4,570 had returned to duty - mostly NCOs - to keep the WAC alive until legislation making the WAC a permanent corps could be passed by Congress.
1948
12 Jun
President Truman signed the Women's Armed Services Integration Act that permitted women in the Regular Army and the Organized Reserve Corps (later named the U.S. Army Reserve).
Bivouac training added to WAC basic training at Camp Lee - five days. Training included familiarization and firing of the M1 Carbine on a voluntary basis.
1950
The positions of drum major and first sergeant were combined in the 14th Army Band (WAC). NCOs who served in it from 1950 to 1973 were: MSG Janet Helker, SGT Eva J. Sever, SFC Jane M. Kilgore, SFC Rosella Collins, SFC Margaret R. Clemenson; 1966 to 1974: MSG Patricia R. Browning.
The Korean War began and, though no WAC Detachment was assigned to Korea, WACs were assigned to combat service support jobs in Japan, Okinawa, and Hawaii.
In FY 1951, a voluntary recall program for enlisted reservists provided 1,256 women, primarily NCOs.
1951
May
The WAC Detachment for Okinawa arrived with 75 enlisted women aboard the USS Anderson.
Jun
One year after the start of the Korean War, 2,600 women were stationed in the Far East Command.
1 Jul
The women's taupe uniform, designed by Hattie Carnegie, began to replace the
World War II olive drab uniform with the issue this date of the summer cotton taupe dress and women's winter taupe uniform.
1952
Dec
MSG Carolyn H. James and CPL Louise M. Farrell (stenographers) assigned for duty in Korea.1952
Jun
MSG Dorothea S. Cully, Grace T. Donatio, and CPL Elaine Woolford assigned for duty in Korea.Jul
Armistice signed ending armed conflict in Korea.
10 Jun
The WAC Center and School activated at Fort McClellan, Alabama, giving the Women's Army Corps its first permanent home.

Dedication ceremony to mark the opening of the WAC Center and WAC School. Army Chief of Staff Matthew B. Ridgway was the principal speaker.1955
14 May
The 13th Anniversary of the WAC. At the WAC Center, after a ceremony dedicating the WAC Museum, now the Army Women's Museum, the museum opened on 30 March. NCO's and recruits, led by the 14th Army Band (WAC), marched through the Center carrying lighted torches. The torchlight parade became a traditional anniversary feature at the WAC Center.1 Jul
A new enlisted MOS system initiated that included skill level - Clerk Typist MOS 711.1 (entry level).1 Sep
PVT Regina C. Jones, the first WAC to enter the U.S. Soldiers' Home,
Washington, D.C.
1956
Jul
Many WAC officers and NCOs assigned July-December to the U.S. Refugee Receiving Center, Camp Kilmer, NJ, to assist in emigration processing of approximately 50,000 political refugees from Hungary.1957
21
Jan
The 14th Army Band (WAC) marched in Washington, D.C. in the second Inaugural Parade for President Eisenhower. The Band had marched in his first Inaugural parade in 1953.
Twelve NCOs and enlisted women assigned to the first Missile Master Unit at Fort George C. Meade, MD.

The Military Pay Bill of 1958, effective 1959, added grades E-8 and E-9 to the enlisted ranks; authorized monthly Proficiency Pay (P1 - $50, P2 - $100, P3 - $150); one year of college for a 3 year enlistment; two years for a 6 year enlistment; MOS Proficiency Testing and the Enlisted Evaluation System.1959
1 Mar
The Women's Army green uniform began to replace the taupe uniform with issue this date of the summer green cord uniform. The year-around Army green women's uniform was issued beginning 1 July 1960.
Apr
Carolyn James First WAC promoted to grade E-8

MSG Ellen B. Steel began a two year college course at the University of Arkansas under the 1958 bill; she finished in 1961.

The Army initiated personalized assignment procedures for E-8's and E-9's.
The Senior NCO Council was established at the WAC Center chaired by MSG Julia A. Vargo; its purpose to recommend improvements in Center operations and to run the WAC-of-the Month Program.

Jun
Carolyn H. James First WAC promoted Sergeant Major, while assigned to HQ Army Air Defense Command, Colorado Springs, CO.

---------------------------------------------------------------------------------------------------------------------------------------

I received from the Women's Army Corps. It is a poem honoring our own Hattie for designing the WAC's uniforms.
ODE TO A NEW UNIFORM
They say I shall look pretty
Attractive and Sweet
Wearing the frock
That just can't be beat
It's a one piece affair of something called taupe,
Washable my friends with a little bit of soap.
I dreamed and I planned of this new design that the Summer would bring, and then would be mine.
Stacked in the depot ready for wear, the time had arrived for the ladies' share.
They issued me four of Hattie Carnegie's latest dream
Gone are the old days, the days of cotton, TW 's and khakis,but shall not be forgotten
We will always remember be thankful and keep in mind.
This brand new army, Hattie and her design.
By Virginia L.Clark

-------------------------------------------------------------------------------------------------------------------------
WAC Uniform Paper Dolls

Bobye of the Jewelry_Ring yahoo groups and her daughter Karen, were kind enough to send me the pictures available in this adorable vintage paperdoll book celebrating the Women's Army Corp.
MARY OF THE WACS.....A Young American.
This little book was written and illustrated by Hilda Miloche and Wilma Hans.
Karen who is now retired was enlisted in the military for 22 years.
Bobye's Jewelry site links.........
She is an Eisenberg expert
Bobye's Image Event
BOBYE'S ENCHANTED CASTLE- http://imageevent.com/bobye/TheEnchantedCastle
and her Jewelry Store
Bobye's - http://www.ajeweledaffair.com/enchanted/enchanted.html
-

Hattie's favorite project and the project that she was best known for was The WAC Uniform was ironically one of the final projects of her lifetime.
Hattie Carnegie was now sixty-five years old. She was semi-retired, and by this point in her lifetime she was spending more quality time at the Four Winds Ranch with her husband John, whom she lovingly referred to as "My American Soldier", because John was a veteran of World War I.
She came to the shop a few days a week to work on editing designer sketches or to share the latest valuable information about fashion with her employees or clientile.
Hattie selected her projects carefully, but when she heard that the United States Army was accepting designers or editors to redesign a NEW updated WAC uniform she knew that she was perfect for that project.
Hattie filed the necessary paperwork which was going to be evaluated for content by enlisted personnel included in the paperwork the applicant had to compose a biographical essay on why they should be selected for this important project.
The competition was tough and their were hundreds of very worthy applicants but the selection commitee was moved by Hattie's story of her family's emigration from Austria, her rise from poverty and her patriotism and love and appreciation for the United States for allowing her the opportunity to acheive her dreams, and her United States citizenship.
The young girl who had changed in last name to Carnegie in emulation of another successful immigrant that she admired was chosen for this special project
VINTAGE WAC RECRUITMENT STAMP
Bobye has sent me this email about her daughter Karen.
Karen was in the 14th Army Band which is written about in the WAC's timeline above.
I am so happy to learn that many of these women are doing well and that many still attend band reunions and play their instruments.
The WAC band began in the 1950's .This email from Bobye answered the main question that I had wondered about, "What are the retired WAC's from this particular era doing today ."
I would also have to assume that many members of the committee that were assigned to work with Hattie Carnegie on the uniforms are probably still living today across this country or maybe overseas. Hattie was sixty-five at the time the uniforms were redesigned, but most of her commitee members were most likely considerably younger than Hattie was herself.
If anybody who is reading this, has any further information that they would like to share about the Women's Army Corp, Please email me. I would love to read your story, and possibly share it on this website with your permission.
Below is Bobye's message to me..........
Hi Amy:
Just for your information, Karen was in the 14th Army Band at Fort McClellan, Alabama for a long time. The First Sergeant was Pat Browning, who was an excellent musician and a lovely lady. I met many of the ladies that you mentioned when Karen has co-hosted the Band reunions with former band member Dixie Jensen. Most of these ladies still play their instruments. My daughter's home is in Alabama, near where the Army Post was. Since I am in Wisconsin, I do not see her nearly often enough.
Nice job with the write up, I enjoyed reading it.
Hugs,
Bobye
--------------------------------------------------------------------------------------------------------------------------------
Original newspaper article and the original photograph of the NEW WAC Uniforms designed by HattieCarnegie
Here is the article that appears below:

940503. . . . . . . . . . New York Bureau
PREVIEW NEW UNIFORMS
CORONCO CALIFORNIA: Modeling the newly designed Army Nurse Corps Uniforms , made up in advance for exhibition before 1000 nurses attending the bi-annual convention of the American Nurses Association are LT.-COL Katherine Baltz (left) and
CAPT Florynce Houle of the Surgeon General's Department at Washington.
Authorized for wear starting in January 1951, the uniforms were designed by
Hattie Carnegie in taupe wool with a nice peak cap for dress and the familar overseas cap while on duty. The ensembled is completed by beige gloves and the regulation shoulder purse. Members of the Women's Army Corp (WACS) are also getting the new
Hattie Carnegie designed uniforms.
NY- 1-2 S&S SD JM
CREDIT (ACME) 6/3/50 (JS)

The article that appears below originally appeared in the October, 1951 issue of Cosmopolitan Magazine.......

How does the Army make soldiers out of a group of homesick girls? What really goes on inside a typical WAC barracks…..
By Mildred and Milton Lehmah
Amazingly enough, the First Platoon was happy. It was somewhat confused, exhausted and homesick after it's first week of basic training. Still quivering after the first Saturday inspection at the WAC Training Center in Fort Lee, Virginia, the new recruits sat gingerly on their footlockers, careful not to wrinkle their stiffly starched skirts. They were waiting for Acting Sergeant Frances P. Hall of Bakersfield, California, who had shepherded them through their first week of basic training to tell them how they made out in the inspection, Sergeant Hall, the daughter of a regular Army sergeant, obviously knew her way around.
"Relax, Women, " The blonde sergeant said , "We didn't do too badly, but we didn't do well enough for the First Platoon. A footlocker was out of line. Two shirts on the rack were unbuttoned. One girl had a dirty uniform in her civilian suitcase. Somebody had tried to clean her physical training shoes without removing the laces. And the latrine looked mighty shabby.
"So now, women we are going to smarten up," Sergeant Hall went on "We're going to stick to our barracks in our free time and really learn to be soldiers. "We're going to make the First Platoon the best darned platoon in the whole Battalion. If we get through next Saturday's inspection with flying colors, we will be next in line for a pass! And now ," she concluded, repeating a familiar question, "are you happy in the service?"
Yes, Sergeant!" the recruits sang out.
The WACs took their restriction philosophically- they hadn't much freedom yet anyway. So far their free time had consisted of two visits to the Post Exchange-under the escort of their noncoms-for the purpose of buying soap powder and liquid starch: a stop at the WAC beauty shop for short haircuts: and a few hours in the dayroom with it's soft chairs, Coke Machine and Ping-Pong tables. Their working hours had been so crowded that they neither had time nor hope for such relaxation.
The thought of a pass was captivating. Sitting on her bunk, a blue-eyed brunette from Kansas looked at the aging barracks around her, and voiced the platoon's general sentiment. "Just to get out of this place and see one good looking guy, "she sighed. "The only men I have seen so for are GI's on garbage detail."
The barracks though scarcely glamorous had been brightened considerably by Sergeant Hall and her assistant noncoms. Since Army regulations said nothing about the color of latrines, bulletin boards, scrub brushes, wash buckets or tin cins for cigarette ashes, these had been painted a feminine pastel pink. The latrine was decked out with pink mirror frames, pink shelves over the sinks, pink toilet doors, and pink elephants bounding over the drab pine walls. The ancient barracks, it's floor cracking from a decade of soldiers, had been home to the First Platoon since it's arrival at Fort Lee the week before.
That morning, some hundred and fifty volunteer women from Maine to Honolulu arrived at Petersburg, Virginia, and were loaded into olive drab Army trucks and were transported to Fort Lee, where they were counted, examined, and sorted alphabetically . The First Platoon by reason of Army logic, was assigned to women whose last names began with the first four letters of the alphabet.
From Adams to Dublin, the First Platoon recruits soon discovered they had plenty in common. In their home towns , they all
faced the same question.
"Why did you join the WAC?"
They all had joined for many reasons. Private Ruth Donahue of Somerville, Massachusetts, joined after her husband, Corporal Daniel Donahue, left for Korea. "I just had to keep busy," she said. Private Simone "Frenchie" Benoit enlisted from Wichita, Kansas, after the breakup of her wartime marriage to a GI she met in Paris. Private Eleanor Carney from Jamaica Plains, Massachusetts, wanted to make the Army her career, Private Virginia Adams, a seamstress in a nylon hosiery in Reading, Pennsylvania signed up after her fiance, Sergeant Jacques Ramer, was sent to England. Private Ella Booker of Baltimore, Maryland was one of several African-Americans recruits in the platoon, had long awaited to be a WAC-a nomcom as admired and respected as Sergeant Hall. "Shortie" Booker had another reason-" I always wanted to see what the boys were doing" Lanky Private Marion Cuprys of Williamstown, New Jersey, who lived alone while serving as a nurses aide in Philadelphia, hoped to train as an Army nurse, "I like it here," she said, "No one is ever lonesome.
The two oldest recruits were Private Virginia Ahrens and Private Agnes Dorsch both of Detroit, Michigan. Dorsch, a short woman with glasses had been in training as a nun until she left the convent to care for her dying mother, Ahrens, a crisp snappy blonde had been employed at a diaper service in Hollywood, California, and a carhop in Salt Lake City, Utah.
In the first week of training, the new WACs learned to dress in five minutes flat, a talent that would undoubtedly amaze their boyfriends back home. " Ten minutes is pure luxury in that time, I can shower, dress, put on makeup and still have plenty of time left to smoke a cigarette.
The recruits always called one another by their last names, which they could read on the identification tags on their blouses. Private Booker one day introduced a girl in the next platoon as her "very best friend." This is Estelle," she said. "What's her last name?" someone asked. "That is her last name," Booker replied. "I never asked her what her first name was.
The WAC schedule was so furious there often wasn't time for the briefest of pleasantries. For several days, Private Helen Budnick, a large, quiet girl was confined to bed with a case of the grippe, One morning, Private Pauline Bigler of Columbus, Ohio paused to ask Budnick how she felt. As Budnick opened her mouth to reply, the public-address system bawled out orders to fall out for Physical Training. "Sorry," snapped Bigler, "No time to talk."
The pace of the WAC basic training would have astounded their brothers, uncles, and husbands who had gone through the Army's basic training at the infantry center. .Private Eleanor Carney exploded one day when mail call turned up a letter from her brother, Private Charles Carney, then undergoing basic training at the infantry center "Look what he says, " Private Eleanor complained, "He doesn't have to get up until five o'clock- We are up by four-thirty. He sends his clothes to the post laundry -we do our own. He's had two weekend passes so far-and we can't even the company area."
Even under pressure the First Platoon's griping was gentle, Virginia Adams, a blonde kewpie doll of a soldier complained mildly that knotting her GI necktie was nothing short of impossible. She kept tying it like a hair ribbon. Susie Dublin of Union City, Tennessee was shattered to learn that her long tresses were against regulations" They never told me that my hair would have to be cut, " she drawled unhappily as Private Ahrens, the former beauty operator sheared away. Private Benoit, her English seasoned with Gallic excitement examined herself in the mirror and exclaimed, "This can't be Simone! I put on lipstick, it melts in the hot sun, I put on mascara, and it streaks. Never have I looked so terrible.
Mother's Day came early in basic training, reminding the girls of home. Some girls waited five hours to get their calls through the crowded circuits. One mother detecting a strong note of homesickness, inquired over the phone, "Isn't there anything you want dear?" "Yes," her daughter said, holding back a floodtide of emotion, "Please send me the attachment to my steam iron."
Another recruit had written her father that she wanted to quit the WAC. Her father reminded her that she joined over his protests, and said that she would have to make the best of it. But on Mother's Day he relented promising to do all he could to get her released. "That call changed everything," the young WAC later said, "Suddenly, I wasn't homesick anymore, and I decided to stick it out.
The day before the second Saturday inspection, the WACS were out of their bunks by 0430 hours in civilian language is four-thirty A.M. they leaped into their olive drab slips, dresses, sweaters and field boots, and began making their beds for the daily inspection by Sergeant Hall. Private Dorsch, who kept leaping under her bunk to pull the blankets tighter, knew precisely what was required. "The idea," she explained, "is to make the bed go (boinng!)
At five o'clock, the First Platoon rushed outside for Reveille and Roll Call. Then in the Company D mess hall came a breakfast that would be ample for a longshoreman. It included eggs, bacon, toast, cereal, a half pint of milk, juice and coffee in heavy mugs. "Once I would have had a headache if I was up before nine o'clock," said Private Benoit, "Now I eat like a horse before six"
The WACs were scheduled that morning for hourly sessions in Military Justice, Physical Training, Military Courtesy and Customs, Field Sanitation, and Dismounted Drill and Ceremonies, with fifteen minute breaks between classes for smoking or changing clothes. By eight o'clock in the morning the recruits had dressed and undressed three times in various uniforms, seer-suckers for reveille, Class A's for Military Justice, and back to seer-suckers for Physical Training. For Dismounted Drill which preceeded lunch , Company D wore sun-tan uniforms. Marching the Army has discovered is curiously appealing to women soldiers. Even under a hot Virginia sun, the company drilled happily. It was according to the company commander,
Captain June P. Gonzalez, a "smart marching outfit"
As Sergeant Hall snapped comands and counted cadence, the First Platoon drilled with heads up and near perfect timing. Some of the women adopted the light airy step of Captain Gonzalez. While others preferred the business-like stride of Sergeant Hall.
After another change of clothes, the platoon perched on the barracks steps and eagerly awaited chow and sang at the top of their lungs, "Here We Sit Like Birds in the Wilderness."
For Personal Hygiene, the first class after lunch, training films were shown in the darkened WAC theatre, this setting added to the exhaustion of the morning's pace and the heavy lunch overpowered some of the recruits who dozed off.
Map Reading however woke them up. In this course, the WAC's get the same training as the men. This became obvious when a contour map was imposed on a pin- up picture of Betty Grable. This customarily evokes loud wolf calls from male recruits, who display a marked interest in contours. The WACs however focused on the map.
During, Map Reading, Private Ahrens had a sudden question. She stood up and began to ask it. "How," the Instructor broke in, "Do you address your instructor? "Sorry, Ma'am," said Ahrens slightly rattled..She came smartly to parade, rest, and tried again. "All right, Private Ahrens," said the instructor, "Now what was your question? Ahrens blushed, "I'm sorry, Ma'am:, "I've forgotten.
The WACs completed their afternoon drill at three-forty-five more than an hour before chow. No believer in idleness Captain Gonzalez ordered the company outside for more Physical Training. By five o'clock they were back in the chow line for a dinner consisting of sliced ham, sliced cheese, potato salad, fruit salad, thick white bread, coffee, orange juice and cake a'la mode.
Back in the barracks, the WACs struggled back into their seersuckers. A week before Sergeant Hall had assembled her platoon and declared, "All right, Women we are going to have a GI party."
Interested the green WACs looked up eagerly. "A GI party," the sergeant informed them, "means we scrub everything down in sight that includes the latrine." Now after a weeks training the First Platoon knew that a GI party was no party. Four girls wielded long handled scrub brushes, and four others followed their soapy trail with with pink handled mops. Other recruits scoured ledges and sills and washed windows.
Swabbing, scrubbing and shining they sang, "Oh Mom, I Want to Go Home"
In a half an hour the barracks were clean, but the party had just begun. Four ironing boards were hauled in the aisles, and the WAC's took turns with steam irons on their starched and dampened uniforms. It takes two bottles of starch to get two shirts and two skirts the way the Army likes them. So much for fashion pioneer, Hattie Carnegie introduction of the soft, silken blouse to the WAC uniform. Still the platoon was not without it's moments of humor. Private Ahrens who had just finished her ironing, shouted across the room to Private Adams who was engrossed in ironing and wearing nothing but her slip, "Look out, hon, there is a man outside the window. Screams then laughter, engulfed the barracks.
At lights out at eight-thirty, most of the WACs fell into exhausted slumber. A few took flashlights under their blankets to scrawl brief notes to their boyfriends or family.
Next Saturday was the second Saturday inspection and by seven o'clock, after much hustle the platoon was ready for it. Sergeant Hall surveyed the line-up of footlockers and ordered one private to move hers a fraction of an inch toward the aisle. The sergeant then noted that Private Dorsch's shoelaces awry and ordered her to pull them straighter.
"I can't, " said Private Dorsch "I will muss my skirt." Well, take off your skirt," said the sergeant
"I can't," she answered, "because I'll muss my hair."
The sergeant had to think this one over, "All right stand on one foot, and let Private Bradshaw tie your laces properly."
"Do you think we will get passes for Petersburg?" Private Carney asked Private Donahue.
"That would be wonderful!" remarked Donahue.
At that moment, Captain Gonzalez entered the barracks and the platoon froze at attention. The captain smiled pleasantly, as she paced gracefully down the aisle, followed in single file by two visiting captains, a lieutenant, a first sergeant, an Acting Sergeant Hall and the Acting Sergeant Nellie Gruber of Los Angeles, California. Captain Gonzalez plunged into her work. She ran a cleasing tissue along a window sill and frame. She peered at the uniforms on the rack, discovered a shirt with two buttons unbuttoned, and tossed it on the offenders bunk. She discovered a comb in a cleansing tissue box, a cleansing tissue in a class notebook, a single hair on a recruits comb and a laundry bag overly filled with soiled clothes. She tossed these guilty items on the bunks. She stopped one recruit, and demanded the name of her battalion commander. The frightened recruit stood their speechless.
The captain went into the latrine, ran a fresh cleansing tissue along the drain pipes and under the sinks, and handed it back slightly smudged to the first sergeant. Then still smiling cheerfully she led her little procession out the barracks door.
Two hours later, when Captain Gonzalez assembled Company D, she said breaking into excited chatter, "At ease, women, I've got pretty good news. Only 23 of you are confined to barracks to work off your gigs, The rest of you will get a pass tomorrow.
They're having an Armed Forces Day parade at the main post, and you'll be allowed a three hour pass to see it."
Nobody mentioned Petersburg. Nobody at that moment even cared about Petersburg.
bivouac week was memorable. In preparation for it, the recruits learned to crawl on their stomachs, in the company dayroom while Sergeant Hall exhorted them to keep their fannies down.
The only causality was Private Carney, who in all earnest efforts to keep tucked in somehow broke her watch.
It rained three out of the four days the platoon spend out in the field, but the only mishap that could be traced to the rugged Bivouac maneuvers was one mild cold. On bivouac, the recruits marched with field packs and sang "Sentimental Journey"; They tested their gas masks as men soldiers do, taking them off inside the gas chamber, just long enough to recite their name, rank, and serial number; they pitched pup tents and camouflaged them skillfully with pine boughs.
Between thundershowers, Captain Gonzalez visited the bivouac area, almost tripping over the well camouflaged pup tents. She announced that Sergeant Hall who was officially only a corporal, had been an acting sergeant long enough and presented her with the sergeant's chevrons. The First Platoon cheered long and loud for their sergeant. Sergeant Hall was so moved that she was unable to finish her sandwiches. Later that afternoon, while Private Booker was sewing on the new sergeant's chevrons, Hall told the platoon that they could rest in their pup tents if they wanted to. While the WACs were resting she and acting Sergeant Gruber went through the little camp and started pulling down tent poles. "When you are in the field, she told the startled platoon, "you must always be alert."
After bivouac week was over, Private Benoit was jubilant, "I got through it all without fever or disease." I wrote about it to my grandfather in Paris, who replied, "Simone, we salute you! You are a Jeanne d'Arc come to the American Army.
Following bivouac week the First Platoon finally got to Petersburg on a six hour pass. They enjoyed a steak dinner, window shopped and sat in an air-conditioned movie house and watched a real movie where Personal Hygiene was not the subject.
Several weeks later, the First Platoon had taken all the Army had to give. They were no longer big eared and gullible, and when the new recruits marched past them to begin training, the First Platoon leaned out the barracks windows and chanted, "You'll be sorry!" The platoon had no regrets except at departing.
In the final days before graduation, most of them had to have their uniforms altered. Many a chubby WAC had shed pounds and many a scrawny WAC had acquired them.
They turned the table on Sergeants Hall and Gruber one evening, hiding the sergeants bunks, springs and mattresses, and soaking the sergeants down with buckets of water when they entered the barracks for a bed check.
Finally they lined up at the parade rest in the company area to receive their Certificates of Completion along with orders to report to Army schools, and new assignments. They cheered themselves hoarse when Private Carney was called out of line and awarded a special certificate as the outstanding trainee of Company D.
The next day, the First Platoon was broken up and sent off to various posts. In many ways their parting was a damper experience, much more than their week on bivouac.
As one lieutenant put it later. "They never knew how really close they could get. They made real bonds here, Most of all I think they learned something, they might have missed in civilian life-if you don't quit when the going gets tough, you'll wake up wondering what was so tough about it.