Find Relatives
Are you an ancestor to Hattie Carnegie? Are you trying to find long-lost relatives and friends? Well perhaps HC-Inc can help you! I hereby dedicate the entirity of this page to my friend, I will always treasure your friendship forever, Bill.
"Together we have discovered so much about your connection with the Carnegie/Meyers Family. I just hope that one of your long lost relatives will see this entry, and send some contact information!"
All my love, appreciation and friendship to you, and your family Ruth, Laura and Andrea.
To learn more about Bill, great nephew to Hattie, other family and friend stories, please click on any archeive box below!
The boxes have not been activated as of yet.
Here is Bill's Story in Print:
HELPING A SPECIAL FRIEND TO LOCATE HIS LONG LOST RELATIVES
My personal dedication:
I will always treasure your friendship, Bill.
Together we have discovered so much about your connection with the Carnegie/Meyers Family.
I just hope that one of your long lost relatives will see this entry, and send some contact information
All my love, appreciation and friendship to you, and your family Ruth, Laura and Andrea.
Bill's Story...........
For the past three years, I have been corresponding with an online friend. Together we are researching his family history. We have located some answers, but with every answer we discover additional questions always follow.
Bill Stevenson was born as Ralph Emil William Meyers on September 1, 1939 in Bronx, New York the son of Stella (Abraham) Meyers and Herman Meyers. He was of Jewish Heritage and he was ironically, born on the day that Adolf Hitler invaded Poland.
Bill is the great nephew of Hattie Carnegie. Bill was three years old when his mother, Stella Abraham divorced his birth father, Herman. A few years later Stella remarried Howard Stevenson. Howard legally adopted Bill and raised him as his own. Bill always considered Howard his real father because he raised him, loved him and was there for the important events in his life.
We all have a curiosity about our heritage, and Bill wasn't an exception. It's actually more fascinating when you discover that your heritage and bloodline included famous and internationally known celebrities and successful business people. Bill was told that Hattie Carnegie was his great aunt on the side of his birth father and that Hattie's younger sister , Celia was his paternal grandmother. . Celia named her son in the honor of her beloved brother Herman.
There was a bitter custody fight for Bill, unlike the honorable uncle he was named for, his birth father Herman had exited out of his life, and didn't want to be a father to him, so he cut ties with Bill when he was young.. Howard wanted to adopt Bill and he eventually did. Bill actually remembers spending time with his grandmother, Celia who babysat with him when he was a toddler. We are not one-hundred percent certain, whether it was the news of the impending adoption, or Herman's abandonment of his son, but somehow a piece of the news reached the Carnegie family. This news led to Hattie and Celia filing a suit against Bill's mother attempting to prove her as an unfit mother or to stop an adoption from taking place, but they actually attempted to try to take Bill away from his mother Stella. The suit was either eventually dropped by the Carnegie family or Stella won and retained custody of Bill
Stella was very upset, by this action orchestrated by Hattie. There was bitterness on both sides of the battle for Bill , and family ties were severed with the Carnegie family. This lawsuit was a major mistake on Hattie's part, because many people were hurt by this action that was taken by Hattie to help her sister. Maybe if the Carnegie family hadn't frightened Stella that her son would be taken from her, perhaps family ties would have continued if not with Herman, at least with the extended family, and Bill might have known his aunt Hattie and his grandmother Celia. I believe that Hattie and Celia definitely loved Bill, that was why they attempted to keep him within the family but they were thinking very irrationally with their hearts and not with their heads when the suit was filed, and in the process Stella was heartbroken and fearful, that they would take her only son away whom she also loved.
The last time that Bill saw his birth father was when he was ten years old. Herman visited Bill in Philadelphia with a woman who was probably his new wife. That was final contact that he ever had with Herman.
When he was a teenager, Bill asked his mother if she could contact Herman or the Carnegie/Meyers family, for him. We don't know if Stella contacted Herman himself or some other family member, we do know that it could not have been Hattie, because she had recently passed away. Anyway, whomever Stella contacted on behalf on Bill, sadly told that they did not wish to meet with him. Bill attempted to write to his father, and he doesn't know if the letters reached the correct destination or if they had were ever even opened or read, because he never received a response.
Two years ago, Bill still wanted answers as to his heritage, his mother had passed away, so he could no longer ask her for the answers, but he wanted to find out about his family that he never knew. He wanted to know if he had half-siblings or cousins that he could learn about the family from or get to know them as friends or acquaintances. He conducted a search on MSN and typed in Hattie Carnegie that was how he located this site.
We began to email back and forth trying to locate information about the Carnegie family .
I can understand Bill wanting to learn about his biological family, my brother Eric was also adopted and he wishes to contact his birth mother or siblings (if any) he even went to see a lawyer about five years ago a He was permitted to view his records, even though it was a closed adoption. Eric was one of the last private adoptions in the State of Maine. He was born in 1975, and adopted by my parents at three months of age.
State law says that a meeting cannot take place unless both parties request a meeting and the state is not allowed to contact Eric's birth mother, but if she contacted the state, they could contact Eric, so far nothing. I hope that Eric can meet his birth mother, I was two and a half years old when my brother was adopted so I don't remember a thing about the adoption of my brother, however I am able to better understand Bill's situation from a personal standpoint as a sibling of an adoptee.
-----------------------------------------
Hattie's nephew, Herman was Bill's birth father
Regarding Herman: I was told that there was a serious attempt by that side of the family to fight for my custody. Don't know all the details, but I guess they gave up at some point. My mother moved to Philadelphia and at the age of about 10 years old. I remember Herman and his then wife/girl friend coming down from NY to see me. But everything is fuzzy and that's about all that comes to mind. I have another very, very fuzzy memory of staying with my grandmother (Celia) when I was probably two/three years old. After that, there is no memory of that side of the family. I can tell you that at some point in my life when I was an adult I asked my mother if she could contact them. She said she did, but that whomever she spoke with did not want to see me. So sad.
Seeking Answers.........
My mother had a WWII type marriage that didn't last too long. Then she married Howard Stevenson when I was about ten.
Now that I've focused in on specific people, I'm thinking about hiring a private detective to see if contact can be made with Herman's children (may half brothers/sisters).
Little did you know that when you began down the Hattie Carnegie road you would be having this type of conversation.
Love, Bill
He was an Educator........Trying to understand the students
Bill was once the Dean of Students at the University of New York at Farmingdale. Here is a funny story that he shared with me when we were discussing of all things spinal fusions..
Dear Amy,
Thank so much for sharing your lives with me. You and Brian are really heroes to me and you show to the world that everyone has value as a unique individual and that no one should ever be stereotyped with preconceived notions regardless of first impressions.
I know a little about spinal fusions as I had one over thirty years ago on my upper vertebrae (3 and 4) due to a deteriorated disk possibly due to my high school and college wrestling careers. However, it didn't really affect my life style although I still have some discomfort.
Cerebral palsy.........
I will share with you a story that you might find amusing. I hope I haven't told you this already. Do you recall that I told you when I was the Dean of Students at the State University of NY at Farmingdale I ran a regional seminar on dealing with students with disabilities? One of the things I don't believe that I mentioned was that I had my entire staff, including myself, run around campus in wheel chairs for the better part of the day. Besides learning about the difficulties about operating the chair in all kinds of terrain, elevators, doors, etc (need I tell you), the most important thing we learned was how we felt about the people looking at us. I found myself wanting to tell people that I was just involved in an experiment and I really wasn't wheel chair bound. It was a very sobering experience and gave me a small window in to how better to relate to those in wheel chairs. For example, I also try to look people in their eye, smile (if appropriate) and recognize them as human beings who happen to be in a chair. We have so much to learn.
One of our speakers at my conference was a college Dean who had, I think, Cerebral Palsy. I offered him a cup of coffee. He laughed and said that he was taking medication and that the last thing he needed was caffeine.
It is very difficult for those of us who are not enlightened about the personal aspects of your medical issues. Our friendship is very important to me and you have taught me a lot. There's an old _expression in education:
'More is caught than taught.'
I can't imagine what life is like for you and Brian. It sounds like, to some degree, you've sorted things out, learned to live within and a little beyond your limitations while not sacrificing the beauty of our existence. I have great respect for you and some affection, too.
Anyway, thanks for the contacts. I will email them today and keep you posted on my progress.
Ruth says hello
Love, Bill
-----------------------------------------------------------------
Ambitious and Successful just like his Great Aunt Hattie.......
Success must be a part of the Carnegie bloodline because Bill obtained a doctorate in education, and he taught various courses related to business, but after twenty years, he needed a change.
Like the famous aunt that he never had the opportunity to get to know, Bill wanted to do his best, I am sure that Aunt Hattie would have been proud of her great nephew, when he went into business for himself
In the early 1980's he founded National Tax Consultants. According to Bill, it was ultimately Hattie who was responsible for dressing Bill up as Little Lord Fauntleroy, when he was far too young to rebel over wearing that sort of a costume I looked those up on the internet, "Poor Bill" Regarding those suits, I remember watching an episode of Little House on the Prairie where Mrs. Oleson was going to force Willie to wear a Little Lord Fauntleroy suit, and made him put it on, and he started a fight outside and he was happy because the other boys ripped his new suit to threads.
National Tax Consultants......... (and accomplishments)
Bill didn't stop with succeeding as a tax preparer; he took his practice to a national level. Today he
1. Testifies before the House Ways and Means Committee.
2. Makes recommendations to the IRS (some of which have been adopted)
3. Consults with members of Congress regularly.
4. Writes countless articles that are published in Tax Notes.
5. Is one of 250 people (who are not attorneys) since 1943 to become licensed to represent clients in the United States Tax Court.
6. Represents taxpayers before the IRS.
7. Prepares 500-600 individual tax returns in addition to estate, trust and charitable filings.
The DIRECT LINK to NATIONAL TAX CONSULTANTS
http://www.nationaltaxconsultants.com
--------------------------------------------------------------------
Just like Hattie, Bill has had his challenges……..
The talk I gave in Las Vegas was about the United States Tax Court. It went well. Although, right in the middle of it, one of the professionals told a horror story about how she was professionally destroyed by a group of attorneys who didn't want her to practice before the Court even though she was admitted to do so. There are a handful of us throughout the country who passed a test given by the Court. We are not attorneys, but can practice before the Court with all the rights and privileges of an attorney. About 250 people have been admitted as non attorneys since 1943. So, you can just imagine how I felt. I had to pull myself together and refocus everyone on the issue. It was tough and I felt so terribly sorry for the gal who had all those problems. It appears she is okay now.
Regarding the Washington stuff, I have testified many times before both the House and Senate. This last time one of the staff members asked me if I could bring a client to a hearing on the matter of the Alternative Minimum Tax. The testimony I wrote for my client, who is a New York City Fire Chief, was convincing enough to affect legislation. The Senate Finance Committee asked me to review a draft of a letter they were sending to the Secretary of the Treasury. Pretty heavy duty stuff, don't you think. It's nice to have such trusting relationships considering the fact that I'm not a lobbyist who spreads money around. Democracy works, but it is hard work.
Personal and Family Stories......
Bill has also shared some really wonderful stories about his family. He has been married to his second wife, Ruth for over thirty years. He has two daughters from a previous marriage named Laura and Andrea
----------------------------------------------------------------------------------------
Dear Amy,
I have two children by a first marriage: Laura and Andrea. Ruth and I have been married for over 30 years and she didn't want to have children. Laura, who is now 40 and lives on Long Island, moved in with us when she was 15. Laura is married with no children. She is the choir master for a small church not far from her house and her husband, Kerry, works for Ricoh. . Laura graduated with a two-year degree in music from a community college. Andrea, is three years younger and lives in Bear, DE with her second husband, Rich. They have a gorgeous 3 1/2 year old boy, Ricky (the Third). They drove up for Thanksgiving Dinner and stayed a few days. Total exhaustion!!!! Ruth and I drove to Delaware after Christmas and spent a few hours with them. I had a terrible allergic reaction to a dog she was baby sitting. They both work for MBNA.
Andrea has a four year degree from a college in South Jersey. This is Rich's second marriage, too. He has two children by a first marriage. The oldest son is now in his second year at St. Joe's in Philly. The younger one is in high school. Lots of intrigue there.
Allergies........
We no longer have pets. However, when I first met Ruth over 30 years ago she had four cats and seven dogs (Samoyeds). I am allergic to cats. When I was wooing her, do I have to tell you about the cats. They adored me and were all over me. I was popping pills and she never understood why. When we got married, we kept two of the dogs who became the center of our lives: Snow Bear and Cleo. When they died it was more than I could bear. I really didn't want to go through the loss of a pet again. Our life style changed somewhat and we did enough traveling to make it tough to have pets. Who wants to leave their pet at home?
Ruth works in the office and we are with each other all the time. We have a very special relationship.
-------------------------------------------------------------------------------------------
Bill Loves Ruth.........
Ruth is anything but an accountant. Although she works with me, she hates anything to do with accounting. She used to do a lot of inputting of tax return data into the computer based on the info we gave her. However, with the change in technology she doesn't do too much of that anymore. She helps me with word processing of my articles and does some word processing of medical letters for a local chiropractor. She is also knowledgeable about how these blasted things work and helps me dig out of computer illiterate holes that I dig for myself.
The real story is that Ruth has two degrees in musicology from Hunter College. So, as you can imagine music is a very important part of our lives: ballet, opera and so forth. Real quality of life stuff.
I began our business in the mid 1980's. It has changed quite a bit and I've gained a lot of credentials and perspective over the years. As I've already bored you before, I concentrated on learning about how to protect taxpayer rights and played a role in orchestrating legislation to help protect taxpayer rights. Stuff that no one gives you credit but something for which everyone is grateful for without realizing why they have it..
Amazon.com just emailed me that the Hattie book is being shipped. Think I'll find anything useful for my quest?
Back to work for me!
Love, Bill
------------------------------------------------------------------------------------------
Holidays......
Thanks, Amy,
Our Christmas was perfect. My daughter, Laura, is in charge of the choir for a small church not too far from so here. So, as has been our custom these last several years, we went to the Christmas Eve service. They did the Hallelujah Chorus from Handel's Messiah. Consider the small number of people in the choir, they really did an excellent job. The next day it was just Ruth and me. In the early evening we went to her house where we had a quiet dinner with Laura, Kerry (her husband), Ruth and me. Oh, yes, how can I forget Decker her Sheppard mix.
An Aspiring Author.......
I am in the painful and humiliating process of trying to get my novel published. Not much success. Sent it out to about 35 literary agents and publishers. All responses were negative with most of them being kindly written form letters. But, it is a great challenge and I'll keep working on it.
It will interesting to see what the new Hattie book says about the stuff that I am trying to discover. On the surface it seems like it will talk mostly about the stuff you've already researched. We'll see.
Thanks for keeping in touch.
Your friend, Bill
-------------------------------------------------------------------------------------
Mighty IRS.......
Dear Amy,
I know exactly how you feel. I am the person who convinced Congress that it should pass a law to change the primary mission of the Internal Revenue Service from Enforcement to Service. There is now a federal law that states: the IRS' primary mission is SERVICE. I did get a letter of thanks from the then chairman of the Senate Finance Committee. (It was very hard work and I had lots of other recommendations adopted). But that is it! Who knows or remembers that William Stevenson is responsible for changing the mission of the mighty IRS. Hardly anyone.
Lots of deserving, creative and hard working people do not get credit for what they've done. In some cases, people have been killed for doing good work. I'm reading a book called "God's Secretaries" (don't get scared, I am not a religious person). The book is historical and it's about how the 50 Translators picked by King James I set out to come up with a new translation of the Bible in the early 17th century. I also learned that many people were put to death for their beliefs. One important man did an excellent translation that was used by many in the 1500's. He had to hide in Europe and was ultimately put to death for his work.
Keep your spirits up, Amy. The wonderful work that you have done is not minimized by the fact that you weren't recognized. Your work is a monument of skill, love and creativity. No one can change that. No one!
Now, a word about copyright. You do not have to officially copyright a work in order for it to be copyrighted. It is my understanding that it is automatically copyrighted upon your creation. There are attorneys who specialize in that field. They probably are expensive, but you might want to consider paying for an hour's consultation to set your mind at ease. I don't know if your work is considered public domain. It doesn't matter that it is a hobby.
My book is a story about how a success business runs into tax problems and what happens inside and outside the IRS. Lots of human interest and enough sex sprinkled in it to make it interesting. =)
Bill
-------------------------------------------------------------------------
A Major Breakthrough.......
Finally discovered the names of Bill's paternal grandparents
(Hattie's sister and brother in law)
WOW! and Super WOW!
You nailed it....
Thank you so much. I don't know what to say.
Love, Bill
---------------------------------------------------------------
Life is a Learning Process.......
I came from a loving but seriously flawed family. My mother had two sisters. I have fond memories of Momma and Poppa, my grandparents on my mother's side. Poppa was from Hungary and Momma was from Yugoslavia. Her maiden name was Sara Stein and Poppa's name, Leopold Abraham.
So, thanks to you, I have a pretty good idea of my heritage back to Great Grandparents on both sides of my family. Amazing! Truly amazing.
Now about cell phones. You need a contract where each of you have a cell phone. If that had been the case, you would have been able to call each other in Disney World. Whenever you are separated as long as you phone is turned on, you will always be connected. I feel so sorry for the trouble you had in Florida. You deserve so much better.
Thanks for keeping in touch. Never stop.
Love, Bill
---------------------------------------------
You Are Very Welcome.......
Dear Amy,
You are so sweet to share your personal history with me. Since you and I met there is not one word that you have written that has bored me.
On another note, I wouldn't object to your putting my name in your site as someone who would like to contact family members. They can either go through your site and you can pass it along or if you'd like to include my email, that would be fine, too. Now that we found out that Celia married Frank Meyers, it really seals the deal. Hey, speaking of seals, I wonder if Celia's nickname was Ceil? What do you think?
XO Bill
---------------------------------------------
Ancestry.com.....Andrea and Laura
Dear Amy,
That is great information about my heritage. My daughters, Andrea and Laura, will be eternally grateful for your perseverance and willingness to share your findings.
This morning after I read your email, I ran out to the library to see what else I could learn. Actually, I had to go to two libraries because the one in my hometown doesn't have free access to Ancestry.com. Nevertheless, the only hard information I got in either place was an entry in the December 16, 1943 New York Times. The Times has an annual charity drive and a contribution was made in the memory of Celia Meyers. I have to guess that this is my grandmother although I can't be sure as there is more than one Meyers.
Ancestry.com got me into Census information up to 1930 and back. Would you believe that I couldn't find anything for Celia and Frank. Bummer! Did they hide when the census taker came to their door?
I did find a Hattie entry in the passenger section for the Bremen. On November 11, 1937 one of the passengers listed Hattie Carnegie as a friend. Not sure if she was with him, though. Maybe he had to list someone in the US that he was visiting. Anyway he was a designer from Paris. His name is Louis Andre Berthoult. The Bremen left from Cherbourg, France.
Maybe with some luck you'll find a family contact and we'll be able to get together. That would be great, wouldn't it?
So now you know that I wasn't just a lot of hot air. When I told you that if we could learn that Celia married a Meyers, that would close the deal for us. Well, you discovered it and I know more about my rich heritage. Thanks soooooo much!
Love, Bill
Please contact
I'm back. When my daughter, Andrea, read my entry she though I wasn't being detailed enough. OK. My biological father, Herman Meyers, is Hattie Carnegie's nephew. Anyone with helpful info is welcomed to respond to my email address.

William Stevenson (Meyers)
ntcstevenson@msn.com

2006-01-25

---

Amy, you are a national treasure. From your info I learned that my Grandmother is Celia Meyers. Would love to contact with a family I never knew. Love, Bill

William Stevenson (Meyers)
ntcstevenson@msn.com
http://www.nationaltaxconsultants.com
2006-01-25

---
I can be reached at the email below
Thank you,
Amy
------------------------------------------------------------------------------------
I was happily contacted by another relative of Bill and Hattie.
Her name is also Laurie
I decided to Google Hattie Carnegie today because I just spent two hours with my 89 year mother. She has dementia and can't keep her own kids straight but still has quite a memory of the past, although she gets a little confused when she retells it! But my whole life I heard about Hattie and her mother, my mom's "Tante Henna".

My grandmother's sister was Hattie's mother. That would've made Hattie
my mom's first cousin. My mom told me stories my whole life, before she
got the dementia.
My mom worked at "Carnegie" as she called it. She told me how she
schlepped clothes up and down the stairs when she had a bad back. How she
wasn't allowed on the sales floor without a "girdle and wardrobe check"! That Lucy (Lucille Ball) used to come in all the time and she would wait on her.
And the best story of all, how Cary Grant came in one day and winked at her! My mom was quite beautiful in her own right.

Today, out of the blue she started to talk about her Tante Henna. She
talked about another one of Hattie's sisters that had two children who gave
all their hand-me-down fancy expensive clothes to my mom and her sister
Marian.
My mom's family was poor as could be and the two of them would go to school in these exquisite clothes when everyone was dressed so poorly. She
said the teachers would keep her and her sister after school just to look at all the details of the clothes they would wear!

Today for the first time she spoke about "Herman". All the years she
told me stories she had never mentioned him. I was so intrigued by her stories today that I came home and googled Hattie Carnegie to see what would come up. Your site is the first I have visited. I was delighted when I read an article that mentioned Hattie's brother Herman. It's amazing how my mom's mind is so mixed up at times and old stuff comes out that is real. Especially since last week she claims my son told her I was starting a
new job and was too busy to visit her. What he told her was that I was
working planning a wedding shower for my niece and would be too busy to see her for a few days. She was ready to pack her bags and move back to New York to her sister because she figured she would never see me again! Boy was she happy to see me today!

Anyhow, on Saturdays when she was a little girl, her mother would take
herto see Tante Henna. My grandmother would bring her sister underwear andother things she needed. My mom says Hattie would give my grandmother some money when she came. Hattie was trying to get her to take care of Henna, evidently she wasn't well. But my grandmother told her, I have 4 of my own children to take care of.

My mom says Herman took care of the business end of Carnegie and when
he saw my mom at work, he never acknowledged her as if he didn't know her!

I know I will remember more and I will ask my siblings what they
remember of the stories. I hope I hear from you to make sense of some of this. I have barely tapped into your site but I will be reading more.

Oh! There is also a mystery dress I have that I believe to have came from
Carnegie. The label is snipped out as my mother always clipped them out of her clothes as they bothered her. I will get you a picture. It is a beautiful red dress that my mom had said one of the seamstresses had made for her. Or maybe she bought it at Klines! Who knows!
-----------------------------------------------------------
Response from Bill.....
Dear Ms. Nada,
Very exciting to hear from a relative; however, I'm totally confused as to our relationship. I think women do better in that milieu.
Thanks to "Sweetheart, Amy" I've been able to piece together some rather specific information about our family. There may be some errors, but not many.
Isaac and Helen Kanengeiser emigrated to America from a small Jewish village in the Austrian countryside at the turn of the 20th century. Isaac was a talented artist and skilled tailor. A house fire was given as the cause of the move. Isaac came first and then sent for his family once he saved up enough money for their passage.
Their children were: Henrietta (Hattie), Herman, Abel (Toni), Madeline-Mary (Mary), Rose, Frances and Celia
Celia married Frank Meyers. They had a son, Herman. He married Stella Abraham. Herman is my birth father and Stella is my Mother. They were divorced when I was three years old. After that, I had little or no contact with that side of my family. Hattie is my great aunt. I suspect Herman remarried and had children. I'd like to meet them before we all disappear. My birth date is September 1, 1939. I also have a sister, Brenda Wilma Pedrow. Brenda was born August 31, 1942. We both have two children. I have two daughters, Laura and Andrea and my sister has two sons, Brian and Bradley.
Rose's son was Harold Carnegie Apisdorf. He was born July 14, 1912 and died April 13, 2000. His first wife died and he married June, who I spoke to last year. She lives in Longboat Key, Florida. Harold's son, Peter, is by his first wife who lives win Mexico.
There's a lot more history and genealogy, I'm certain. Hopefully, this little informal overview will give you a little perspective on who is who.
UPDATED INFORMATION ON ROSE CARNEGIE-APISDORF AS OF APRIL 30, 2012.
Per Michael Laux (Rose's Great Grandson)
THANK YOU MIKE!
I'm very impressed with the amount of work that you have done creating this website. I have some additional information for you.

My mother was Claire Carnegie. She was the daughter of Rose Carnegie and Bernhard Apisdorf. She had two brothers, Irving and Harold. Both Claire and Irving worked for Hattie Carnegie. Irving was in charge of the jewelry and Claire the millinery (hats). Harold was a lawyer who practiced in New York City, but lived in Greenwich, CT.

Irving Apisdorf had two children, Carol and Suzann and Harold had one, Peter. Peter surmounted a serious automobile accident that caused a brain injury, but is married has a wonderful family and is a physicians assistant helping poor people in Mexico.
Michael Laux
Bill
---------------------------------------------------------------------------------
----- Original Message -----
Another eMail from Laurie
This is getting fun and confusing! My grandmother's name was also "Rose" Kranczer. Considering that Jewish people usually name for the dead, it's interesting that there are two Roses and two Hermans.My grandmother was sent here on her own at about age 16 and never saw her own mother again. She married very young as many did at that time. She became a "Levinson". Harry was her husband. I have her wedding ring which has it's own story for another day! Rose, Hattie's cousin, my grandmother, had 4 children. Gerald (Jerry) Marian, Irving and my mother, Grace. All except Jerry are still alive. My mom is the youngest at 89 and I beleive the other two are 91 and 92. I speak to my aunt and uncle periodically. My aunt is hard to talk to but my uncle is still very sharp so I will ask him what he remembers. They are both still n New York. My family moved here to California in 1958. I was 5 along with my twin brother and my older sister who was 10. My mother went from being a Levinson to being a "Guss" 61 years ago. My father passed away Feb. 2005. Keep digging everyone. This is fascinating! Happy 4th of July! As we are all researching our roots, it's hard not to picture all these folks coming in at Ellis Island after a long trip over from Europe.
-----Original Message-----
From: Amy Wiggin [mailto:hattiecarnegieinc@yahoo.com]
Sent: Tue, July 04, 2006 3:04 PM

Subject: You are all related to Hattie Carnegie
Hi Bill, Laurie and Lori
I'm pleased to find out that there is a three way family connection for the three of you via Hattie Carnegie's mother whose name was Helen Kranczer Kanengeiser before the family emigrated to the United States when she changed it to Carnegie with Hattie and the rest of the family. According to Laurie, Helen's nickname was Henna, because her mother referred to Helen as (Tante Henna) and that is so interested because Hattie's birth name was Henrietta.
Well anyway, I took the time to piece the emails together for all of you!
THIS IS VERY EXCITING FOR ME, and I hope to hear from each of you soon.
-------------------------------------------------
A photograph of Bill, with his grand canine (LOL!)
He is named Zeke, and he belongs to his daughter Laura.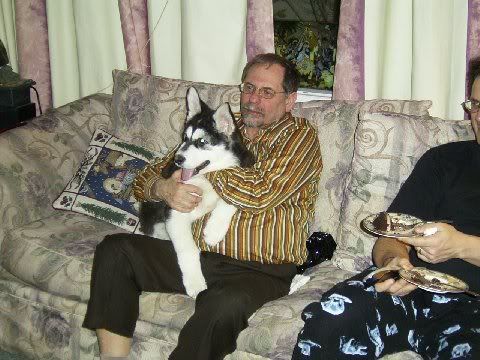 Second Cousins Meet Because of Hattie-Carnegie.com
Again, I will allow Bill's eMail to describe the meeting.........
Dear Amy and family,
So, Ruth and I made the pilgrimage to NYC. We met Lori at 5 pm at a crowded Starbucks.
We don't have photos because she was a bit nervous about having her picture posted on the internet. Therefore, we will keep this correspondence between us. Since I already have a national exposure, I don't mind; so, I'll send you something. Hopefully, I won't frighten you. =)
As you know, Lori is my second cousin. Her sister, Melissa, also my second cousin, was traveling to the Hamptons for the weekend. We'll have to wait for another time to met. Lori did show us pictures from her recent wedding and at least we got to see Melissa, albeit vicariously. My cousins are very pretty.
We discussed the people in our family based on the information I gleaned from you and Lori's limited knowledge. Lori said she was going to try and seek more information from her parents. I had charted out the family tree as we knew it at this point so we could see who was who and who was from who(m ). Lori said that her family was 'Kohane' which in the Jewish culture is, I suppose, somewhat like Indian caste culture. In India, the relative caste to the Kohane would be Brahmin. The Kohane line comes down from the males and Lori thinks since my great grandfather, Isaac Kanengeiser's name began with a K, it is possible my side is Kohane, too. You can googlize the name to find out more details.
I'd characterize our meeting as cordial with an overlay of 'this is amazing.' After all, it's not like we're best friends and have established a life long relationship. Also, for me it was somewhat overwhelming to have made a family connection. The world kind of stood still for an hour. It's hard to explain my emotions, but I will tell you that they are deep and quiet. I'm particularly pleased to have been able to trace my heritage back to our great, great grandfather on my birth father's side and my great grand parents on my Mother's. It also pleases me to be able to pull together this information for my children, my grandson and my nephews. At some point in their lives, if not now, this research will be treasured.
What I've learned from all this. is that we have a rich Jewish heritage on both my Mother's side and my birth father's side. Kind of odd since I was primarily raised in a Christian environment when my Mother remarried and remarried. My blood is a combination of Hungarian and Austrian. It pleased me that my family, most of whom I've never met, treasures the importance of education. Both Lori's parents have degrees. Her dad, names omitted upon request has a degree in math from Brooklyn College and an MBA as well. Her Mom,, has a degree from Boston University. Melissa also has two degrees. Melissa's undergraduate degree is in Math/Economics and an MBA, probably in Finance as she works in the heady field of mergers and acquisitions. Lori has an undergraduate degree from Binghamton in English (Lori, forgive my poor writing) and a law degree from NYU. My nephews, Brian and Bradley (both of whom I've met) have degrees in law and engineering, respectively. My daughter's, Andrea and Laura, have degrees, too. Andrea has a bachelor's degree in Human Resouces and Laura has an associate degree in Music and is currently working on a bachelor's degree in religion (Christian). As you know, I have an undergraduate degree in Business Education from Bloomsburg University. a Master's and aDoctorate in Education from Temple University. My wife, Ruth, has a bachelor's and master's degree in music from Hunter College.
Lori's parents both are retired and live in town omitted, Florida. Wouldn't it be amazing if they lived near my cousin, Stuart Landau. They live in the subcommunity, Cascade. Can't recall the name of Stuie's settlement.
UPDATED INFORMATION AS OF APRIL 30, 2012
Some additional info for Lori: Rose Carnegie Apisdorf, Hattie's sister, had a son, Harold. Harold would be my Uncle. He married Judy (died of Altheimer's disease) and they had a son, Peter. According to June, his second wife, Harold was a very accomplished man. He received an undergraduate degree from Columbia and a law degree from Yale. Uncle Harold spoke several languages. According to an obituary, Harold was an attorney and real estate developer who was born in NYC on July 14, 1912 and died in Longboat Key, Fl on April 13, 2000. Harold practiced law in Greenwich, CT and in 1980 retired to Longboat Key where he was a member of Temple Beth Israel. It's a pity we never met.
The other thing I learned is that Amy Wiggin is a wonderful human being that has made a difference in my life. Thank you, Amy.
Love from your friend, cousin, uncle and father,
Bill and Dad
____________________________________
New Information for Bill, that I wanted to share with the site, regarding the
Carnegie Family.
Hi Bill:
In the summertime,my part time job involves many full time days.
I usually cover hours for my co-workers during the heavy vacation months in our office.
I really do not mind in the least because anything that exceeds 25 hours is overtime for me, and we are always CLOSED on the weekends. SMILE!
Because of my busy schedule during the weekdays and desire to continue to research Hattie and Family. I decided to subscribe to the New York Times Archives, so it will enable me to research without having to travel to the library after work or on Saturdays, and the beauty of it is that I can research on my own time in the comfort of my home.
Here is what I have located:
Herman E. Meyers was apparently born in 1920 and he passed away on February 21, 1996 (Forty years after Auntie Hattie) Ironically Hattie died on February 22, 1956.
He resided in Fort Worth, Texas for many years. He was 76 years old at the time of his death, and at that time he had worked as a sales manager for Sears Roebuck and Company.
Unfortunately, I was unable to access the entire obituary for any survivors because the article I located was posted in the Fort Worth Star Telegram, and I do not have a subcription to the archives.
Celia Carnegie Meyers was the widow of Frank Meyers, what do you know I was right about that.
Your paternal grandmother amazedly outlived your birth father and she was an incredible 101 years of age upon her death in March of 2002. In her later years, Celia worked in retail sales at a department store in Denver, Colorado. Sadly I also was unable to access her entire obituary because it was located in a different newspaper in Colorado, so I was unable to find out the names of any other children she might have had.
Celia's funeral was held at the Temple Emanu-El (sp) in New York City.
The same location where Hattie and Major John Zanft were married on August 22, 1928. Who knows, Perhaps Celia and Frank were possibly married there too?
Celia was more than likely buried in New York City somewhere, because her funeral was held within the city.
More Information, I found out about Celia Carnegie Meyers
She was born Celia Kanengeiser in either 1901 or possibly 1902. Helen (Hanna) apparently went into labor with your grandmother during the time period that Hattie was working at Macy's because she started employment at the department store at the age of 15 or 16. Celia was born in the New York tenements. The family changed their name legally to Carnegie at Hattie's urging that it was good luck, and to be more Americanized.
Hattie was much older than Celia. She was born on March 15, 1886.
Isaac passed away shortly after the birth of Celia, so she never knew him.
Hattie became the primary breadwinner, after Isaac's death, Herman was launched into the role of father figure, as the eldest son, and in addition to working assisted his mother Helen with his younger siblings.
I heard from a family insider that Hanna had made a deal with a teenage Celia, that if she graduated from high school that she would not make her enter into an arranged marriage like Hattie had to and she could date if she wished as long as it did NOT affect her studies.
Both Isaac and Hanna greatly valued education and proud that they could read and write because many Jews were not permitted an education in their native Austria.
That was why they still made all the children including Hattie sit down and study American History and English nightly with home study, and was so exhausted from working all day, they often fell asleep with the books in hand.
Bill's father was named after Herman Carnegie. Herman's daughters, were named Marilyn and Imogene Carnegie.
That is all that I know for now. I will keep up the research
I hope that all is well for you, and your family
Have a nice night!
Love,
Amy
-------------------------------------------------------
Dear Amy,
Oh, my goodness. That is really incredible information. Don't you ever rest? =) I am really speechless. You are really a wonderful friend. Thank you so much. You've done a great service to my daughters and my nephews. You are a treasure. No, you are my treasure.
XO Bill
--------------------------------------------------------
You're Welcome Bill,
Anyway, I wish that I had known of Hattie Carnegie, ten years ago when they celebrated what would have been her 110th Birthday at the New York Fashion Institute of Technology and Museum. There was a mini convention in her honor.
Several (Carnegie's) were still living at the time including "Harold and Celia" and many family members and contempories were in attendance to recall their memories of Hattie.
It's really a shame, that this was a born too late situation for me. I had just graduated from college two years prior to this event in 1994.
Oh well, Think of how interesting this all could have been, we could have met in person,and found out if we could have located your grandmother Celia, who was ninety-five at the time. We possibly could have chatted with Harold and your grandmother's nieces-(sisters) lol.... Marilyn.and Imogene. Who knows, We could have run into Herman Meyers. That would be a akward reunion for you....I am sure.
You know when I located some old travel records from around 1913-1917 Passenger lists included Hattie Carnegie, Helen (Hanna) Carnegie, Toni Carnegie, Herman Carnegie and Rose Carnegie.
I wondered who was watching Celia if her mother was in Paris on the business trip with Hattie Carnegie Inc.
I guess they called her CeCe. (For Celia Carnegie) Hattie often referred to her as CeCe.
A pedatrician from Kansas City Missouri contacted me as well (He is one year older that you are.) He told me that his grandmother was friends with Hattie since they worked together at Macy's.
He and his sister used to spend lots of time with Hattie and Major John Zanft. He considered Hattie a surrogate aunt, and was very close to her.
Hattie was also very proud and took great pride that her baby sister Celia was born in the United States and often took her to Macy's to show the Little American Girl, and would often take her little sisters, out for treats on her days off.
Hattie had four sisters:
Mary Madeline- Married name-KORN
Rose- Married name- APISDORF
Frances-Married name-BARNETT
Celia-Married name-MEYERS
....and only two brothers
Herman
Abel(Toni)
Another really fascinating person in the family was Hattie's husband Major John Zanft.
He was quite a humanitarian and was always helping people, and I was told by many people that he was a very nice guy.
Your great-grandmother was quite a trip. She hated to no end that Hattie smoked, and if she caught her with a cigarette, She would yell at her, "Henrietta, Put that out now!" and if she was in the shop, at the time, all the girls in the salon would laugh because Hattie was being lectured by her mother .Yet she could have cared less if Herman or Toni smoked.
Nobody knew the dangers back then and Helen considered it simply unladylike.
I wonder if Celia smoked, if she did she probably was yelled at too.
"Celia, Put that it out.....NOW!
Brian asked if I was re-writing War and Peace, so with that I am going to sign off and go to sleep.
Please say Hello to Ruth!
Love,
Amy

--------------------------------------------------------
Dear Amy,
When I graduated from Bloomsburg University in 1961, my mother, Stella, told me she contacted Herman because I expressed an interest in meeting him. You can imagine it was a delicate situation for me because I didn't want my adopted father, Howard Stevenson, to feel slighted in any way. My Mom told me that he expressed no interest in meeting with me. I was told that he still lived in the Bronx. I wonder when he moved to Texas? Then again in the early 1970's I looked up the name in the telephone book and found a Herman Meyers in the Bronx. So, I sent a letter. By that time it was obvious that I had a good career and advanced degrees. So I was no monetary threat. The letter was never answered and it never came back. About twenty years later I took another crack at contacting him. I used the whitepages.com and found an H. Meyers. What a surprise. H. Meyers turned about to be a lovely black woman. We had a great laugh when I told her that I guess we weren't related unless we go back a very long way. She encouraged me to keep trying. Then you arrived on the scene and provided me with the information allowing me to feel connected to my heritage.
Love, Bill
----------------------------------------------
Hi Bill,
I remember when you had told me of the lovely black woman when we first began corresponding. That's very cute!
Anyway, My parents adopted my brother Eric in 1975 when he was a newborn. I am two and a half years older,(1972) but because I had cerebral palsy, and my twin sister was a stillborn baby.
a non-heriditary condition, so my parents applied to adopt, and that was how my brother came to be.
I was too young to recall anything about Eric's adoption, so when he opened his records and went on a search ten years ago, I could not help him.
He found out some vague information about his birth mother, included her full name, age and the location where she lived at the time, which was North Dakota, she came up here to have my brother and lived in the Portsmouth, NH area for a while, but apparently went back to North Dakota after his birth.
Eric knows more than I do, about his birth mother, but her first name is/was Janet. Eric consulted a lawyer to attempt to contact "Janet" but according to Maine law, both parties in an adoption have to request a contact for a meeting to be arranged, and so far, Janet has not come forward, and there could be many reasons for this. However the state has my brother on record as a contact, so if Janet ever decides to come forward they would be able to meet.
I can really understand your feelings as a sister of an adoptee, so you definitely have me in your corner. I can understand you not wanting to break your Father's (Howard) heart, but he knew that you loved him, and I am sure he understood, because if my brother ever finds any biological siblings, (I would probably be a tad bit jealous even today) However Eric and I love each other, and nobody can ever say that he isn't my brother because he is. Blood connection or no blood connection.
My brother works as a chef in Florida now, and he is thirty-two years old. He is still single without children.
It is an absolute shame that your birth father Herman did not want to meet with you, and it absolutely was his loss, because you are a wonderful person.
It seems that there was bitterness on both sides because of the custody battle over you, so take comfort in the knowledge that way back when, everbody wanted you, so maybe there were some unresolved issues, anger or hurt, and who knows what your mother truly might have felt in her heart about a meeting or even Herman for that matter.
I wonder if any of the rest of the Carnegie's wondered about you over the years, particularly, Celia and Hanna your grandmother and great-grandmother.
I think, it would have been a trip to meet your grandmother Celia, she was probably a lot like Hattie, and from what I had heard Helen (Hanna) was a teeny tiny blonde just like Hattie, so maybe Celia w
Herman Carnegie was most definitely the family patriarch, when Isaac. He always watched out for the family. The eldest son is very important in Jewish tradition. I would have loved to have met and talked with him. I believe that Isaac would have been proud of his son.
It's amazing, if it weren't for that house fire in Austria, when Isaac packed up and moved the family to America for a better life. The entire family would have probably perished in the Halocaust, and if I hadn't picked up a copy of "Love, Lucy" that day, for a book to read on the way home, and desired to find out more about Lucy's beloved mentor and surrogate mother of sorts. Hattie Carnegie, we would not be corresponding today. The entire situation is truly amazing to me.
We have to set up a time, sometime to talk on the telephone.
I am really happy that I decided to start that website, and I hope that Hattie would be proud.
Have a nice night, and please say hello to Ruth for me.
Love,
Amy
APPARENTLY CELIA and FRANK MUST HAVE DISOWNED LITTLE HERMAN (their son) BECAUSE HERMAN SIGNED AWAY RIGHTS TO BILL, and they were VERY UPSET with their son. Because Shoshana has told me that Celia and Frank never spoke of children. Then again, she was born in 1943. So much we still don't know.
Sadly grandparent's hadn't any rights to see their grandchildren, if the parents signed them away for adoption.
PS. In other news, Our parakeet buddy-budgie Yankee Doodle, just had his birthday (observed) on July 4th and he is 12 years old now.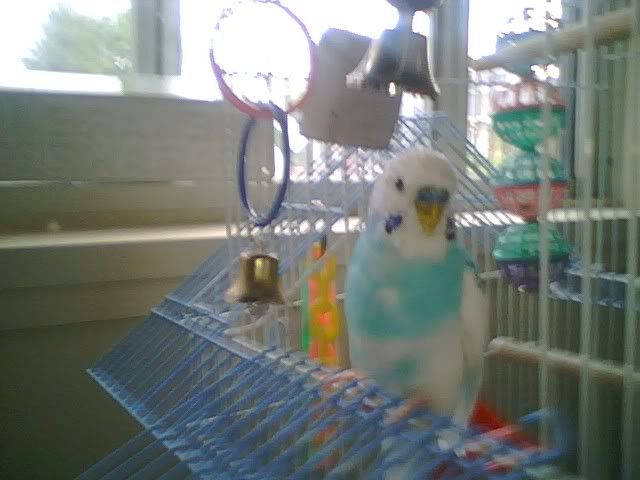 Parakeets can live to be up to 15-20 years of age. It's almost time for his yearly avian vet checkup. The vet makes house calls. She is a little bit pricy, but she helps us out by cutting her travel fee, and she watched him for free when we went to Disney World two years ago, and when he was sick, she came by every other day, free of charge to adminstrate his medication so we would not lose him. The things we will do for our kids (LOL!) The vet is a godsend.
| | | | | |
| --- | --- | --- | --- | --- |
| | | | | |
| | | | | |
| | | | | |
| | | | | |
| Reserved | Reserved | Reserved | Reserved | Reserved |