Hatties' Favorites- (According to Research)
Fashion and anything fashion related
Colors- light blue, pink and black
Ladybugs- She considered them lucky. Butterflies
Flowers-This makes sense as the majority of her clothes have floral prints.
Opera- Hattie saw Madame Butterfly at least sixty times during her lifetime.
"FOUR WINDS"- her beloved estate in New Jersey that her husband John Zanft bought her for their Wedding Anniversary.
Games- Backgammon, Gin Rummy and slot machines. Hattie also enjoyed playing golf.
The photo below is of Hattie's game table, that she had set up in her apartment. Hattie and the other ladies in her neighborhood selected Thursday as their designed "GAME NIGHT" when they would play card games or board games. Gin Rummy was a favorite of Hattie's. She liked poker as well. It appears to me that she had her backgammon board set up in this particular photo which surpriseed me, although she did play on occasion, she wasn't very skilled at the game, so it caused her frustration........but perhaps the other ladies wanted to play, so Hattie was a gracious hostess. She also had a bright light installed above the table to help counter-act her nearsightedness.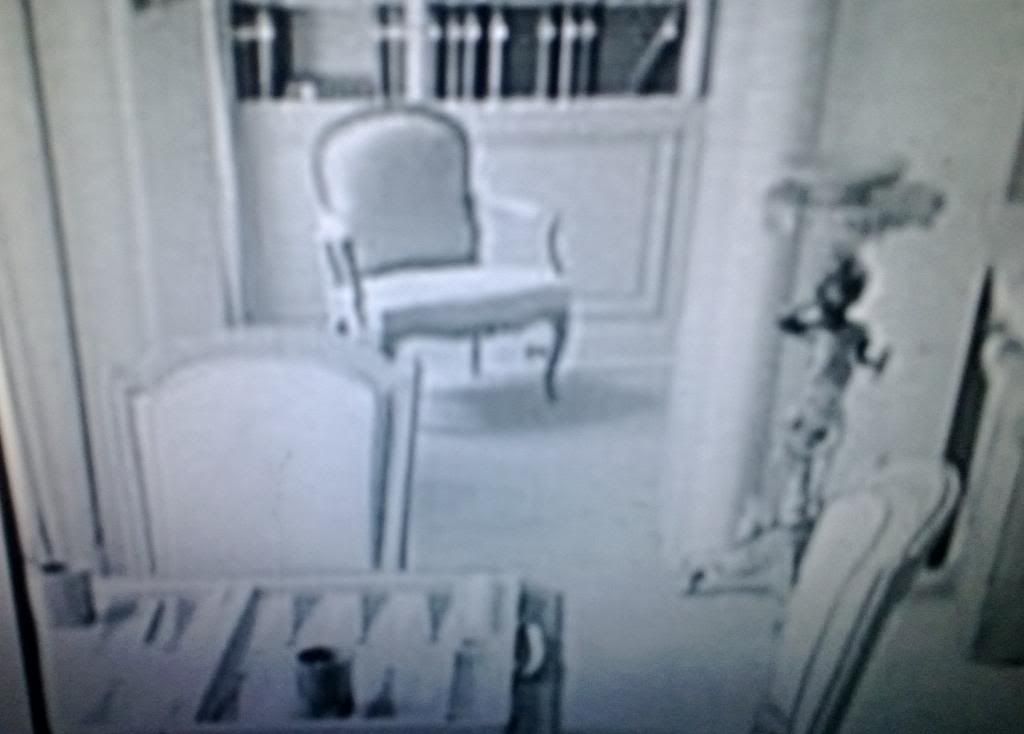 Theatre- Especially Carnegie Hall, even though in all actuality Hattie was not related in any way to the Carnegie Family. Her real name was Henrietta Kanengeiser-Zanft. She loved the Fox Theatre because her husband John was the Vice President.Traveling
Favorite Places- New York City, Paris, (Hattie had a home in Paris and lived there three months out of the year) Rome, Vienna, Austria (Hattie was born there), Las Vegas, Hollywood, New Jersey.
Foreign Languages- She was fluent in English, German, French and Hebrew.
Hattie had an appreciation and respect for The United States Military as her husband was a WWI Veteran.
Animals- She especially adored horses. I am also guessing she must have loved turtles as she created many turtle pins. Hattie also had two toy poodles. Her black poodle was named Oynx, white poodle was named Opal.
Macy's Department Store- That is where she started out working at the age of sixteen, shortly after her family immigrated from Austria.
Writing- I learned that Hattie wrote many articles for various publications, although I have yet to locate any for my collection. I have interviews with Hattie but nothing written by the lady herself. She was also forever educating herself and attending various seminars.
Elegance vs. Simplicity
Hattie loved Oriental style jewelry and it was always featured in her collection. Her main residence in New York was an unusual blend of old French and Chinese décor. Many people are aware of the reason as to why Hattie was so inspired by Paris, but apparently she was equally influenced by the Chinese laundry and the Chinese restaurant that also rented from the building that housed her earliest business. One of Hattie's favorite meals was chicken chow mein. Hattie was a definite mixture of elegance and simplicity. She could afford to dine on caviar and escargot, her kitchen was accentuated with gold faucets and antique furniture but Hattie preferred to dine on chicken chow mein and even in her later years was known to order Chinese food for lunch.
-----------------------------------------------------------------------------------------------------------------------------------------------------
Charities- Especially Columbia University Medical School Clinic. She gave them lots of charitable donations due to the fact they helped Lucy walk again. She also enjoyed helping young people she thought showed promise and talent. Lucille Ball was one of many young people that Hattie helped acheive success. Most of the other young people she mentored became famous designers and they credit Hattie Carnegie as their main influence and mentor.
Hattie also gave money to The Red Cross, The March of Dimes, and several charities that benefited Jewish people, especially Jewish children.
She also encouraged people to buy War Bonds to support the troops.
FAVORITE DESIGNERS
Elsa Schiaparelli
Hattie Carnegie was in fierce competition with many of her contemporaries in the fashion business. She admired some such as Schiaparelli and her favorite Vionnet whom she had admired since she first heard her name mentioned when she was employed at Macy's Department Store. She wanted to be just like Vionnet.
Hattie despised Coco Chanel, maybe because Elsa Schaiparelli despised her even more than Hattie did. Both women knew that Coco was a threat, and Coco ultimately surpassed both women in her fame and recognition in the world of fashion.
Mention the three names to somebody who is not very knowledge of the vintage fashion world and Coco Chanel is likely the only name that will generally still be recognized. Hattie and Elsa would both be shifting in their graves if they knew that only Coco Chanel was likely to be recalled by the public.
Elsa and Hattie both dressed the exact same clientele. Hattie was not bothered by Elsa though, because Elsa always treated her with respect, was kind to her, and was also a little intimidated by her. Hattie loved being able to intimidate her contemporaries. With Coco this was not the case, she knew that she had beaten Hattie at her own game conquering the fashion world, and Hattie felt as if Chanel had stabbed her in the back with a dagger.(or in their case, it was probably fabric scissors) Maybe Hattie and Elsa developed a bond because of their mutual hatred of Coco Chanel.
Hattie had closets full of Vionnet and Elsa designs in her personal wardrobe. She always collected the latest of their creations.
In the early 1930's, The building at 42 East Forty-Ninth Street that Hattie Carnegie housed her business in at that time suffered a fire, while she was away on a business trip in Paris.. Her employees sweated out her return, and Madeline her housekeeper was worried about what she was going to tell Hattie about the fire, because they elected Madeline to break the news to Hattie while they were still in Paris so she wouldn't receive the shock of her life upon her return. Before she left, she wanted to show her personal Elsa Schiaparelli collection to her employees, because she was amused by the shoulder pads, she reportedly placed the dresses in one of the closets and forgot to take them home, and left on the ship to Paris. While she was gone that particular room was torched by a fire, the firefighters were successful at containing the fire to that one room thus saving her business, however her treasured Elsa Schiaparelli collection was lost.
Madeline told Hattie about the fire when they got on the ship to return home. Hattie was a little concerned, but because the fire was relativity mild, not very upset, she was feeling under the weather. She returned just before a fashion show, and the normally alert Hattie was very pale, she was taking medication, and was exhausted from the long trip and actually fell asleep in a chair during the fashion show. They let her nap, and awoke her after the show. She was asked by the press if they were any designers that she admired and Hattie still in a sleep induced fog replied Elsa Schiaparelli and Vionnet.
It was at that moment, that Hattie was informed of the lost of her Schiaparelli collection.
Surprisingly Hattie took it well, was not visibly upset by the news, perhaps because she was not feeling well, but Hattie remarked, "It was a good omen that I lost her collection because I know that I will never be able to compete with Elsa."
Elsa Schiaparelli was born in Italy on Sept 10, 1890. As a child she was daring and rebellious. This behavior upset her parents. She admired Leonardo da Vinci she wanted to fly, so when she was a little girl she took an umbrella and jumped out a window, luckily she was not hurt, and probably only got a few scrapes and cuts when she landed in the flower garden.
She angered her deeply religious parents, when she was expelled from Catholic school because she was passing around the sexually suggestive poetry she had written, and it somehow reached the school newspaper and was published. She had a romance with a gentleman that her strict parents put to a sudden end Elsa was so upset by their actions, she packed up and moved to New York. I am not sure if she ever forgave her parents or talked with them ever again.
Elsa traveled to England where she was supposedly offered a job as a nanny which she accepted, but on the way, she stopped over in Paris. Paris fascinated Elsa with it's culture, museums, fashion, art and the opera. Elsa was invited to her first ball.
She had never attended a ball she didn't have a gown, so she purchased some dark blue fabric and pinned it around her herself. After her ten day Paris vacation she arrived in England. She loved lectures and was taken by this one lecturer in particular. His name was Wilhelm Wendt de Kerlor, he spoke of magic, eternal life and the soul, after a year of courtship the couple married, and in 1921. Elsa and her husband moved to New York. Just like Hattie Carnegie, Elsa was also intrigued by the liberated American woman who had recently been awarded the right to vote, they drove automobiles, owned successful businesses. Hattie and Elsa were the image of their generation. Both women achieved all the above and didn't want to be held back. Elsa's husband did not appreciate American culture, and wanted to rome. Shortly after Elsa gave birth to a daughter whom she named Marisa, she was abandoned by her husband and was a single mother left to raise her daughter alone. Marisa's pediatrician saw that Elsa was struggling and was living in a rundown hotel. He wanted to help her, and he put her in touch with Gaby Picabia who was the ex-wife of a Parisian born designer, Francis Picabia. When Gaby and Francis separated, Gaby decided to move to New York and open up a shop that sold Parisian clothing. Gaby was looking to hire employees with a talent for dressmaking. she hired Elsa, and that was her introduction to the fashion world.
In 1920, when her employer decided to relocate to Paris, Elsa followed her, and continued to act as head designer for Gaby. Elsa was given her big break when Gaby asked her to design her a dress for a fancy ball, she remembered her first ball, bought the fabric, and created a beautiful gown.
The dress Elsa designed for Gaby was noticed by Paul Poiret who was a very famous dress designer in Paris at the time. Encouraged by Mr. Poiret's comment and convinced that she had enough talent to make it on her own. She opened a shop from her home, and her clothing sold wonderfully. She received enough notoriety to achieve a mention in the well known magazine which we know today of as Vogue.
The following year she exchanged her attic space in her home for a showroom and shop of her own.
Schiaparelli established her own color SHOCKING PINK. In addition to her fashion line, she also had success with her own perfume and costume jewelry lines and was one of the first designers to place zippers into the dresses that she designed. Schiaparelli also had a love of the abstract. Abstract art was all the rage in Paris at the time.
I personally do not think that I would care that much for her designs at least in the form of the abstract, because I dislike abstract art or design. However It would not be fair for me to discount Schiaparelli's creativity. I cannot understand why any woman would wish to wear a hat on her head that resembled a shoe, however that very aspect of her designing skill endeared her and still continues to endear her to her collectors today. Elsa Schiaparelli dared to be different before being different was in popular vogue.
References:
The Official Elsa Schiaparelli site: Her clothing, perfumes and jewelry are still available for sale.
Special Thanks to Cheri of Milky Way Jewels for your contributions.....For more examples please click this link.
http://www.milkywayjewels.com/schiaparelli/schiaparelli.html
-------------
Photographs from the Elsa Schiaparelli exhibit and another site with biographical information
http://www.slate.com/id/2091431/
http://www.philamuseum.org/exhibitions/exhibits/schiaparelli/kids/schiap-pack.pdf
http://www.philamuseum.org/exhibitions/exhibits/schiaparelli/kids/schiap-pack.pdf
MADELEINE VIONNET

A French designer named Madeleine Vionnet was Hattie's absolute favorite designer as she was at the height of her popularity when a young Hattie was just starting her career.
On Hattie's very first trip to Paris, The young girl was so fascinated with Madame Vionnet that when she spotted her in a restaurant, Hattie followed her to the powder room and told her how much she admired her and thought her clothing line was the most beautiful she had ever seen, and she asked her where her shop was located and Madame Vionnet wrote the address down for Hattie on a scrap of paper telling her to be sure to drop in. A few day's later, Hattie found the shop and she started to add to her personal wardrobe.
Madame Vionnet saw that it was the young girl she met in the restaurant, and greeted Hattie and was pleased that she decided to add to her wardrobe and was giving her suggestion's as to what would look good on her.
Hattie left with her purchases, No sooner had she left that Madeleine Vionnet's associate went up to her and said, "YOU MUST HAVE LOST YOUR MIND, DO YOU REALIZE WHO THAT IS? THAT'S HATTIE CARNEGIE!!!!!!
Hattie's popularity was just picking up in America, and Madeleine Vionnet's associate recognized her immediately.
So a few week's later when Hattie walked back into the shop, Madeleine Vionnet told Hattie that she didn't want her to buy anymore clothing from her as she now knew she WAS HATTIE CARNEGIE, and she was very sorry, but she would NOT be permitted to buy anymore item's from her shop.
With that a disappointed Hattie left.
A couple year's later Hattie saw Madeleine Vionnet again on one of her other business ventures to Paris and Vionnet spoke to her, and said, "Ms. Carnegie, I was hoping that you would decide to come back here, as I have been wanting to tell you that I now decided to sell to everyone, even other designer's.
Hattie Carnegie NEVER held a grudge against Vionnet and continued to respect her because she could understand her reasoning. Fashion was a competitive business. Hattie continued to wear Vionnet original's for the rest of her life.
Hattie Carnegie's early fashion career was VERY INFLUENCED by Madeleine Vionnet, and Hattie wanted to emaulate Vionnet.
-------------------------------------------------------------------
Here is an article that I am using with permission from the Hemlock Vintage Website.
http://www.hemlockvintage.com and Julia Neumaier. It was about a fashion trend started by Madeleine Vionnet called the bias cut. The article below states what the bias cut was and it's place in 1920's fashion and beyond.
Continuing our discussion of the bias cut...
Here are a few examples of bias cut dresses from the late 1920's. The bias cut introduced a more contoured silouette to 1920's fashion.
The slanted cut across the hips with flounced skirt, a very popular style during the late 20's, was originated by Madeleine Vionnet.
The slanted cut across the hips with flounced skirt, a very popular style during the late 20's, was originated by Madeleine Vionnet.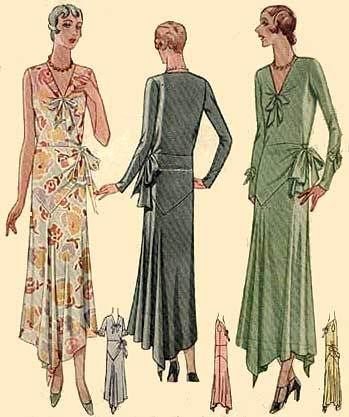 As 1930 approached, hemlines dropped, waistlines rose and dresses began to cling more to the countors of the body. Giving fabric a natural elasticity and clinging effect, the use of the bias cut dramatically influenced these changes in fashion. The following drawings of bias cut dresses from 1929 and 1930 help demonstrate this transformation of dress.
The bias cut in combination with the hankerchief hem.
A simple yet elegant suit dress with bias cut skirt and flounced back hem. Dress is form-fitting with a defined waist and hips
Thank you to Hemlock Vintage for the use of this article
FAVORITE CELEBRITIES
ANDREW CARNEGIE
Since I have already already discussed how Young Henrietta got her nickname of Hattie.
I thought that I would research a little bit about "Andrew Carnegie" and why "Young Henrietta" was so impressed with Andrew that she ultimately selected "CARNEGIE" as her name when she begun her fashion enterprise.
Henrietta was an inquisitive young girl from the very beginning, when Henrietta and her family set out to begin their NEW life in America. She wanted to acquire as much information as she could.
She started up a conversation the best she could in broken English with one of the stewards and several of the American passengers on board the ship who were headed back to New York.
She told her captive audience, That she and her family were going to live in America to have a better life, and told them that one day she wanted to be rich. The passengers and steward kind of laughed to themselves at this tiny little Austrian girl, but they politely listened to her story and answered her questions, one of which was "Who is the richest person in America?" The answer that was given to her by several people was that of Andrew Carnegie
Little Henrietta hadn't any idea who Andrew Carnegie was and she had difficulty understanding the answer that they supplied to her, due to the apparent language barrier. All she understood was that he was so successful and rich. That was all she needed to know at the time, she made up her mind then and there that she was going to be successful and rich too in the new country of her adoption, as soon as she was informed that Carnegie also was born in another country and made his fortune in the United States of America that sealed the deal for her that the name of "Carnegie" meant "Good Luck"
Hattie was not the first immigrant to change her name and she certainly wouldn't be the last.
It was common practice for immigrants to change their names to better assimulate within their new country.
Hattie's family quickly followed suit and they also changed their names legally to Carnegie shortly after Hattie had.
Hattie's sisters even elected to give their future children the middle name of Carnegie, since when they married they wanted to make certain that the name "Carnegie" stayed within the family.
They believed just has Hattie had believed that Carnegie meant ultimate success.
Hattie changed her name "LEGALLY" to Carnegie in 1909. (Recalling what she was told on the ship years before and after researching Andrew Carnegie's life and career.)
Hattie loved her family, and was far from ashamed of her birth name of Kanengeiser, but she wanted to select a name that the general public would not only be able to actually pronounce but would be certain to remember and associate with success.
Hattie Carnegie wasn't related to Andrew in any way whatsoever.
Andrew Carnegie was old enough to have been Hattie's grandfather.
Hattie obviously picked not only a very successful person to emulate but a generous one at that.
Here is a brief biography about Andrew Carnegie- The website link is which also goes into detail about The Carnegie Corporation.................
http://www.carnegie.org/sub/about/biography.html
Andrew Carnegie was born in Dunfermline, Scotland, on November 25, 1835. The son of a weaver, he came with his family to the United States in 1848 and settled in Allegheny, Pennsylvania. At age thirteen, Carnegie went to work as a bobbin boy in a cotton mill. He then moved rapidly through a succession of jobs with Western Union and the Pennsylvania Railroad. In 1865, he resigned to establish his own business enterprises and eventually organized the Carnegie Steel Company, which launched the steel industry in Pittsburgh. At age sixty-five, he sold the company to J. P. Morgan for $480 million and devoted the rest of his life to his philanthropic activities and writing, including his autobiography.
Many persons of wealth have contributed to charity, but Carnegie was perhaps the first to state publicly that the rich have a moral obligation to give away their fortunes. In 1889 he wrote The Gospel of Wealth, in which he asserted that all personal wealth beyond that required to supply the needs of one's family should be regarded as a trust fund to be administered for the benefit of the community.
Carnegie set about disposing of his fortune through innumerable personal gifts and through the establishment of various trusts. In his thirties, Carnegie had already begun to give away some of his fast-accumulating funds. His first large gifts were made to his native town. Later he created seven philanthropic and educational organizations in the United States, including Carnegie Corporation of New York, and several more in Europe.
One of Carnegie's lifelong interests was the establishment of free public libraries to make available to everyone a means of self-education. There were only a few public libraries in the world when, in 1881, Carnegie began to promote his idea. He and the Corporation subsequently spent over $56 million to build 2,509 libraries throughout the English-speaking world.
After termination of this program in 1917, the Corporation continued for about forty years an interest in the improvement of library services. Other major programs in the Corporation's early history included adult education and education in the fine arts.
During his lifetime, Carnegie gave away over $350 million. He died in Lenox, Massachusetts, on August 11, 1919.
-----------------------------------------------------------------------------------
Gertrude Lawrence-Friend and Favorite Actress

Always an avid fan of Broadway, when asked who her favorite actress was, Hattie without hesitation replied, Gertrude Lawrence. Lawrence was a famous stage actress of the early Twentieth Century. Hattie always made a point to see every production that Gertrude starred in when she was in New York. Gertrude Lawrence repaid her friends devotion by requesting that Hattie Carnegie always supply the wardrobe for her various productions all across the country. Gertrude's birth name was Gertrud Alexandra Dagmar Klasen. She was born in Newington, London on July 4th, 1898. Her father was a struggling Danish actor and singer who struggled to make a living in musical theatre under the stage name of Arthur Lawrence. Her mother was a housewife who carried with her the frustrated theatre aspirations of Lucy Ricardo.

Gertrude stated that she lived in poverty, although partly true, she may have been trying to hide the extent of her difficult childhood and her father's struggle with alcoholism. Her mother eventually remarried and Gertrude's stepfather raised her. Gertrude's mother was a stage mother and whatever aspirations she had she passed onto her daughter encouraging the young girl to sing and dance. When she was ten years old Gertrude landed her first part in the 1908 production of Babes in the Wood which marked the beginning of her stage career. She ended up graduating to chorus girl. In 1911 Gertrude joined the Liverpool Repertory Company. Around 1912 she would meet an agent who would play an important part in her life and career, by the name of Noel Coward.

Gertrude Lawrence was one of a number of famous stars of her time that entertained the troops during World War I, when many famous theatre actors and actresses did their part for troop moral. Gertrudes first major role, following the war, was in a production called "Buzz-Buzz". During this time period she was introduced to musicals for which she became famous. Gertrude Lawrence also had a few hit recordings; among them: "A Cup of Coffee, a Sandwich and You", "Russian Blues", "Poor Little Rich Girl", and "On With the Dance". George Gershwin's "Oh, Kay!", which first premiered in 1926, was her first American Broadway success. She would soon become one of the most popular Broadway Stars. Her popularity led to her being cast in the early talkies. These films would introduce her to Douglas Fairbanks Jr. who she would begin a relationship with on and off screen.

The world famous production, The King and I, was inspired by Gertrude's favorite novel. "Anna and The King of Siam" in 1949. Gertrude loved this book so much that she persuaded Richard Rodgers and Oscar Hammerstein to make a musical based on the book. In 1951 Gertrude Lawrence was given the role of Anna. Gertrude Lawrence is the subject of three books, included was her own autobiography titled "A Star Danced" which was made into a film with Julie Andrews portraying the role of Gertrude. The most famous production that Gertrude starred in, that Hattie Carnegie designed gowns and dresses for, was Lady in the Dark which had a successful two year run from 1941-43.

For additional information on Gertrude Lawrence, Please visit
http://www.mauriceabravanel.com/lawrence_gertrude.html
---------------------------------------------------
Joan Fontaine
Joan Fontaine was born Joan de Beauvoir de Havilland on October 22nd 1917 in Japan. She was the younger sister of actress Olivia de Havilland, with whom Joan was said to have had a most publicized rivalry

This rivalry might have been even more sensationalized by the media in an effort to create controversy and sell movie tickets and magazines. Although, only a year older Olivia was already an established actress when Joan was starting her career, so maybe Joan felt that she was in her shadow.

Like many actresses of her generation, Joan began her career on the stage. Perhaps this was when she first came to know Hattie Carnegie who was very involved in the theater and was a costume designer for many of the popular productions of the time. Hattie was very impressed with Joan Fontaine who was then known by the stage name of Joan Burfield and offered her a lot of personal praise and thought that was a very talented actress and considered her a friend, as well as a valued client.

Joan Fontaine's theater career led to roles in many B movies. Her first film in which she played an extra was a 1935 film titled "No More Ladies".

In 1937 Joan changed her last name to Fontaine and was in a movie role opposite Fred Astaire. It was in 1940 when she appeared in two well known Alfred Hitchcock films that propelled her to stardom. She began to make a name for herself and begun to get noticed by Hollywood. Her performance for Suspicion won her an Oscar. Her most noted movie ever was the classic Jane Eyre. She starred in the movie Frenchman's Creek in 1944
In 1950 Joan found out that she was going to co-star in Born to be Bad with Joan Leslie in which she played the evil schemer while Joan Leslie played the likable cousin. Figuring that Hattie owed her a favor because she appeared in many fashion advertisements on Hattie's behalf, Joan asked Hattie Carnegie if she would provide her wardrobe for this movie because she wanted to stand out. Hattie who usually preferred to remain in New York travelled out to Hollywood to assist with the wardrobe department and remained in Hollywood for an extended period of time while the movie was being filmed.

This movie was very controversial for the early 1950's. I'm just surprised that it was shown in the theaters at all.
In her personal life Joan Fontaine was married and divorced four times, Hattie Carnegie was also was not a stranger when it came to a controversial personal life, for the most part Hattie didn't care what the press thought of her. Hattie was married three times. Her third marriage was happy, but her second marriage ended in an annulment just three months later because she married on the rebound. Both Hattie and Joan reveled in the fame that being involved in a controversial movie brought them.

Joan Fontaine-Classic Actress

Joan Fontaine is one of the few classic actresses still with us. She has grandchildren and great grandchildren. She still appears on the stage, travels, gives lectures and writes. She is also an avid conservative and republican. In her younger days, Joan was a licensed pilot, balloonist, tuna fisherman, cordon bleu cook, expert golfer; Golf was a hobby that she shared with Hattie, and licensed interior decorator. She was also very interested in the Republican Party.

Joan is very Generous
5/15/03 - Joan Fontaine has generously donated a pair of vintage white kid gloves for auction to benefit the Discovery Fund's medical research and patient education programs for Macular Degeneration,Keratoconus, Diabetic Retinopathy and Ocular Herpes.
My Personal Dedication

This Joan Fontaine essay is dedicated to my friend, Brad. He is the biggest Joan Fontaine fan that I know.

References

http://classicmoviefavorites.com/fontaine/
---------------------------------------------------------------------
More of Hattie's favorites
Hattie collected porcelain dolls and other antiques. She had an extreme appreciation for artwork, and had many old paintings in her home. Included were some paintings by her father who painted and drew as a hobby. Hattie absolutely adored animals and had many on her ranch especially baby animals and horses and ponies. She had many apple trees on her ranch. She loved any desserts with either apples or chocolate. Hattie also loved champagne. Austrian cooking and cuisine was also her weakness and she loved to dance. Her greatest memories were when she and her husband were teenagers and when they would attend Friday night dances.
I have read in several interviews that Hattie enjoyed horseback riding on her "Four Winds Ranch" in Red Bank New Jersey. I was recently sent some pictures of Hattie by Vogue Magazine and she was so tiny that I think she should have ridden ponies instead of horses.
Hattie loved all animals. She was famous for creating pins of animals that are very detailed and lifelike. In my personal collection. I have a frog, two turtles, a lady bug, a zebra and most recently an elephant. Hattie also had a little black toy poodle for a pet. Hattie loved her little dog so much, She used him as a logo on all her hat boxes and dress boxes there was a drawing of a little black toy poodle.
Hattie Carnegie's Fashion Advice was often featured in Vogue Magazine: This is what she had to say on the subject on April 1, 1951 and what her fashion favorites were:
"I love suits for daytime, a slash of soft color near the face. I recommend a two-color scheme for several seasons, Perhaps: blues, beiges. I love dinner clothes short.
Rich materials for evening. I think women should dress to one unusual feature that makes them stand out." When asked what feature that was to her, she said her hair, which she considered almost a cream color.
Although she was a very busy lady, she made time to enjoy her hobbies and time with friends.
Every Monday evening during the season. Hattie attended the opera. I didn't realize opera had a season until I started researching Hattie. She never missed an opera that her dear friend Alma Gluck, starred in.
Every Thursday Evening she played cards with a group of friends and neighbors. Her favorite game was Gin Rummy but she also loved Poker and on rare occasions Backgammon. Hattie used to get frustrated with that game because she wasn't very skilled at it.
Other than that she spent her evenings at home with John, unless they entertained or had get togethers, which was fairly often. They were both social people and had many friends.
More Favorites of Hattie Carnegie
DESIGNERS
Madeleine Vionnet

Travis Banton-Former Head Designer at Paramount before Edith Head took over- A young Travis Banton was trained by Hattie.

Bruno was Hattie's top in-house Designer
Elsa Schiaparelli

THEATRE ACTRESSES
Gertrude Lawrence
Valeska Suratt

SINGER
Alma Gluck: Famous Opera Star and was Hattie's best friend.
Rodgers and Hammerstein
FAVORITE OPERA
Madame Butterfly

RESTAURANTS
(In New York)
The Colony: I think I remember Lucille Ball mentioning this particular restaurant too.
Above-Hattie, (right) with a Fashion Reporter at The Colony.

La Grenouille

(In Paris)
The Ritz

FOODS
Hattie's favorite food was a rice like dish made popular and brought to The United States by Jewish immigrants at the turn of the century called Kasha. Viennese Cooking: Her mother always prepared Austria dishes for the family. Apples and any desserts that contained apples, chocolate
champagne, coffee and tea.

DEPARTMENT STORES AND SHOPS
Macy's Department Store
I. Magnin: They were the first Department Store to purchase Hattie's wholesale collection
Neiman-Marcus
Vionnet

MENTORS OF HATTIE CARNEGIE
Issac Kanengeiser (Her father)
Madeleine Vionnet
Valeska Suratt (Theatre and Silent Movie actress who discovered Hattie Carnegie)
R.H. Macy,
Isador Strauss,
Andrew Carnegie

FAVORITE CITIES (In the United States)
New York City
Dallas, Texas
Red Bank, (Rumson) New Jersey
Hollywood
(Overseas)
Vienna, Austria- Her homeland
Paris

FAVORITE SPORTS
Golf
Horseback riding
Hattie loved going out to fabulous restaurants, especially those frequented by Broadway stars. Broadway fascinated Hattie.
Hattie authored fashion advice columns for Vogue and Harper's Baazar, so she always noted what the stars were wearing. She wrote about the atmosphere surrounding her in her columns. What Hattie didn't realize was that the same celebrities she admired were also in awe of her.
That was until they began asking for her autograph. Hattie thought this was silly, she was a businesswoman out having dinner. They were the celebrities, she was not. Nonetheless Hattie loved the attention, happily signed, talked with a few of her admirers and answered their questions. Later when she was asked what happened at the Colony, Hattie replied:
" I was at the Colony for dinner the other night," she continued "and everyone was there. It was wonderful, I held court by the door.." Hattie was so busy greeting people and being greeted that she didn't even get a chance to eat that evening.
Hattie's Favorite Opera- Madame Butterfly
What is Opera?

Opera is music drama.
-- Richard Wagner (1813-1883)

Opera is when a guy gets stabbed and instead of bleeding, he sings.
-- Ed Gardner (1905-63)

The Early Phonograph Popularized Opera Music
Henrietta loved opera music since childhood. The Kanengeiser family was very poor, but they bought a few luxuries every now and then. One of the luxuries the family treasured was their phonograph.
The phonograph was the primitive version of the record player which decades later was replaced by the modern record player, out of this evolved the 8-Track player, cassettes and eventually the CD player, but in Henrietta's formative years, the phonograph was the invention that would bring modern music out of the theatres and symphony concert halls , and into the home so people could enjoy their favorite composers for the first time while relaxing around the fireplace or entertaining neighbors and friends. The first phonographs were very expensive, but Isaac and Helen thought it would be nice to have a family gift that everyone could enjoy, so one year for Hanukkah the children got the usual gifts they had expected of candy gelt, handmade rag dolls, carved toys such as trains or boats, home sewn clothes which were a necessity in the bitter cold Austrian and New York winters. This particular year they were going to receive this special gift. Isaac and Helen saved their pennies for over a year, they purchased this gift for the entire family. They presented this gift to their overjoyed children on the final night of Hanukkah .
Ironically the phonograph premiered the same year that Henrietta came into the world. Opera was the earliest music that was selected and heard on the phonograph due to it's high pitch. The sound quality of the earliest phonographs was very distorted and difficult to hear, but despite this, the invention was amazing, because it was the latest technology and everyone lined up to purchase a phonograph of their own
Opera had been around for centuries, but the new phonograph and records popularized the music for Henrietta's generation.
Although the little girl had never even been to a theater or an opera she heard all about them from her parents and neighbors. she began to create scenes, costumes and write her own operas with the children in her village. She could listen to latest popular music, she adored the play acting , singing and dancing. Her love for opera and classical music was formed in those early years.
When she arrived in New York City a decade later, she was nabbed by theater employees for sneaking into the performances and standing to watch the show. "I wasn't sitting in a seat." was her excuse. Not buying the defense her parents punished her, and she was told that she was not to attend another opera until she bought a ticket.
Henrietta could not afford to see another opera until she became a salesgirl at Macy's Department Store and even then it was still standing room only. Helen made Henrietta show her the ticket before she was allowed to leave the apartment.
When Hattie was seventeen years old, a new opera was becoming very popular among teenagers. Hattie was overjoyed when her first love John bought tickets for the couple to see an opera. John liked classical music, but he despised opera. His intention was to impress Hattie and the ploy worked because Hattie fell in love with him.
Hattie's conservative parents probably didn't realize the plot of the latest opera to grace the stage, Madame Butterfly because they probably would have objected to the love scenes and violence that most parents of today object to when their children watch movies or certain television programs.
Madame Butterfly was Hattie's all-time favorite opera and she told "Life Magazine" in 1945 that she had seen Madame Butterfly at least sixty times.
The Cast of Madame Butterfly
MADAME BUTTERFLY (Cio-Cio-San)…………………….. Soprano
SUZUKI (her servant)………………………………………. Mezzo-Soprano
KATE PINKERTON………………………………………… Mezzo-Soprano
B. F. PINKERTON, Lieutenant, U.S.N………………………Tenor
SHARPLESS (U. S. Consul at Nagasaki)…………………Baritone
GORO ( a marriage broker)…………………………………Tenor
PRINCE YAMADORI………………………………………… Baritone
THE BONZE (Cio-Cio's uncle)……………………………. Bass
YAKUSIDE………………………………………………….… Baritone
THE IMPERIAL COMMISSIONER………………………..… Bass
THE OFFICIAL REGISTRAR, member of the Chorus……Baritone
CIO-CIO-SAN'S MOTHER, member of the Chorus……….Mezzo-Soprano
THE AUNT, member of the Chorus………..………..………Mezzo-Soprano
THE COUSIN, member of the Chorus………..………..… Soprano
TROUBLE (Cio-Cio-San's Child)……………………………
Cio-Cio San's relations and friends. Servants.

Time Period: Nineteenth century.
Location: Nagasaki, Japan

Although "Madame Butterfly" is in two acts, there is a division of the second act into two parts by the fall of the curtain, this and the an instrumental introduction to second part , technically gives this opera three acts.
History of Madame Butterfly

Madame Butterfly has been translated into hundreds of languages but the original composer was an Italian man named Giacomo Puccini. Originally a magazine story by John Luther Long, Madame Butterfly was adapted into a play by David Belasco. Although Puccini didn't speak English he could follow the plot when he attended a performance while visiting London, He was impressed by the young actress who played the title character Miss Evelyn Millard. He thought that it would make a wonderful opera and set out to write it when he returned to Italy. When it premiered in 1904. The first performance was a miserable failure. Puccini did not give up hope and revised the original one act production into two acts, although most opera connoisseurs consider it to actually have three acts, with the needed revisions completed the opera re premiered with great acclaim. The first extended performance lasted three months, took place in October of 1906 in New York City. The opera was translated into the English language for it's New York run.A Naval Lieutenant named Pinkerton is a womanizer who believes that life isn't worth living until he wins the heart and affection of the fairest woman in every country that he sails too When he arrives in Japan he fines himself in a luxurious home looking at a breathtaking scene over a balcony. Luxury and riches are an added benefit of winning the affections of the beautiful young girl who resides there. Arranged marriages are a cultural norm. He must meet with the approval of her uncle because he raised her and was her legal guardian The young girl was nicknamed Butterfly because she was beautiful and delicate.
Lieutenant Pinkerton liked the idea of the marriage contract in Japan because he could get what he wanted a beautiful companion in Japan who lives in luxury without any serious commitment because according to the Japanese custom he was tied for 999 years, but free to annual the marriage every month if he so desired.
He consulted a marriage broker to set up the deal with Butterfly's uncle. Yet telling his friends he thought the marriage to be a farce and he was not serious because the marriage could be annulled when he was scheduled to return to America. One friend of Pinkerton, Sharpless the American consul felt sorry for Butterfly, and warned him to take the union seriously "Surely," he says, "Love that is pure and true speaks like that. It would indeed be a sad pity to tear those dainty wings and perhaps torment a trusting heart." The Lieutenant nevertheless will not allow that any harm can come to Butterfly through him. Raising his glass, Sharpless drinks to friends and relations at home; Pinkerton, raises his glass, but out of ignorance secretly drinks to the time he will annul this marriage and marry an American wife
Butterfly arrives with her attendants all carrying brightly colored fans. The bridal party is lovely. After the exchange of greetings, Sharpless inquiries if the bride comes from Nagasaki. In reply she tells him the story of her life. She was rich at one time but, becoming poor, was forced to work as a Geisha to earn her living. Her mother is still alive; but unfit to care for her, her father, is dead; one uncle is very wise; the other, is a heavy drinker. she asks the Consul to guess her age. She is just fifteen, yet old enough to be a bride and make a man happy. Butterfly introduces her bridegroom to her family who criticize his appearance, although some think that he is actually handsome. All this time Pinkerton is still thinking about the monthly contract and the marriage which was a complete farce
Looking over the contract the consul checks to see that everything is in order. Pinkerton observed his new bride. She is embarrassed because she was pulling a few treasured items from the sleeves of her bridal costume. Butterfly had kept silken handkerchiefs, a beautiful ribbon, a silver belt buckle, a mirror, a fan and a tiny jar of carmine Her most sacred possession, a long narrow sword case, she lays down reverently. This, Goro whispers, was sent by the Mikado to her father with a command, which he obeyed -- and the broker imitates the action of suicide. Last of all, Butterfly takes some images from her sleeves, the souls of her forefathers, the "Ottokè." In confidential tones she tells her lover that, for his sake, and unknown to her family, she has been to the mission, abjured her own religion, and adopted his. For Pinkerton she could forget her race and kindred. "Away they go," she cried, and threw down the Ottokè, Sharpless received the Consul's orders shouts "Silence!" The guests stop talking, eating and drinking, turn their attention to the bride and bridegroom, they listen to the wedding ceremony, performed by the Commissioner. After the signing of the papers, the friends congratulate Butterfly, and the wedding concludes.
Butterfly's uncle approaches the couple with a Buddhist priest together they confront her about denouncing her religion and the uncle who loved and raised her as his own promptly and cruelly disowns Butterfly and curses the day that she was born.
Butterfly cries out in sorrow. Pinkerton now feels sorry for Butterfly and comforts her the couple share a passionate embrace. In preparation for her wedding night. Butterfly changes into a beautiful white and brushes her long dark hair. Pinkerton now notices just how beautiful his bride is and the couple consummate their marriage. Twice during the opera's love scene, Butterfly is disturbed by thoughts of her people, only to be reassured by her husband, who was now completely fascinated by her innocence. He now wanted her to be his.. She naively confessed she had not wished to marry him when his offer first came to her through the marriage-broker, but she loved him when she finally saw him, and now he means the world to her, she is happy.
During this scene, Pinkerton calls her his butterfly, her face clouds over, and she remarked: "They say that in your country, if a butterfly is caught by a man, he'll pierce its heart with a needle and leave it to perish." Pinkerton hugs her and reassures her that this would never happen.
Act 2 Part 1
Three years have passed when the curtain rises again on the interior of Butterfly's house. Suzuki, Butterfly's servant is focused on the image of Buddha, She is praying, and from time to time she rings the prayer-bell to invoke the attention of the gods. Butterfly is standing motionless near a screen. At last Suzuki goes to a small cabinet, and opening a casket, shows her mistress a few coins. Unless her husband comes back quickly they are in trouble. Suzuki has little faith in Pinkerton's homecoming because he has been gone so long.. Butterfly yelled at her servant in an angry tone, she believes in her husband, he couldn't and wouldn't break his promise to her, He would "return with the roses, the warm and sunny season, when the robins are busy nesting." Then she prettily depicts his arrival, acting the scene as though it were really taking place.
She is still daydreaming when Goro and Sharpless appear in the garden. The consul enters to the great joy of Butterfly. Sharpless hands her a letter which he tells her is from Pinkerton. "I'm the happiest woman in Japan," she told him, yet before she reads she wants to ask a question: "At what time of the year do the robins nest in America?" In Japan they have built three spring seasons since her husband's departure. In America perhaps they build nests more rarely? Goro, who has been listening on the balcony, begins to laugh out loud. Sharpless, explains that he is not a birdwatcher.. He tries to continue speaking of the letter, that Pinkerton wrote, but Goro's presence reminds Butterfly to inform the Consul that her husband was scarcely gone before the broker tried to force another marriage upon her; that he had offered her half-a-dozen perspective husbands, and now he wishes her to wed a wealthy idiot whom she couldn't stand, Prince Yamadori.

Just then the Prince arrives. He enters the home, greets the Consuls, bows graciously to Butterfly, and sits down between them. Although she makes fun of him and teases him. Because she thinks that he is ridiculous Yamadori is ready to swear eternal faith and love to Butterfly. She is not impressed by his vow, stating to him that she is still Pinkerton's wife, and will never forsake her husband and wed another. To distract her annoying suitor, she pours tea for her guests. Goro, meanwhile, whispers to Sharpless that the Lieutenant's ship is already signaled. The Consul is very worried about how he will deliver his message, when Yamadori, rises from the floor and sadly tells Butterfly that he will leave, Butterfly hides behind her fan laughing at the Prince's pathetic performance of a courtship. Goro follows the Prince.
Sharpless resumes the reading of the letter. he is interrupted often by Butterfly; and she is so convinced of Pinkerton's promise to return that the Consul has not the heart to finish reading her the letter. Sharpless asks her what she would do were she never to see her husband again. The poor w girl who now looks like she just lost best friend replies: "Two things I might do: go back and entertain the people with my songs, or else it would be better to die." Sharpless is deeply moved. He is loath indeed to destroy her illusion, but he urges her to accept the wealthy Yamadori's proposal. Coming from one she had thought of as her husband's friend and her own, this suggestion wounds her cruelly. She is nearly fainting, when she suddenly revives, and running out of the room, returns triumphantly carrying her baby on her shoulder -- Pinkerton's son

In a highly dramatic song to the child she describes how she may yet have to take him in her arms and sing and dance in the street to earn a living. In her imagination she pictures the boy being noticed by the Emperor, who will ultimately make him "the most exalted ruler of his kingdom." Sharpless, conquering his emotion, inquires the baby's name and receives this reply from Butterfly, who with childlike grace addresses her son: "Give answer -- Sir, my name now is Trouble, but yet write and tell my father that on the day of his returning, Joy shall be my name." The Consul promises that Pinkerton will be told about his son.

In a few minutes Suzuki enters, dragging in Goro. The despicable creature has been spreading the scandal all through the town that no one knows who the baby's father is. Butterfly is furious at this comment, she seizes the dagger that hangs by the shrine, she threatens to kill the marriage broker. Suzuki throws herself between them, and carries off the child, while Goro escapes.

Suddenly the cannon announces the arrival in the harbor of a naval ship. Suzuki comes in breathlessly, and both run to the balcony. Butterfly, looking through a telescope, announces "The Abraham Lincoln!" (Pinkerton's ship), and in a state of excitement she criticizes Suzuki for her lack of faith. . Immediately they begin to decorate the room with flowers from the garden, Suzuki helps Butterfly change into her beautiful wedding garment, and to adorn the baby. Night falls, and the maid closes the shosi, (Paper wall) in which Butterfly makes three holes. Beside these they, settle themselves to watch and wait for Pinkerton's return. The moonbeams light up the shosi from without, and, as the sound of singing comes from the distance, the baby and Suzuki fall asleep. Butterfly remains still The sounds die away, while the curtain falls.

. -- It rises again upon the same scene and situation, though the midnight hours are past and the dawn is at hand. Butterfly is still gazing out into the distance; Suzuki and the child are asleep. and Butterfly, rousing herself, carries the baby boy upstairs, singing him a lullaby on the way. The servant has just opened the shosi, when there is a knocking at the door, to her surprise, Pinkerton and Sharpless enter, very quietly, begging her not to disturb Butterfly.. Seeing a lady in the garden, she eagerly demands: "Who's that?" After a little hesitation, Sharpless replies: "His wife." The faithful Suzuki is overtaken with grief. The Consul tries to soothe her, and explains that they have come very early in order to see her alone and get her help. Pinkerton walks about the room in great hesitation. He has noticed the flowers, the image of Buddha, and all the familiar details, Sharpless tells Suzuki that the future of the little one is their first and special thought.
If Butterfly will entrust the child to Mrs. Pinkerton, He shall always have a mother's care.
He persuades her to go to that lady and hear what she has to say.

The Lieutenant gave his friend some money for Butterfly and his son, confessed his remorse for having caused all this terrible suffering. The Consul recalls how he had cautioned him not to take lightly the girl's affection, and had foretold the end, if he persisted in deceiving her. After biding a sad farewell to the home where he had once known such happiness, declaring that he will always he haunted by Butterfly's reproachful eyes, Pinkerton shakes the Consul's hand and leaves quickly.

Mrs. Pinkerton and Suzuki enter from the garden, talking about the child. Butterfly is now heard calling Suzuki from the room above, the servant attempts to prevent her coming down, she will not be stopped She assumes her husband has arrived and looks for him in every corner; then, seeing the American lady, she seems at last to understand the situation. Mrs. Pinkerton would like to take her hand, but Butterfly decidedly though kindly refuses to be approached. "'Neath the blue vault of the sky, there is no happier lady than you are. May you remain so, never be saddened through me. Yet it would please me much that you should tell him that peace will come to me." Thus she addresses the woman who, through no fault of her own, is the cause of her despair. She listens to the other's pleading for the child, and solemnly promises that the father shall have his son if he will come to fetch him in half-an-hour. Sharpless and the lady withdraw, feeling utterly helpless to console the distraught young woman

Butterfly, on the point of collapse, asks Suzuki to draw the curtains, so that he room is in almost total darkness. The maid reluctantly leaves her, and begins to cry. After a few moments Butterfly lifts a white veil from the shrine and throws it over the screen, then taking the dagger from its case, she reads the inscription: "Death with honor is better than life with dishonor!" She is pointing the blade at her throat, when the door opens, showing Suzuki's arm pushing in the child. With outstretched hands he runs to his mother, who lets the dagger fall, and almost smothers him with kisses. In an extreme outburst of love and sadness she bids farewell to her beloved son." For the sake of the child's future she must take her own life, that he may go away across the ocean with his father, and never feel when he is older that his mother abandoned him.

At last she sets the baby on a stool, and gives him the American flag and a doll to play with, while she gently bandages his eyes. Seizing the dagger she disappears behind the screen. The knife is heard falling. Butterfly emerges with a long white veil around her neck, she walks toward the boy. She has just enough strength left to hug him, then sinks by his side. At this moment Pinkerton is heard outside calling "Butterfly," the door is thrown open, and the Lieutenant and Sharpless rush into the room. With a feeble gesture the dying girl points to the child and breathes her last. The Consul takes the little one in his arms, sobbing, Pinkerton falls on his knees, and the curtain descends.
To further research the music of Madame Butterfly. Please visit
http://www.music-with-ease.com/puccini-butterfly-music.html
My Reference:
20th Century Modern Opera
http://www.music-with-ease.com/opera-07.html
DESIGNERS who worked for HATTIE CARNEGIE-(and brief biography)
PAULINE TRIGERE
Pauline Trigere was born in 1912 in Paris France (Her father was originally from Russia)
Both her parents worked in the garment industry and were tailors by trade so young Pauline knew how to operate a sewing machine perfectly by age 10 and started creating clothing and dresses.
When Pauline was 25 years old she, her husband and her two young boys had to leave Paris to escape the Nazis, as Pauline was Jewish.
The family wanted to relocate to South American, but Pauline wanted to stop in Manhattan to see the fashion capital of America. Once she saw all that Manhattan and America had to offer her. She decided to try to obtain a job in New York City.
She actually wanted to work for designer Adele Simpson, but she wasn't hiring, yet Hattie Carnegie was. Adele Simpson recommended Pauline to Hattie.
(which is surprising as they were competitors)
Hattie was very impressed by Pauline and hired her almost immediately as a design assistant. Hattie also felt a special connection with Pauline Trigere as they were both Jewish and both immigrants trying to succeed in a country of adoption. Hattie had also made several voyages to France and was impressed by French designers, so it wasn't difficult to understand that Hattie would give her a job.
Pauline Trigere was an assistant to Travis Banton when he was a designer with Hattie Carnegie Inc
Pauline Trigere and Hattie Carnegie learned a lot about fashion from each other as Hattie was impressed by Pauline's designing skills as her designs were beautiful, classy and practically flawless, therefore Hattie didn't have to guide her too much so she had more time to take care of other issues within the company.
Pauline on the other hand really admired Hattie's editing skills, business sense and ability to run and build a business from the ground up as well as educate and train some of the greatest designers, even though Hattie herself had difficulty sewing a button on a shirt, and merely a sixth grade education despise her setbacks Hattie valued education and she taught others to complete tasks that she herself didn't have the technical know how to carry out.
Pauline Trigere designed the clothing for Hattie Carnegie Inc and Hattie edited her designs and gave her some suggestions on how to improve upon her work.
Sadly due to the outbreak of World War II, Hattie Carnegie was forced to lay off a number of staff members and Pauline Trigere was one of those designers that she had to let go.
Pauline Trigere took with her the knowledge she learned from working with Hattie and the knowledge she learned from her parents and opened up in her shop in the 1940's. She was one of the earliest designers to use modern fabrics in evening wear such as cotton and wool.
She earned her first Coty Award in 1949, Ironically Hattie Carnegie who gave her her first job in America received the Coty in 1948. In 1959 Pauline Trigere was the first female designer to be elected to The Fashion Designers, Hall of Fame. In 1993, she received a Lifetime Achievement Award for Fashion Design
Pauline Trigere just recently passed away last year at the age of 93 (and was believe it or not) still working and designing, the week before she died.)
Her most recent project was working with a website and catalog company creating items for fashion conscious senior citizens the items included eye-glass cases, pill boxes and hearing ad pouches.

Pauline Trigere designs can be seen on this website under The Fashion Show Section
Pauline Trigere biography information courtsey of
http://slick.org/pipermail/deathwatch/2002-February/000056.html
http://www.fashionschool.kent.edu/trigere/Biography2.htm
Interview with Pauline Trigere-Working for Hattie
http://www.youtube.com/watch?v=Z-ejpirLlEs&feature=related
-------------------------------------------------------------------
PARSON'S SCHOOL OF DESIGN
Held by the Anna Maria and Stephen Kellen Archives Center

CLAIRE MCCARDELL SKETCHBOOKS

With a practical approach to fashion design, Claire McCardell (1905-58) was a pivotal figure in the creation of American ready-to-wear clothing. In 1928, she graduated from Parsons and later taught there. Now, her working sketches, from 1931 to 1958, are housed in 124 sketchbooks at the Kellen Archives Center. Representative sketches photocopied from the collection can be seen in A Sampling of the Fashion Sketches in the Claire McCardell Sketchbooks, 1931-1959 which is available from the Adam and Sophie Gimbel Library, Parsons School of Design. This volume serves as a guide and introduction to the collection
Biographical Information on Claire McCardell
Special Thanks to Linn, One of the moderators of the Jewelry_Ring who had asked me if I could please update my biographical information on Claire McCardell.
I want this site to be a resource of information for research not only about Hattie Carnegie, but those designers who were employed, trained by or were influenced by her.
Claire McCardell was born in Frederick, Maryland in 1905. She was the eldest child and the only daughter of a homemaker and a bank president. Having three younger brothers, Claire grew up a tomboy and she loved to play sports. She didn't even develop an interest in fashion design until after she had left high school.
Two years into her college career she developed an interest in fashion and decided upon a future career. She entered the Parsons School of Design in New York City, which at the time was called The New York School of Fine and Applied Arts.
In 1926, Claire went overseas to study in Paris. (The Fashion Capital of the World.)
She learned a lot about design there, but was never taken by the atmosphere of Paris unlike many of the other design students of her time, so without inspiration she decided to return to New York City to complete her education.
Upon her graduation, Claire struggled to locate employment and was frustrated by several rejections. In 1930, she received her first break when she was hired as an assistant to Robert Turk whose business sadly failed. Robert Turk and Claire obtained employment with Townley Frocks.
Robert Turk was tragically killed in a sailing accident in 1932, so Claire finished the collection for Townley Frocks. She worked their for the next seven years as a designer.
In 1938 Claire created the Monastic Dress which was designed to look like a robe and was tied to the waist with a sash or belt. Claire's design proved to be very popular and she became well known as a creator of a fashion trend.
In 1939, Claire had begun working with Hattie Carnegie. Hattie and Claire had very different ideas about fashion and fashion design. Hattie was very inspired by Paris and spent three months out of each year in the city where she took in the culture, attended seminars and worked. Hattie even rented a little apartment in Paris.
Claire, Just like Hattie respected Madeleine Vionnet who was a very successful Parisian Designer and because she was a successful businesswoman. However, Claire did not agree with Hattie about Paris. Claire did appreciate the draping of the clothing of Greece and Rome. Yet she never allowed Europe to influence her
Hattie would never carry a fabric over a season, but Claire never had that restriction and adapted the styles every year to keep up with the trends. She also tended to design her clothing for businesswomen and not wealthy
celebrities.
Claire McCardell was the first designer totally devoted to American fashion and fashion for the American woman, even before European Fashion was sealed off from America. Claire's designs were very simple created with comfort in mind. In 1942 she created the wrap-around dress that is referred to as a popover. She created a look of elegance and comfort combined which was not seen in the years before. Women were now allowed to be comfortable as well as beautiful.
In 1952, Claire became a partner with Townley, and was named the Vice-President of the company.
In 1953, Claire married Irving Drought Harris who was an architect from Texas and they bought a farmhouse in Frenchtown, New Jersey.
Claire was honored twice with the COTY Award. For the first in 1943, then again in 1956.
In 1958, At the young age of 53, the world lost Claire McCardell to cancer.
Reference: http://www.designerhistory.com/historyofashion/mccardell.html
----------------------------------------------------------------------------
JAMES GALANOS

Born in 1924, Galanos grew up in New Jersey, and attended New York's Traphagen School of Fashion from 1942 until 1943. After leaving school, he briefly worked for the important American fashion designer Hattie Carnegie and then for the costume department of Columbia Pictures. Galanos traveled to Paris in 1947 to train under couturier Robert Piguet. When he returned to New York the following year, he took a position with Davidow, but left in 1949 because he did not share the firm's conservative approach to ready-to-wear clothing design. In 1951, Galanos moved to Los Angeles where he launched his own business, Galanos Originals.

Galanos' career took off when he showed his work on the New York runways in 1953. The following year, he won the Neiman-Marcus Award, as well as his first Coty, the ultimate honor for fashion designers. His women's clothing was so well regarded that he again received the Coty in 1956. For his overall body of work, Galanos was inducted into the Coty Hall of Fame in 1959 and received the Council of Fashion Designers of America Lifetime Achievement Award in 1985. He retired in 1998.

With a reputation for exquisite workmanship, Galanos maintained the loyalty of his clients, who came to expect fine details such as silk dress linings and intricate hand-done embroidery. His trademark was the imaginative use of chiffon. Although most of his clothing was ready-to-wear, it reached the heights of couture.

The holdings of the Kellen Archives Center consists of material relating to Jimi Designs, a short-lived company James Galanos managed with Mary Scourby in 1950. Returning to the state of his upbringing, the designer established the company in New Jersey.

We have eleven fashion sketches accompanied by assorted business correspondence, including sales receipts and business cards, which help to place the drawings in context. This gift is significant because it fills a gap in the chronology of Galanos' career. Biographical essays on the designer, such as those featured in New York Fashion and Contemporary Fashion, standard fashion reference sources, skip over his activities in 1950. Jimi Designs, established in that year, was the first company which featured Galanos' creations marketed under his name, so his biography is not complete without it. The Center is a particularly appropriate repository for this donation since Galanos was a critic at Parsons from 1962 to 1968. To see some of James Galanos fashions Please refer to The Fashion Show section.
JACQUES LIBUONO
Hi my name is James LiBuono and I am the son of Jacques. Unfortunately my father passed away 10 years ago but never forgot his friend Hattie and in fact I still have some signed pieces of the jewelry he made for her. I have many other pieces unsigned that I suspect may be
Hattie Carnegie
but they were the original samples my father made and so were never signed. I was so happy to find this website and to read that my father Jacques was her favorite designer. I will look for these signed pieces and take some photo of them for this website. I think you will be surprised.
With best wishes
James
-------------------------------------------
Dear Amy,
Dad always told me how kind Hattie wa to him and his partner Dave Pasternak when they first started. She was their first big client. Later Dave retired to Florida and I remember visiting him in Florida. Dad was the first with the French look, which Hattie loved. Dad was known as Jack then and it was Hattie who suggested to him to use the name Jacques. From then on the rest is history. I am enclosing a picture of my mom and dad, and as you can see my father looked a little like Desi and even though its not in color, mom had red hair then like Lucy. They were like a Lucy/Desi couple. Later mom became a stunning blond. They were always young at heart and out on the town at the Copa or El Morocco, Basin Street East and in their 60;s hung around with a 30 year old crowd in such places as the Peppermint Lounge or the Wagon Wheel doing the Twist. Dad always wore a bowtie and mom would be dressed to the hilt, never would they wear jeans. I will look for a picture of Hattie and later put some of the jewelry on line.
Until then , Best Wishes with the Website JAMES
PS I think the necklace my mom is wearing is a Carnegie piece.
Lydia and Jacques LiBuono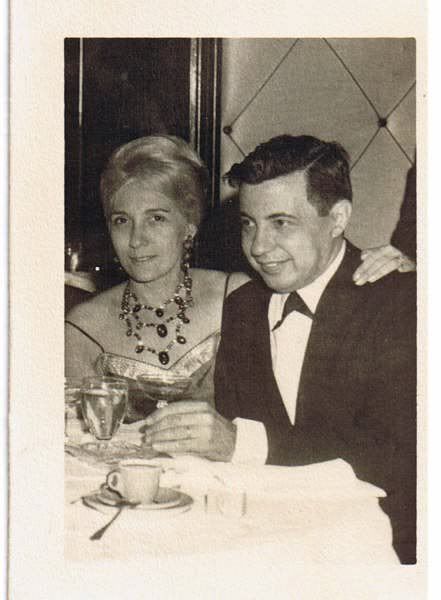 THANK YOU SO MUCH, JAMES!
Was born Norman David Levinson in Noblesville, Indiana in 1900. (He was of the Jewish faith just as Hattie Carnegie was)
He decided to change his name to Norell after relocating to New York, left briefy to study Fashion Illustration at the Parsons Fashion School in Paris.
After attending Parsons Fashion School, He then obtained employment at the Astoria Studio of Paramount Pictures. Where he worked with Charles Amour designing upscale clothing for celebrities.
It was in 1928, that he was informed that Hattie Carnegie was looking to hire
another designer. Having had high level of respect and regard for Hattie Carnegie
wanting more than anything to work to with her. He went back to New York
with high hopes of working for her.
Hattie hired him on the spot, after hearing about his education and past experience with design illustration out in Hollywood for the movie company.
Hattie quickly appointed Norman Norell as her head designer
He worked an amazing 12 years, and received additional knowledge throughout his years at Hattie Carnegie Inc.
It was highly unusual for any designer to work that many years for Hattie
Designers usually worked at Hattie Carnegie Inc to acquire their designer training, to establish a name for themselves or Hattie hired already established because she admired their talent, determination or work ethic.
Four to seven years was the average time span for her young designers
The designers always held Hattie Carnegie to the highest amount of respect and considered being selected to work for her firm, help her out or to be trained in the business by her to be a very high honor.
Norman Norell had this to say about Hattie Carnegie,
That his years working for Hattie provided him with an invaluable amount of experience in retail,wholesale and custom fashion design.
Norell was one of the few designers who didn't protest when Hattie made them attend those educational seminars.
Eventually Norell did decide to resign from Hattie Carnegie Inc to work for Anthony Traina.
The first Norell-Traina collection was launched in 1941.
For the next 31 years, Norell led American fashion. In 1960, Norell's name begun to appear alone as he became the sole owner of the company.
Trends that Norman Norell became known for were understated, simple wool dresses with a high neckline, sequined cocktail dresses and sailor motifs.
Norell died unexpected in 1972, just as he was working on a retrospective of he career which was certain to have a number of Hattie Carnegie mentions
Hattie Carnegie was his mentor, employer and friend.
His retrospective was to be seen at the Metropolitan Museum of Art in the Costume Institute.
Biography Information reference:
Texas School of Fashion Design
http://www.art.unt.edu/tfc/exhibitions.htm#futureexhibitions
----------------------------------------------------
Woody Shelp
Please Rest in Peace
Woody Shelp, a Theatrical Milliner Whose Lids Were Seen in A Chorus Line, Follies and More, has died
By Kenneth Jones
02 Jun 2004
Woody Shelp, who created hats for more than 140 Broadway shows and scores of films and television productions, died May 26, after a long illness.
Considered the major figure among American theatrical milliners, Woodrow Lee Shelp was born in 1927 in Bancroft, MI, to Elburn and Agnes Shelp.
Mr. Shelp first developed a fascination with millinery in 1946 while creating window displays for B. Siegel Co., the Detroit retailer. Before moving to New York, he also worked for the Michigan-based couturier, Ruth Joyce, creating hats for the wives and daughters of Michigan's automobile barons. Moving to Manhattan in 1950, he found work packing and shipping hats for Hattie Carnegie, the doyenne of American fashion millinery.
Mr. Shelp's career aspirations changed after he attended the original run of The King and I. His door to the theatre world came from designer Irene Sharaff, the Oscar-winning costume designer for "The King and I." She often purchased her personal hats from John Frederics, another fashion milliner for whom Mr. Shelp worked as an assistant. While visiting Frederics' shop, Sharaff announced that she needed assistants for three productions she was preparing for the 1957 Broadway season. Mr. Shelp was hired, and he made his Broadway debut helping to create hats for Ethel Merman and Fernando Lamas, the stars of Happy Hunting.
In 1962, working again with Sharaff, Mr. Shelp was able to launch his own business. Jenny, starring Mary Martin, was the first Broadway show to offer the credit, "Hats by Woody Shelp."
Mr. Shelp's detailed creations helped to define the visual style of the majority of important plays and musicals on Broadway and on tour for the next 30 years. Memorably, he designed feathered and beaded headdresses for the towering showgirls in Follies (the stunning photographs of the original run, with ghostly chorus girls towering over scenes, stimulated the imaginations of thousands who never saw the staging).
He also designed the picture-brim hats worn by Mia Farrow in "The Great Gatsby"; the outrageous black-and-white headgear for Glenn Close as Cruella De Vil in "101 Dalmatians"; and the top hats for the finale of Michael Bennett's A Chorus Line.
Mr. Shelp's association with Bennett continued when the director-choreographer purchased 890 Broadway, a commercial-industrial building, which soon became a veritable factory for Broadway productions. In addition to rehearsal studios, "890" provided a home for theatrical artisans – costumers, cobblers and milliners, including Mr. Shelp, who was among the first of the tradespeople persuaded by Bennett to move their studios to his building. Mr. Shelp relocated his business to 890 Broadway in 1980 and continued to work there, often with only one or two assistants, until his retirement in 2002.
For his work in the theatre, Mr. Shelp received the Irene Sharaff Artisan Award in 2000. In 1989 his work was honored by the Fashion Institute of Technology in a retrospective of 20th-century millinery.
In addition to his nine nieces and nephews, he is survived by Frank and Patricia Shelp of Wolverine, MI; Howard and Marie Shelp of Portage, MI; and Doris Denfield of Littleton, CO.
The Shelp family asks that donations in memory of Woody Shelp be made to Broadway Cares/Equity Fights AIDS, a charitable organization with which Mr. Shelp had a long and active association.
A viewing will be held June 3, from 6-9 PM at Love Funeral Home, 503 West Maple Avenue, Bancroft, MI. A final service and burial will be conducted Friday, June 4, at 1 PM

JEAN LOUIS

Jean Louis Berthault was born in Paris in 1907. After graduating from design school he worked for the House of Drecoll.

In the late 1930's while he was vacationing in New York, a friend suggested that he show his sketches to a few famous New York clothing designers. Hattie Carnegie was one of these designers, but she wasn't hiring at the time. Regardless of this fact his designing skills were not overlooked by Hattie simply because she wasn't hiring when she had a job opening in 1942 she remembered and hired Jean Louis. He was employed in an executive position by Hattie Carnegie from 1942-1944

He had a very brief, but very profitable career designing for Hattie Carnegie Inc.

In 1944, He received an offer he couldn't refuse when he was recruited by Hollywood to design costumes for Columbia Pictures. He was appointed the head costume designer for the studio. His designs were widely copied by other designers in Hollywood. Jean Louis' assistant at Columbia Pictures was another Hattie Carnegie staff designer, by the name of James Galanos

In 1958 Jean Louis left Columbia Pictures and designed for their competitor Universal Studios.

In 1961 He left the studios to open up his own shop. He specialized in Ready to Wear.His former employer Hattie Carnegie had created the first ready to wear clothing line. Also in emulation of his former employer, he sold evening wear. He never abandoned the movie studios and continued to design on a on a freelance basis.

When his wife Maggie passed away they had been married for 30 years and the couple resided in Santa Barbara. In 1987, he married his friend and companion actress Loretta Young

During his amazing career he designed the costumes for hundreds of films. He was nominated 15 times and won an Oscar for Best Costume Design

Some of the well known movies that Jean Louis had designed for were From Here to Eternity, Solid Gold Cadillac and A Star is Born and Gilda.

His celebrity clientele included the following actresses, Loretta Young, Marilyn Monroe, Rita Hayworth, Doris Day, Joan Crawford, Judy Holiday and Julie Andrews. He also designed the gown that Marilyn Monroe wore to serenade President Kennedy on his birthday.

Jean Louis died in 1997. He was 80 years old.

References and for more information on Jean Louis

http://entertainment.msn.com/celebs/celeb.aspx?mp=b&c=311670

http://www.designerhistory.com/historyofashion/louis.html

http://theoscarsite.com/whoswho/louis_j.htm

---------------------------------------------------------------------------

Pauline Fairfax Potter a.k.a. Pauline de Rothschild

Pauline Potter was born on December 31st 1908 in Paris, France. Pauline was the daughter of Gwendolyn Playford-Cary and Francis Hunter Potter. Her parents had emigrated to Europe before her birth.

Pauline had a very confusing early childhood, her parents had a troubled marriage, the couple could not get along, but they couldn't seem tolive without each other either. Her childhood was very unsettling Pauline endured many separations, custody battles for her placement and reconciliations between her parents . Because of these custody battles she never settled in one location for very long. Pauline had lived in Paris, New York and Baltimore. The Potters eventually put their battles to rest and decided to divorce. Pauline was finally able to remain in one school for a while. She attended a finishing school in Groslay, France, but like many of the young people of her generation she never graduated from high school.

In 1930, Pauline married Charles Carroll Fulton Leser in Baltimore, Maryland. He was an art restorer by occupation, and the grandson of a famous New York newspaper publisher, but Leser was also an alcoholic which caused the couple to have frequent separations. They finally gave up on the marriage and divorced in 1939. Pauline took back her maiden name of Potter.

Pauline's personal life was riddled with scandal , she was involved in many relationships with prominent men of the times after her divorce from Leser among these men was the film director John Huston.

Despite the scandals of her personal life, it didn't carry over into her professional life. Pauline was creating a name for herself as a fashion advisor to wealthy socialites who were too busy to shop, but loved Pauline's sense of style and hired her to select their wardrobe for them. Pauline knew she was beginning to climb the ladder of success when she was able to obtain a job working for the prominent European fashion designer Elsa Schiaparelli. Elsa Schiapareilli hired Pauline as a model Although her employment with Schiaparelli was very brief, it allowed Pauline to achieve a name for herself when she appeared in many advertisements for the designer's creations. In the early 1940's Pauline attempted to open her first business with a friend by the name of Louise Macy who was an editor with the fashion magazine Harper's Bazaar. The business failed however Hattie Carnegie who was also an outstanding talent scout as well as an editor was watching.

In 1943, Hattie was searching for a designer to take over for Jean Louis who had recently resigned to work in the costume department for Columbia Pictures. Hattie was concerned about her ability to replace Jean Louis, but her fears were soon laid to rest, because Hattie was inspired by talent. Pauline's designing skills were amazing. Hattie was impressed and rewarded Pauline with a job designing with the Hattie Carnegie Originals division which was the made to order department. Pauline remained a valuable employee with Hattie Carnegie Inc for the next decade

Pauline who was now known professionally as Mrs. Fairfax Potter needed little direction and could work independently. Hattie edited some of her designs and offered her a few suggestions, but Hattie was usually pleased with Pauline's finished sketch or pattern and often gave her the freedom to design without any editing whatsoever. Pauline was entrusted to design originals for some of Hattie's most world famous and loyal clientele. Some of the noted clients that Pauline designed the latest fashions for were The Duchess of Windsor, Thelma Chrysler Foy, Ina Claire and Hattie's favorite actress Gertrude Lawrence .

In 1948 when Hattie Carnegie was awarded the Coty Award for fashion design, Pauline had designed the dresses while Hattie edited her designs. While Pauline was employed by Hattie she also designed the red strapless evening gown that Ruth Ford wore when she appeared in the 1946 John Huston Broadway production of "No Exit" this was around the time that Pauline began her relationship with John Huston. The evening gown that she designed for the Broadway Production is now housed at the Museum of New York.

Pauline was also involved with a French wine maker Baron Philippe de Rothschild .in actuality, she was one of several woman that the Baron was rumored to be involved with. Pauline was liberated, and she ignored the rumors and his unethical behavior. She married Phillippe de Rothschild in 1954.

Pauline was also a successful fashion writer and like her employer Hattie Carnegie she also wrote and had her articles published in Harper's Bazaar and Vogue. Pauline was a distant cousin of Vogue's editor in chief Diane Vreeland whom Hattie often had some volatile disagreements with that was until the two women learned to tolerate one another because they discovered that they shared a common interest, a love of jewelry, especially pearls.

Pauline de Rothschild collapsed in a Santa Barbara hotel and died in 1976 after suffering a heart attack.

References: Answers.com

http://www.answers.com/topic/pauline-de-rothschild

A very special thank you to Mitchell Owens of the New York Times who offered me the information on the background on this talented designer.

Mr. Owens is currently writing a biography about the life and career of Pauline de Rothschild

------------------------------------------------------------------------------

Ward Bennett, Who Designed With American Style, Dies at 85

By JULIE V. IOVINE NY Times

Ward Bennett, a New York designer of furniture, houses and much more, whose clean lines and exquisite materials quietly defined an era, died on
Wednesday in Key West, Fla. He was 85.

At the height of his career in the 1960's and 70's, Mr. Bennett represented
a distinctly American look as it gained confidence in the face of more
dominant European styles. His belief in a sensual minimalism executed with
elegance and a dash of industrial bravado - a rubber base on a cocktail
table - have had a lasting impact on designers interested in achieving
contemporary, understated luxury.

His own apartment, carved in 1962 from a warren of maids' rooms tucked under the rooftop gables of the majestic Dakota building on the Upper West Side,was legendary in the world of New York interiors and was in the news every time he decorated it.
In 1964 George O'Brien, who reported on home furnishings in The New York
Times Magazine called it "The most exciting modern apartment in New York."

In a career spanning postwar austerity to 80's excesses, Mr. Bennett
designed everything from furniture to dresses, from homes to jewelry. His
clients included Gianni Agnelli, the Italian industrialist; David Rockefeller and the Chase Manhattan Bank; Tiffany's; and Jann Wenner, the
publisher of Rolling Stone magazine.

Mr. Bennett was born on Nov. 17, 1917, in Washington Heights in upper
Manhattan. His father was a vaudeville actor, and the family rented
furnished rooms at 124th Street and Broadway.

At 13, Mr. Bennett headed for the garment district, where he quickly rose from shipping clerk at Chin Chin Crepe to the Hattie Carnegie house of fashion; there he designed costumes for Gertrude Lawrence to wear in theatre production of "Lady in the Dark" in 1941.

A trip to Europe in the 30's to do illustrations of the Paris fashion
collections for use by American department stores fixed his resolve to
become a designer. In 1937 he spent a year studying in Paris at the Académie de la Grande Chaumière, with the sculptor Constantin Brancusi.

In later years Mr. Bennett, whose signature uniform was casual
black-on-black accented with a Hemingwayesque beard, told friends that he
came back from the Continent wearing riding breeches and sporting not only a clipped moustache but also a British accent. After a year in California as a
window dresser for I. Magnin and Bullocks he returned to New York.

A clothing designer and window dresser by day, he studied by night with Hans Hofmann and shared a studio with Louise Nevelson at the Sculpture Center on East 69th Street. His ceramic works were shown at the Whitney Annual Exhibition in 1944. His jewelry designs, made during a prolonged stay in Mexico, were exhibited in a one-man show at the Museum of Modern Art.

Mr. Bennett began to make a name for himself as an interior designer in the
mid-40's, when he decorated a Manhattan penthouse using built-in padded
platforms, white lacquered bookshelves and cork floors. In a manner that
would be associated with his work, Mr. Bennett combined crisp, simple lines
in a subdued monochromatic palette with luxurious material accents, as in
hand-dyed leather upholstery and fur bedspreads. Furnishings were few,
allowing space itself to provide the poetry.

He was one of the earliest American designers to introduce industrial
materials into the home, well before the high-tech look became popular in
the 70's.

He gave a table an I-beam base (with a nod to practicality, it was made of
cardboard) and turned a steel subway grate into a window sill. He also liked
built-ins, becoming a pioneer of the conversation pit.

Throughout the 70's Mr. Bennett was resident designer for Brickel
Associates, the furniture company based in New York. Several of his vases
and flatware designs are now part of the permanent design collection at the
Museum of Modern Art.

"His work epitomized the minimal style of the 70's," said Liz O'Brien, a
furniture gallery owner. "It looked like nothing, but no one could copy that
level of quality. It was the real thing."

By 1979 he had designed more than 100 chairs, including the University
Chair, designed for the desk at the Lyndon B. Johnson presidential library
in Austin, Tex. Johnson requested that the seat evoke a cross between a
barroom armchair, a courtroom chair and a Western saddle.

Mr. Bennett, who suffered from back pain himself, studied the ergonomics of
sitting with John F. Kennedy's doctor, Dr. Janet Travell. Support for the
lower back and a height that would keep both feet on the ground remained
features in all his chair designs.

Throughout his career Mr. Bennett worked with only an assistant and often
out of his home. Much of his design process was spent simply contemplating
an object, and he once spent a holiday at a Zen monastery in Japan.

In addition to his studio apartment in the Dakota, which could be reached
only by walking outside along the roof ridge, he had homes in Paris and East
Hampton.

Creating an authentic sense of place where life could be comfortably, but
simply, lived was his chief priority. When he declared in 1976 that dining
tables should be lowered to a height of 26 inches, he said it was to make
people linger longer at the table after meals, talking.

Mr. Wenner, for whom Mr. Bennett designed four houses as well as offices at
Rolling Stone magazine, said that a Bennett room was uplifting to be in.

"There's a lot of serenity," Mr. Wenner continued. "He closed off the
extraneous and focused exactly on what counted in the view."

Mr. Bennett leaves no immediate survivors, said his longtime friend Robert
Middleton.

In his own homes, where he lived alone, the décor was pointedly simple.

The East Hampton house, known as Springs, was a 40-foot-square box on a
platform with one room inside and a 20-foot-square skylight covered with
pleated bookbinder linen shades.

In 1982, in an interview with Barbaralee Diamonstein for the book "Interior
Design: The New Freedom" (Rizzoli, 1982), he said: "I design interiors, and
furniture and flatware, and so forth. But I think the way I live is maybe
the most meaningful."

Camille Helene Block-Lehman

New York Times- August 5, 1994

Camille Helene Block Lehman, a respected and innovative interior designer, died on Tuesday at her home in Atlanta. She was 84.

A native of New York City, Mrs. Lehman began her career at 16, designing for a bathing-suit manufacturer. After graduating from the Parsons School of Design at 19, she was hired by the dress and jewelry designer Hattie Carnegie.

Later, Mrs. Lehman thought of several applications in the home for Lucite, then a new product, and traveled the country marketing her ideas.

Mrs. Lehman and her husband, Charles, founded Lehmans & Associates, which became a successful interior design firm. In 1966, she received a Burlington House award for outstanding interior design and space planning.

She was a member of the Board of Governors of the American Institute of Interior Designers and a Fellow of the American Society of Interior designers.

No matter how ingenious her design solutions, she never forgot that real people were going to eat, sleep and live in the rooms she created," said Dorothy Kalins, editor of Garden Design magazine.

The Lehmans continued to work in interior design until Mr. Lehman's death in 1990.

She is survived by her sons, John and Jeffrey, and two granddaughters, Kristin and Heather.

-----------------------------------------------------------------

Joanne A. Moonan, 84, Designer Of Whimsical Costume Jewelry

Published: October 20, 1997

New York Times Archives

Joanne A. Moonan, a costume jewelry designer in the 1930's, 40's, 50's and 60's, died last Monday at Southampton Hospital in Southampton, N.Y. She was 84 and lived in Manhattan and Westport, Conn.

The cause was lung cancer, her daughter, Wendy Lyon Moonan of Manhattan, said.

Mrs. Moonan was co-founder with her husband, Reginald Lyon Francis Moonan, of Authentics Inc., later known as Van S. Authentics, in the mid-30's. The company made costume jewelry that was sold at the Hattie Carnegie salon in New York and at department and specialty stores around the country. Mrs. Moonan's designs were also frequently featured in fashion magazines. Her husband died in 1980.

During World War II, when metals for jewelry were scarce, Mrs. Moonan used unusual materials like straw, nuts and toy parts. Richard Martin, curator of the Costume Institute of the Metropolitan Museum of Art, acquired some of these designs for the costume collection at the Fashion InstituteInstitute of Technology, when he was the curator there.

''What was interesting is the creativity of materials she used, toy parts and wooden beads, '' Mr. Martin said last week. ''It was very improvised, with a sense of whimsy, like Picasso making a head out of bicycle parts.''

In addition to her daughter, Mrs. Moonan is survived by her son, Denis Lyon Moonan of Camden, Me., and a grandson.

---------------------------------------------------------

Friends, Colleagues and Famous Clientile

The Duke and Duchess of Windsor

American society woman Wallis Simpson who became the Duchess of Windsor after her scandalous marriage to King Edward the VIII on the third of June in 1936 was not only one of Hattie Carnegie's most loyal customers she was also one of Hattie's closest friends in the later years of her life.

Hattie and Major John Zanft traveled often with the royal couple with whom they felt a bond with because they understood the forbidden love affair and the desire to be with the person you love more than anything else in the world. Hattie could not fathom as to the reasons why social pressure, cultural norms or even royal duty should ever stand in the way of love.

In the same way that Hattie rejected the matchmaker, Edward would reject the throne in the name of love.

Royal protocol never appealed to Edward and from the start of his life on June 23rd 1894. He just wanted to be like everyone else, but he wasn't like everyone else because he was born to the Duke and Duchess of York who would become King George V and Queen Mary.

King George and Queen Mary had several children after Edward.

Edward's siblings were named Albert, Mary, Harry, George and their youngest child John, who died when he was only a teenager.

Edward loved his parents, and he knew that they loved him but he thought that they were cold and the couple spent little time with their children outside of royal events. When they shipped him off to Naval College at age twelve this only validated Edward's opinion of their distant relationship. He was teased at first for being a prince, but he quickly gained acceptance from his classmates when he insisted that he shouldn't receive any special treatment.

Edward went on to continue his education at Dartmouth, a school which he really liked, but Edward also suffered a devastating loss that first year at Dartmouth when he learned that he beloved grandfather Edward had passed away. He was very close to his grandfather felt a great sense of loss. Another life changing event would take place while he was still in mourning. He was now officially a prince and heir to the throne, a position that he didn't want and dreaded, but because of family ties he had to accept. As prince, Edward was supposed to wear a costume that he thought appeared feminine and he didn't want to wear it, but along with the title he had to wear the costume.

Edward was determined to serve and fight on the front lines during World War I. He was denied permission to fight on the front lines, because the royal family feared that he would be captured and held hostage by the enemy, but the troops respected him for being willing to fight on the front lines along side his fellow soldiers.

Prince Edward was linked romantically with several women most of which had a ring on their finger.

Wallis Simpson was also married when she began her love affair with the Prince.

She was born Bessie Wallis Warfield on June 19, 1896 in the State of Maryland.

Bessie who preferred to be called by her middle name Wallis because she thought that Bessie was only a suitable name for a cow Wallis was in all actually an ugly duckling, but she dressed like a beautiful swan, and was very stylish, and had a sense of grace and beauty about her. Her sense of style and her amazing fashion sense was guided by her trusted friend Hattie Carnegie who was also her fashion advisor.

Edward was seeing Lady Thelma Furness at the time that he first met Wallis who was a divorcee two times over. Wallis' first husband, Earl Winfield Spencer was very bitter and he had a severe drinking problem and was abusive verbally and physically toward Wallis so she divorced him.

Her second husband to whom she was married, when she began her romantic involvement with the prince was named Ernest Simpson.

Edward was fascinated by the no nonsense American who refused to take orders from anybody, including him. She was a free spirit, a challenge who rejected the conformity that Edward had despised.since childhood. Edward was falling in love with Wallis, and he was always finding an excuse to be with her. Even inviting her and her husband on a sailing trip which to Edward's delight, Wallis' husband couldn't attend.

It was on this trip in 1934 that the relationship turned serious.

On January 20th 1936, Edward's life had another dramatic turning point when his father George V died.

Whether he liked it or not Edward was now going to be the King of England. He angered the British population by trying to modernize the centuries old monarchy . His first act was to order that the Sandringham clocks be set to the correct time, in the past they had always been set a half an hour ahead. In a cost saving effort he cut the salaries of several of the royal staff members and dismissed many staff members who didn't agree with modernization of the monarchy, and wanted to keep with the royal traditions. Although he rejected protocol he was concerned with the welfare of the British people and seemed to care for the common man, but he was so deeply concerned about his new love interest that royal duties became less and less important to him. Edward was late to appointments and cancelled important events and the very last minute and he was very careless with the paperwork, he often didn't even read official documents. This was distressing to many people who thought that someone should intervene, especially when his passonate affair with Wallis was no longer a well kept secret, she was often escorted to events on the King's arm, Everyone in England knew that they were much more than friends. Wallis would never be accepted or crowned as Queen of England because she was not only an American, but twice divorced. She was a threat to the future of the monarchy.

There were rumors that Wallis was only with Edward for the possibly of being the Queen, however this was probably not true, because she was trying to get Edward to leave her rather than give up the throne.

Edward thought that if the monarchy rejected Wallis they were in affect rejecting him because he could not and would not be King without her at his side.

His only choice was to abdicate "give up" the throne . Edward was never officially King because he was never crowned. The crown was passed to the next in line to the throne, his brother Albert who selected George IV as his official name. He bestowed the new title of "The Duke of Windsor" to his brother and the newly named Duke was informed on the Eve of his wedding day that he would no longer be referred to as "Your Highness" nor would his new wife or any future children they might have in this union be recognized as royalty. The couple was shunned by the royal family and exiled from England.

The Duchess was thought to be a Nazi sympathizer. I really find this difficult to believe because Hattie Carnegie was a close friend and confidante. The Duchess was well aware that Hattie was Jewish and that Hattie had lost many friends and even family members to the Nazi regime. Hattie would have never knowingly befriended a Nazi sympathizer. Hattie understood her friends pain regarding the exile, because many people in her own culture were disowned by their families for marrying outside of the culture or faith.

Hattie also knew the power of love, and the love she felt for John was very real even as a young teenager. She continued her romantic involvment with John even though she had been promised by her family to another.

Hattie was a hopeless romantic who thought that nothing should stand in the way of love whether it be culture, status or social pressure. Perhaps this common belief strengthened the friendship between the two couples.

The Duke of Windsor passed away on May 28th 1972.

The Duchess died fourteen years later on April 24th 1986. She was very sick and lonely in the last few years of her life, she was never the same of the death of the man who gave up the throne for her.

The Duke and Duchess settled in several residences. They lived in France, Florida, and the Duke was even the governor of the Bahamas for a time.

Reference: About.com

http://history1900s.about.com/od/1930s/a/kingedward_4.htm

---------------------------------------------------------------------------------------------------------------------------------------------------------------