FAQs:
About Hattie Carnegie and /or Hattie-Carnegie.info
I have received some very interesting questions regarding Hattie Carnegie in the past year.
I thought I would take the time to try to answer some of the most interesting ones.
--------------------------------------------------------------------------------------------------
Question: When did Hattie launch her costume jewelry line?
Answer: Hattie began her costume jewelry line to complement her fashion lines and hats. She thought that a beautiful piece of jewelry made a special outfit even more special. Although she supposedly began manufacturing jewelry in 1919. Many sources state that her first official costume jewelry collection was not launched until 1939.
-----------------------------------------------------------------------------------------------------------------------------------------------------------------------------------
Question: Who took over Hattie's company after her passing in 1956?
Answer: Hattie's brother Abel "Toni" Carnegie stepped up to the helm as President of the company after Hattie died. Other family members also stepped up and took prominent positions in the company including Hattie's husband, Major John Zanft, Hattie's other brother, Herman and her niece Claire Carnegie-Apisdorf. The company closed it's doors for the last time in the early 1970's.
---------------------------------------------------------------------------------------------
Question: Did Hattie ever promote products from other companies?
Answer: Yes, she did. Hattie Carnegie was the representative for Dodge Cars and Trucks throughout the 1920's and 1930's. She appeared in almost all their advertisements during that time.
She also had a contract or deal with Johnson & Johnson. She would promote Johnson & Johnson products if they would promote her perfume line. I have seen Hattie Carnegie's various perfume samples on eBay attached to a Johnson & Johnson label.
Up until she officially launched her own jewelry line. She promoted jewelry from other companies to complement the clothing and hats that she sold throughout her company.
Hattie Carnegie was always appreciative. Macy's Department Store always remained close to her heart, because she felt that the department store helped launch her career.
The young people who were once employees of her company were always a source of pride to her. She was very proud when they became successful in their own right and would often promote their businesses or products.
-----------------------------------------------------------------------
Question: Did Hattie ever sell clothing or products for men?
Answer: Hattie Carnegie published a yearly holiday catalog, which included gifts for men, but she never officially sold clothing or products for men, other than this yearly publication, she never advertised products for men.
-----------------------------------------------------------------------------------------------------------------------------------------------------------------------------------------------
Question: Why didn't Hattie ever have any children of her own?
Answer: I am asked this question often and I don't really know the true answer, but this is my theory.
Hattie was very young when she came to country and was very confused by the cultural differences and customs of the United States to that of her native Austria.
Hattie's parents began the process of selecting a future husband for their daughter right before or shortly after, they immigrated to the United States. (As most arrangements were sealed or the selection of a spouse was begun when the daughter was in her early teens.) This practice was done to ensure continuation of a culture, religion or belief for future generations.
Because she worked at in a world famous department store, she was introduced to many different cultures and lifestyles outside her own.
She wanted to date like her co-workers and begged her parents for permission, her parents were reluctant to allow her to date, but thought it would help her adjust to new life and culture.
Hattie met and fell deeply in love with an American named John Zanft, but the two had a difficult courtship because Hattie's culture was a road block, the couple didn't want to be apart so they begun to sneak around, although according to her cultural norms Hattie was engaged.
The couple must have exercised caution during their courtship or they took risky chances because of the unreliable birth control methods at the turn of the century, so if you think about it, It was amazing they didn't have a child, but the couple was young Hattie had career goals that were very important to her and an arranged marriage hanging over her head and the guilt was getting to her, so she and John eventually broke up.
She married Ferdinand Fleischman, Although she didn't love him romantically Hattie stated that they had a "normal" marriage, and she grew to care deeply for him, so my theory was that either Hattie couldn't physically have children or she made the personal choice not to have children because she was busy with her career.
Her second marriage (after Ferdinand Fleischman) was very brief, Hattie was very bitter towards this man. She did not even consider him a husband.This marriage is a controversial mystery.
When Hattie and John rekindled their relationship it was more successful the second time around, but the couple were in their early 40's, by that time. It is not uncommon today for couples to have children into their mid 40's, but this was a different era, and they probably felt they were too old to start a family, to busy with their careers or simply could not have children.
-----------------------------------------------------------------------
Question: At the Beginning of her modeling career what celebrities was Lucy most often chosen by Hattie as the mannequin to model clothing for?
Answer: Joan and Constance Bennett. Hattie thought the Lucy resembled the Bennett Sisters. This was around the time that Miss Lucille began to dye her light brunette hair a platinum blonde(Very early in her movie career she was also a stand in for both of the Bennett sisters.)
----------------------------------------------------------------------------
Question: Did Hattie and Lucy stay in contact?
Answer: Lucille Ball and Hattie Carnegie always spoke highly of each other and in a few early interviews Lucy mentioned going into Hattie's shop. I would assume that she visited her while in New York.
Hattie gave Lucy her blessing for her to travel to Hollywood, and Lucy was always appreciative of Hattie's assistance and guidance in her early career.
Hattie was once quoted as saying that Lucille was her pride and joy.
---------------------------------------------------------------------------
Question: Did Hattie ever watch I Love Lucy?
Answer: Hattie Carnegie was born in 1886. She was in her sixties by the time television gained popularity. She rejected television because like many members of her generation who preferred the theater or the movies. Hattie considered television a fad. Considering she never owned a television. I would have to say no to this question.
----------------------------------------------------------------------------
Question: Was Hattie related to Andrew Carnegie?
Answer: No, Her birth name was Henrietta Kanengeiser. She changed her name legally to Carnegie out of respect to Andrew Carnegie. Because she respected him, knew he was also an immigrant and wanted to emulate the success Andrew had in the country of his adoption.
Question: Was Hattie married to Andrew Carnegie?
Answer: No, Hattie was never married to Andrew Carnegie. He was old enough to have been her grandfather.
--------------------------------------------------------------------------------------------------------------------------------
Question: What fashion related awards did Hattie receive in her lifetime?
Answer: Hattie received the nation's highest civilian honor in 1952. The Congressional Medal of Freedom for redesigning the Women's Army Corps Uniform. (WAC) Her award was presented at a special dinner that was given in her honor on June 1 1952
Hattie also was the recipient of the C.O.T.Y. Fashion Award for Excellence in the World of Fashion.
This award was presented to her on the evening of November 4 1948
The Neiman-Marcus Award in 1945
The Red Leather Award
Life Magazines Fashion Editor of the Year four consecutive years from 1942-1945
---------------------------------------------------------------------
Question: Didn't Hattie author a column offering fashion and beauty advice to her readers?
Answer: Throughout her career, Hattie received several awards and interviews in several well known fashion magazines.
Hattie Carnegie had her own fashion advice columns. Her columns were published in Vogue and
Harpers Bazaar.
Her Vogue column was published in the 1920's and early 1930's her column was titled
"Vogue Points from Hattie Carnegie"
--------------------------------------------------------------------
Question: Did Hattie drive?
Answer: Automobiles were invented when Hattie was a teenager. She lived in the city, but still wanted an automobile and once she achieved success, she had one.
Major John Zanft and Hattie loved to drive their car on trips to the country. Yes, she had her driver's license and owned a car. Some of Hattie's employees asked to borrow the car so they could venture outside the city.
Hattie always gave in and reluctantly handed over the keys.
--------------------------------------------------------------------------------------------------------------------------------
Question: What were Hattie's different marks, logos and labels?
Answer: HC was her earliest logo. HC stood for Hattie Carnegie.
She had a different clothing label for each store
She had a special label for hats- HATENGIE
She also had several signatures on her jewelry. After 1945-, her name became a trademark.
The logo on her hatboxes was of a little poodle. She used her black toy poodle has her official logo.
--------------------------------------------------------------------------------------------------------------------------------
Question: What year did Hattie Carnegie go wholesale and what company was the first to purchase rights to her collection.
Answer: The year was 1925 and the company was I. Magnin.
Hattie wanted her name to also appear on the label next to the I. Magnin.
Hattie was the first to make that request. Other designers would soon follow her lead
------------------------------------------------------------------------------------------
Question: Is it true that Hattie could neither sew, cut nor sketch?-
Answer: Yes
Question: How could that be? Wasn't Hattie Carnegie a fashion designer?
Answer: I was very surprised to learn this information myself.
Hattie would actually joke that she could not sew a straight seam and that she could not carry out the technical side of fashion design business. I guess she thought it was comical that everyone assumed she was a designer. It was no secret that she was not a designer.
Hattie Carnegie was a fashion editor. She knew how to teach designers how to carry out her ideas for her. She edited every design and idea that was submitted to her.
Even though she could not complete the technical side, of the work, she knew fashion and she knew what had to be done and how to instruct others to make the most of their talents.
She was also a teacher and trained two generations of young people that she thought showed promise, talent and determination. Education was important she required that her trainees attend seminars because she saw the value of those classes.
She was very selective of those who trained and worked with her. She held the highest of standards for her employees because of this she could be extremely difficult to work for She did not tolerate laziness or excuses
--------------------------------------------------------------------------------
Question: Are there any other websites dedicated to Hattie Carnegie?
Answer: At the present time, There aren't any other sites totally dedicated to Hattie Carnegie
--------------------------------------------------------------------------------
Question: Are you any relation to Hattie Carnegie?
Answer: No, I am just a collector and I really respect Hattie Carnegie and want to keep her legacy. I haven't any connection to neither the Carnegie nor the Zanft families.
-------------------------------------------------------------------------------------------------------------------------------------------------------------------------
Question: How long have you been a collector of Hattie Carnegie?
Answer: I have been a collector since June 2001. My first ever Hattie Carnegie collectible was a pearl and rhinestone sword brooch. I also collect clothing, advertisements and articles that pertain to Hattie Carnegie.
Question: Haven't you mentioned that you are a Lucille Ball fan.
Answer : I am (a fan and a collector)
---------------------------------------------------------------------
Question: Why did you decide to create a tribute site in honor of Hattie Carnegie?
Why not Lucille Ball?
Answer: Lucille Ball has millions of tribute sites. They are all wonderful. They all have something different to offer, I do not want to take anything away from Lucille Ball. She achieved so much and all her honors are well deserved but they are also well documented. Everyone knows about her achievements and her successes. There is so much information out there about Lucille Ball for a fan to locate about her life and career. Hattie Carnegie is still well known within the fashion and jewelry world, but the public knows nothing about this wonderful woman, her contributions and her innovations in the world of fashion. There is even less information available about her fascinating life that is a virtual mystery to even the most dedicated collector. This only informational site available covers every aspect of Hattie's Career, Life, Culture, Interests, and her status and contributions as a businesswoman. I am proud to keep her memory alive for others to learn about, appreciate who she was, and celebrate her legacy
-------------------------------------------------------------------------
Question: If Hattie Carnegie practiced Reform Judaism, Why do you have only kosher recipes on your site?
Answer: Hattie and her husband, DID KEEP KOSHER. They did not however feel the need to separate their utensils nor their dishes. They did wait the customary number of hours before eating dairy after consuming a meat meal. Out of respect for her memory and and the beliefs of all Jewish people who visit this website I have decided to have all the recipes follow kosher laws including the Austrian recipes.
-----------------------------------------------------------------------------
Question: Are you Jewish?
Answer: I am not Jewish, but Hattie Carnegie was. Her religion was an important part of who she was and it shaped who she became, so I felt it was important to educate myself about her culture and the struggles and achievements of Jewish people around the world. I have come to love and appreciate the Jewish religion and culture.
--------------------------------------------------------------------------
Question: Do you speak German?
Answer: No
--------------------------------------------------------------------------
Question: Are you of Austrian descent?
Answer: No, I am of French, Swedish and Dutch descent.
---------------------------------------------------------------------------
Question: Have you ever visited Austria?
Answer: No, but I win the lottery I will.
---------------------------------------------------------------------------
Question: Are you an appraiser? Could you tell me the value of my collection?
Answer: Sadly No. I wish that I could help you. I also wish I knew the value of my personal collection.
---------------------------------------------------------------------------
Question: Where can I locate Hattie Carnegie jewelry, clothing, hats or perfumes?
Answer: I have links to many wonderful shops and stores on this website where you can purchase
Hattie Carnegie collectibles. Please feel free to browse the shops linked to this site.
Another option available to you is eBay, simply type Hattie Carnegie in the search engine.
-----------------------------------------------------------------------------
Question: Do you have your own store or online shop?
Answer: No, I don't.
-----------------------------------------------------------------------------
Question: Are there any books available about Hattie Carnegie?
Answer: Hattie Carnegie Jewelry will be released to publication on January 6, 2005 The first book ever published about Hattie Carnegie.
------------------------------------------------------------------------------
Question: Any plans to ever write a book about Hattie Carnegie?
Answer: I thought that this site was my book? I am just kidding.
It is very time consuming to write a book and the way I look at it. A book would take twenty years for me to write, no future plans. My husband already feels neglected because of my devotion to this site, but understands how important it is to me and is very supportive. If I have to watch sports and listen to sports radio, he has to put up with my website. I think that is a fair trade!
My husband is relieved to know that my answer to the above question is no.
-------------------------------------------------------------------------------
Question: May I link trade with you?
Answer: Most definitely and absolutely.
-----------------------------------------------------------------------------
Question: Does my site have to be related to Hattie Carnegie, fashion or jewelry to link trade?
Answer: No, it does not, but only family friendly sites are welcome.
Sites that are related to fashion, jewelry or anything remotely linked to Hattie Carnegie are always welcome to link trade.
---------------------------------------------------------------------------------
Question: Where are you located?
Answer: New Hampshire in the United States of America.
---------------------------------------------------------------------------------
Question: Will you be updating this section?
Answer: Yes
---------------------------------------------------------------------------------
Question: May I contact you if I have a question, comment about your site, or if I just want to say Hello?
Answer: Yes, I would love to hear from you
-----------------------------------------------------------------------------------
Question: Would you please divide the jewelry and fashion pages into different sections, so the shops are easier to locate and the pages would be easier to scan?
Answer: My husband and I currently have a new computer on layaway. It is offically ours in the middle of June.
I can't wait!
When the system is offically ours I am planning to divide the jewelry and fashion sections into at least four separate pages so it will be easier for the visitors to scan. Thank you for your patience!
Question: Because I am frequently asked about Hattie Carnegie's Giveaways and Promotional Items. I decided that this should be my next topic of discussion.
Hattie Carnegie had many promotional items that she gave to valuable customers. Hattie's giveaways are still popular today within the collectibles market because many are rare and equally beautiful.........
Jeweled Pen
Jeweled Pens were most often made of brass with turquoise beads and ruby moonstones accented with little rhinestones.
--------------------------------
Pen and Pencil Sets
These sets were gold plated with a classy design
The pens and pencils were placed in a black holder and wrapped in a box which read
Rite-Pretty from Hattie Carnegie.
----------------------------------------
Telephone Dialer
Telephone dialers were in vogue decades before the push button telephones of today when rotary style telephones were installed in every home. To ensure that the dialer would not be misplaced, Hattie added a chain hook to the dialer part of the phone, and the dialer resembled a pen. This would be used to dial the telephone.
------------------------------------------
Mini Flashlight
These flashlights were brass around the top of the flash light was a circle of blue glass stones
Hattie's signature appeared directly under the stone.
----------------------------------------------------------
Picture Frames
The picture frames opened up like a compact. These frames were decorated on the top often to resemble a coin. They were gold plated, and the frames inside held two small photographs.
-------------------------------------
Mini Bowls
This one is hard to explain, so I am going to utilize the descriptive text. The mini shell was three inches high. The bowl had two identical abalone shells. One shell was the base and the other was the bowl. The shells were rimmed with gold plating. There were gold plated angels sitting on the rim of each bowl with one hand in a waterfall which was created with blue glass stones. This could possibly have been used as a ring holder.
---------------------------
Soaps
Three soaps were placed in a decorative box with Hattie Carnegie (in script) carved into each soap. They were scented like her various perfumes
---------------------------
Mini Perfumes Set
Several famous perfumes were placed in mini bottles in sets of seven. The scents found in the sets most often were Hattie Carnegie Blue
Hattie Carnegie Pink, , Hattie Carnegie White, Hattie Carnegie Beige, A'Gogo and the most famous of all Four Winds
----------------------------
Single Perfume Giveaway
Consisted on a single mini perfume in a choice of scents. Hattie Carnegie's claim to fame long before her world famous shop were her incredible millinery skills and the beautiful hats which she was taught to create in her early days as a Macy's Department Store trainee. Hattie capitalized on this skill and advertised her trademark hats at the same time because each mini perfume bottle was placed and delicately wrapped in an adorable mini hat box, complete with a gold rope handle, Hattie's signature and logo were printed in black lettering on the top of the hat box which was identical to the larger hat boxes that Hattie's employees packaged the hats into that her customers purchased.
-----------------------------
Playing Cards
Two decks of cards were in a leather box with cedar wood lining. Hattie Carnegie is written in script on the inside cover of the box. Hattie most likely gave these cards to her closest friends because they had a card tournament every Thursday night at her home for years.
---------------------------
Reading Glasses
These were fold up, black lucite reading. They were placed in a small blue pull string satin carrying case. On the front of the case was written "An Original Hattie Carnegie Gift" The glasses had a fancy etched design with several little rhinestones. These glasses fold in three places. The handle of the glasses has a tiny hole so they could be worn on a chain.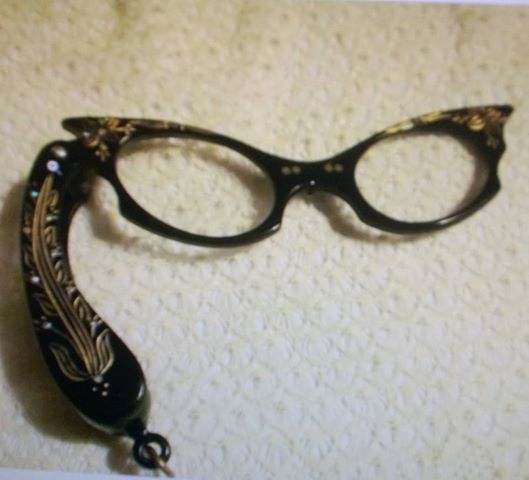 Opera Glasses

Hi Amy, First let me say Kudos to you. I love your website and have visited before. I fell in love with Hattie some years ago after my husbands Grandmother Vera passed away. She left me some beautiful pieces. After researching her wonderful story I was truly inspired and started my own business. My husband was born in Brooklyn and Vera worked in the garment industry doing intricate beadwork for NY designers. She was much like Hattie also, she could never take no for an answer either. We suspect she could have actually worked for her but have not been able to verify since most the Brooklyn family have since passed. I would be honored to let you use any of the Carnegie photos I have listed. I only ask for the photo credit. I was quite pleased with myself discovering these pieces, especially the white ones. I have not seen them before. I also have a copy of Life magazine with a photo of Hattie wearing the black glasses if you are interested. Currently, there is a buyer in Poland who is requesting to purchase them. I haven't decided. As I stated, I am happy to help and pleased to have connected. Linda Genna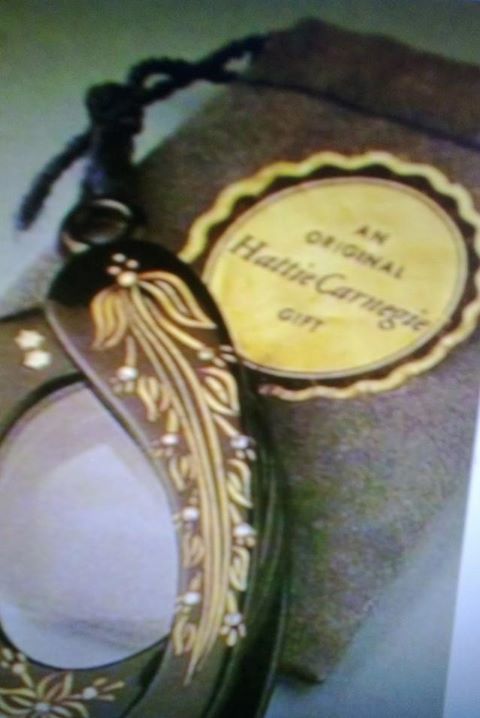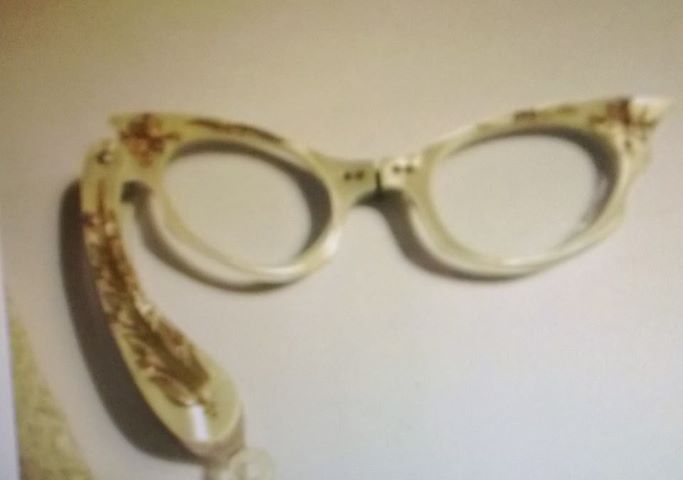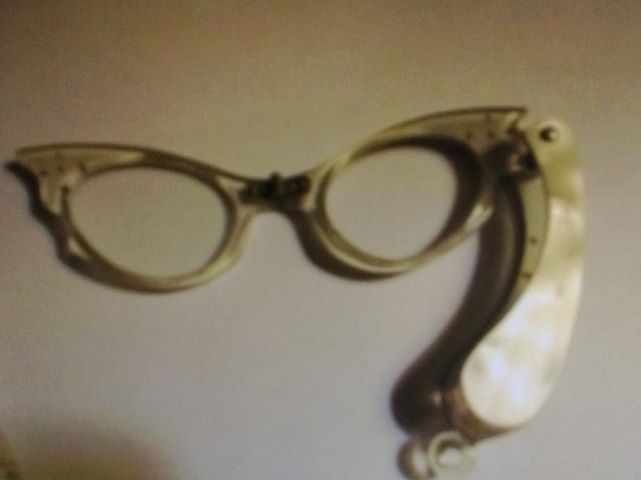 STUNNING VERY HARD TO FIND HATTIE CARNEGIE PIECE ! FOLDING RHINESTONE OPERA GLASSES IN RARE PEARL WHITE JUST GORGEOUS LORGNETTE. CAN BE WORN AS NECKLACE OR ON THE WRIST AS A BRACELET. THE STORY GOES THAT HATTIE DID NOT LIKE WEARING GLASSES SO SHE DESIGNED THESE FOR HERSELF. FLATTERED BY THE OVERWHELMING DESIRE FOR THEM SHE BEGAN GIVING THEM AWAY TO HER CUSTOMERS. IMAGINE RECEIVING THESE AS A GIVEAWAY THESE DAYS?
eBay Seller information
100% Positive feedback
Thank you very much Linda for the use of your item for Hattie's website. As I told you before, I would never sell these. They are a very rare difficult to locate item. Please hang onto these if you can.
---------------------------
Powder Puff in a Mini Hat Box
Identical to the mini perfume hat box. Available in a variety of famous perfume scents.
----------------------------
Small Metal Boxes
Usually classy and beautifully decorated used to hold small items such as pills, coins, or even candy
-----------------------------
Button Covers
Popular in fashion's early years when everything was worn with a flair of elegance. Button covers were created in a variety of styles to match whatever outfit a lady was wearing on a particular day
-----------------------------
Chocolates
Very unusual promotional item, but Hattie had a recipe from Paris that a friend had given her which she decided to put to good use so Hattie Carnegie had her own line of chocolates
These next items were personal gifts of gratitude that were only given to the employees or close friends of Hattie herself
Rings
Hattie made very few rings, so they were very special. The rings she most often gave to employees were huge, classy and beautiful. They were dinner rings. The pave diamonds looked very real. Very rare and valuable to the Hattie Carnegie collector of today.
--------------------------------
Dresses with Matching Hats
Lucille Ball and many of Hattie's former employees were given a going away gift of a dress and a matching hat. Hattie's gift to Lucille was a beautiful black dress
In the early years of her career Lucille lacked the beautiful clothes to wear to her various auditions. She often wore the black dress that Hattie had given her to her earliest Hollywood auditions
Reference: Hattie Carnegie Jewelry……Her Life and Legacy by Georgiana McCall
Pages 148-154
Endangered Species Law? (Anybody know about this?)
Hi there,
My name is Adriana. I am 56 years old and have been living in
Minnesota since 1969.
I am so happy I found your web site!
When my Mom and Dad moved to Palm Beach, Florida in 1968 she gave me her
Hattie Carnegie jaguar coat.
Being young, I was afraid to wear it and kept it in a closet for years.
She purchased it in the 1960's when we lived in New York.
She also worked with her dress designer firm there for years.
The coat has only been worn a few times and is in excellent condition.
It comes to the knee,has 2 pockets in front,and 3/4 lenght sleeves.
Even though it is freezing cold here a great deal of the time I am reluctant to wear it and wanted to sell it.
Any ideas?
When I looked up info on the internet it seems that due to an
endangered species act from 1970 it is now illegal to sell anything like
that over state lines.
In any case, I was thrilled to find your website!
I look forward to hearing from you.
Adriana
Question:
Hello Amy,
I was referred to your website by a friend, Richard Ressig, who has a number of nightgowns which were designed by Hattie Carnegie.
My grandmother, Ada Vandergaw Munson, who lived in Brooklyn, New York, had many dresses and gowns designed by Hattie Carnegie when
she and Rosie first began working, and was a devoted buyer for many years.
I have owned a number of (her) dresses, suits, and hats over the years--as part of my personal collection.
The question I have for you is this:
I often hear her last name pronounced several different ways.
I believe that Andrew Carnegie accented the "e" as a long "a" sound, but many New Yorkers seem to pronounce Hattie's last name without the long "a." How did she pronounce it? Which way is correct?
You are doing such a great service to all of us with your wonderful website. Thank you so much.
All my best,
Desire
Answer:
Hello Desire,
I do apoligize for taking so long to reply. I'm not entirely certain how Hattie personally pronounced Carnegie because I have never heard a recording of her voice.
However she was a cute little Austrian so she probably hung on to her accent over the years, but because she took Andrew's name in tribute to him. I would have to assume that she pronounced her adopted name just as Andrew had?
That's so interesting about your grandmother, Ada Vandergaw Munson and that she knew Hattie and Rosie so well in their early careers.
I would love to hear more about Hattie and Rosie? Rosie in particular.
I understand that Rosie worked for the Jacksons for a while after she sold her share of the business to Hattie, but what happened to her after that?
Also did you grandmother ever speak of a young model named Lucille? aka Lucille Ball?
Thank you for writing. I will look forward to hearing from you too.
Best Wishes,
Amy
Exploring Various Careers in the Fashion and/or Jewelry Industries
Careers in the Fashion Industry
Because this site is often used for student research to my great delight I am very honored. I wanted to explore some of the current careers that are available to those pursuing a career in the fashion and/or jewelry industry. I would like to begin with a career synopsis of a fashion editor because that was Hattie Carnegie's proper career title
Fashion Editor
A fashion editor is a supervisor,they really do not have to be a designer, However many are.
The main job of a fashion editor is to assist and guide the designer, in the creative process and to assist and offer options and guidance to the designer. Editors often are called upon to make the final decision regarding the look of a garment. To a fashion editor… Presentation is Key. They might be asked to offer suggestions on design improvements to a dress or suit for look or practicality
A fashion editor must have a drive to succeed and help a company to succeed. It is helpful to be up to date on the latest trends in the fashion world, but also to understand the history of fashion and the many changes that the industry has undergone, even in the past forty to fifty years.
Fashion is a fast paced business, and fashion editors usually if not always have major deadlines to meet, so it helps to be able to work under pressure and to have exceptional organizational skills.
Most colleges and fashion sites such as http://www.fashion.net recommend gaining experience thru an internship. The internship is usually an important step in getting your foot in the door, but often at entry level it can appear as if your foot is being slammed in the door, but always keep in mind that everyone in the industry started off somewhere, and any experience that you can get will look wonderful on a resume when you go on to apply for future positions
Hattie Carnegie actually got her first glimpse of what was to become her future career from watching her father operate a NEW appliance called a sewing machine from her cradle as an infant. When she was a little girl she was not allowed to touch the sewing machine because if it were ever broken there would be no bread on the table. Her father was a tailor who wanted his own business, and Hattie would follow in his footsteps, but she had a long and difficult road.
Her first job was unskilled labor in the mills and garment factories in New York City, Mill work was tedious, boring with very long hours and very few benefits. It could also be extremely dangerous. Mill work along with other dangerous occupations, led to the creation of unions and the first child labor laws.
You can, Cheer up, because it's not that bad anymore.
Her next job was at Macy's Department Store. Macy's was in every sense, her vocational school and true introduction to the industry, and Isador Strauss, then the owner of the department store was her employer/ instructor he was tough on her and her introduction was not the least bit glamorous, Although, if she were here Hattie would most likely tell you that this job was an improvement from her position in the mills.
Hattie Carnegie was a salesgirl, model then milliner. All these jobs were each an important educational experience on it's own and together The skills she was taught in those earliest years, would assist her in pursing her ultimate dream of owning her own business. If we can take anything out of Hattie's early years is to learn all you can about the industry, and even if a job is tedious and boring it can ultimately lead to greater opportunities.
You are often called upon as an editor to be a representative of the company that you work for, so be friendly, knowledgeable and prepared because chances are that you will be asked questions. Also you attend fashion openings and conferences, Important people in the fashion industry will take notice of you.
Fashion.Net recommends that you always dress nicely and pay careful attention to your shoes and your jewelry. Accessorizing is Important. In this industry you are an advertisement from the minute you walk through the door on your first interview and it will continueinto your career, as an editor you will probably be at every fashion show or opening and each of these shows you will be repeating your first impression. Consider every impression you make to be your first impression.
The impression they get from you will be the impression they will receive about your company.
The fashion editor must be creative, here is the area, where Hattie Carnegie greatly excelled. She was in charge of the advertisement and marketing end of her company. She set the themes for all her fashion shows, conducted promotional advertising and had wonderful giveaways that attracted customers to her shop.
According to Stacy at http://www.TheFashionEditor.com/become-a-fashion-editor.com
You don't want to recommend clothing you think is ill-made or wildly impractical (unless is it so beautiful it is worth the pain and effort). You also want to develop professional relationships with others in the industry such as photographers, stylists, and mass merchandisers and a talent for writing is a skill to master, to be able to tell a story with personal observations will assist with the public relations aspect of your job as an editor.

Retail in the Jewelry Industry
I remember watching an episode of the Golden Girls where Blanche once remarked that her favorite fairy tale was Snow White and the Seven Dwarfs when she was asked why she answered, "Well, What's Better than Seven Lonely Men who Work in a Diamond Mine",
You don't have to work in a diamond mine to have a career in the jewelry industry. If you love jewelry whether it be precious, designer signed, antique, costume or a combination of all types of jewelry and if you are social and enjoy sharing your knowledge and love of love of jewelry, owning or operating a jewelry store might be the career for you.
Social and retail skills are of equal importance in this industry. You must be open to both teaching (because your potential costumer will ask questions) and learning because retail management of any type is an ever changing business. Computer literacy is an essential aspect in the operation of a business in this day and age. Most records are kept and stored in computer systems with back systems to retain valuable information as well as keep track of your sales and inventory. Managing a website of your own can be key, because in the 21st century, so much business is conducted online. An online shop can also help market your product and introduce or reintroduce your product to the public. Business skills in retail can either be taught in career schools, colleges or on the job.
An internship at a jewelry store might be helpful if you wish to enter this field. Educate yourself by reading and researching jewelry and the history of jewelry
A vast library of books can answer questions that come up from your customers or to simply fuel your personal interest or can be utilized as a refresher course . Jewelry shows and auctions can increase your inventory and allow you to make connections with others in the jewelry business or meet collectors, and potential customers, and you can market your skills and store to others in the field.
You don't necessarily have to know how to repair jewelry, but you might want to offer this in your store. Taking classes in the repair of jewelry or if you can afford to hire someone who is skilled in the repair of jewelry, it would be a asset to your company.
Larger jewelry companies may offer additional services to customers included to but not limited to, polishing, engraving and the appraisal of jewelry. Many jewelry store owners have the ability to appraise your individual gem, watch or collection or they can direct you as to how to locate an appraiser in your local area.
Quick Facts about Hattie Carnegie Inc and Costume Jewelry
The Costume Jewelry side of the business was the only part of the business to carry on after Hattie's death in 1956 according to a stipulation in her Last Will and Testament.
The jewelry aspect of her business was carried on by former trainee Larry Joseph, because sadly none of her nieces nor nephews wanted to continue the running of the business.
ABSOLUTELY NO JEWELRY WITH HATTIE CARNEGIE'S SIGNATURE WAS PRODUCED AFTER 1956. It changed entirely to block lettering
Larry Joseph kept Hattie Carnegie's stamp on the pieces until 1976. ABSOLUTELY NO JEWELRY WITH HATTIE CARNEGIE'S STAMP WAS PRODUCED AFTER 1976
Some Quick Facts about Jewelry, Retail Sales and Shops
According to http://www.DeversityWorking.com
About one fourth of all jewelers are self employed and own their own shops
In small retail stores or repair shops, jewelers may be involved in all aspects of the work. Jewelers who own or manage stores or shops also hire and train employees; order, market, and sell merchandise; and perform other managerial duties
About 3 out of 10 jobs for jewelers and precious stone and metal workers were in other miscellaneous manufacturing, which includes jewelry and silverware manufacturing. Another 3 out of 10 jobs were in retail trade, primarily in jewelry, luggage, and leather goods stores. A small number of jobs were in miscellaneous durable goods merchant wholesalers and in repair shops providing personal and household goods repair and maintenance. Although jewelry stores and repair shops were found in every city and in many small towns, most jobs were in larger metropolitan areas. In 2002, many jewelers employed in manufacturing worked in
Rhode Island, New York, or California.
References:
Fashion Careers
Fashion.net
The Fashion Editor
http://www.TheFashionEditor.com/become-a-fashion-editor.com
--------------------------------------------------
Jewelry Careers
Deversity Working
http://www.deversityworking.com
Jewelers.org
http://www.jewelers.org/pdf/jacareers.pdf
--------------------------------
How to Contact me?

My contact information
My email address is
Hattie Carnegie Circa 1950